Sweet potato mash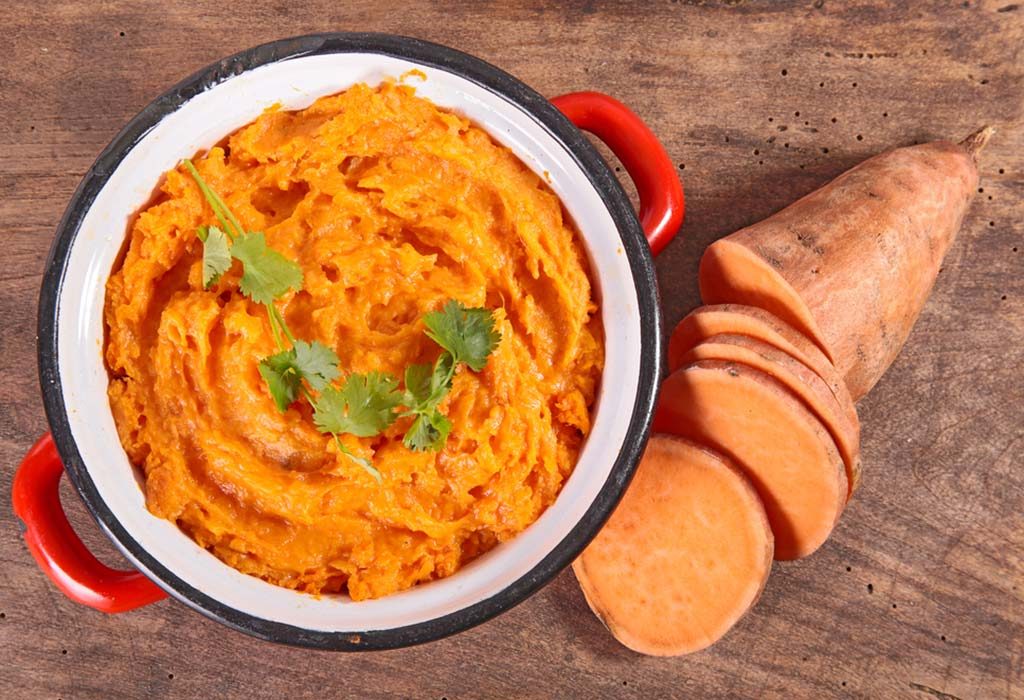 In this Article
Kumara or Sweet potato, as the name suggests, is a sweet-tasting starchy root vegetable rich in dietary fibre, complex carbs and beta carotene. Its falls under the orange or purple (Indian variety) category of super foods. Here's a energy packed recipe for your bub. Kids love it even without any additives like salt or sugar. It is easy to make and keeps your child full for quite some time.
| | | |
| --- | --- | --- |
| Serves | Preparation Time | Cooking Time |
| 5 People | 2 Minutes | 15-20 Minutes |
Ingredients
6 sweet potatoes, peeled and cubed
4 cups salted water for boiling
Method
Step 1
Bring a large pot of salted water to a boil. Add sweet potatoes and cook until tender for about 15-20 minutes.
Step 2
With an electric mixer on low, blend sweet potatoes, slowly adding plain water if needed. Blend until smooth.
Step 3
You can also mash with a fork or grate using a grater. Serve warm.
Nutritional Information
Serving Size 1 cup of mashed sweet potato
Calories from Fat
4
Calories
249
Total Fat
0.46 g 1%
Saturated Fat
0.131 g 1%
Polyunsaturated Fat
0.262 g
Monounsaturated Fat
0 g
Cholesterol
0 mg 0%
Sodium
89 mg 4%
Potassium
754 mg
Total Carbohydrate
58.12 g 19%
Dietary Fiber
8.2 g 33%
Sugars
18.83 g
Protein
4.49 g
Vitamin A
1033%
Vitamin C
70%
Calcium
9%
Iron
13%
*Percent Daily Values are based on a 2000 calorie diet.
Your daily values may be higher or lower depending on your calorie needs.