Sweet Potato Fritters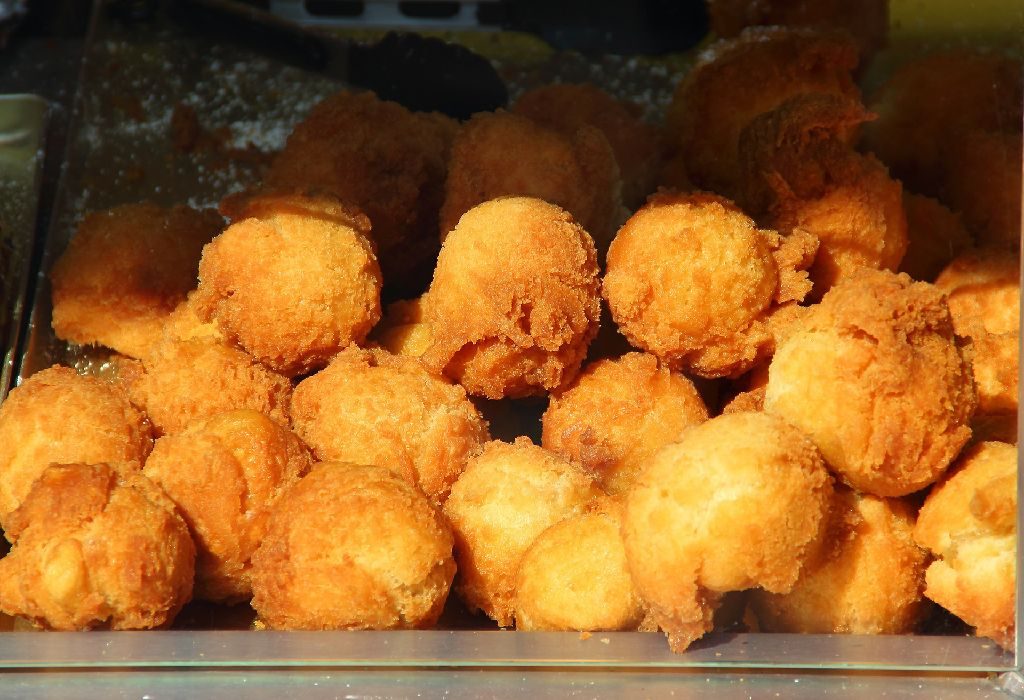 In this Article
Conjure these proven party-favorite sweet potato fritters and watch them vanish as soon as you bring them to the table. Being as adult-approved as they are, these fritters never disappoint. Even though the recipe calls for the fritters to be fried, it still packs in robust nutrition from the olives and mixed nuts hiding in these savory pickings. Perfect for teens as they are ever-ready to down all things deep fried, flat-out.
| | | |
| --- | --- | --- |
| Serves | Preparation Time | Cooking Time |
| 10 People | 10-15 Minutes | 10-15 Minutes |
Ingredients
1 large sweet potato, scrubbed well, unpeeled and cut into large chunks
1 large regular potato, scrubbed well, unpeeled and cut into large chunks
1/4 cup pitted olives, roughly chopped
30 g mixed nuts
1 teaspoon chilly paprika powder
Salt, to taste
canola or vegetable oil, for frying
Method
Step 1
In a large pot of water, add water and a pinch of salt and bring it to a boil.
Step 2
Add sweet and regular potato chunks. Reduce the heat and let the water boil gently.
Step 3
Cook for 5 minutes or until it starts looking slightly cooked. Don't overcook them.
Step 4
Drain the water and set them aside to cool.
Step 5
Run both the potato chunks through a mixer and grind them coarsely.
Step 6
In a large bowl, gently combine the potato shreds with olives, mixed nuts, almonds, chilly paprika and salt.
Step 7
Add oil in a wide skillet or a pot and heat for 2-3 minutes.
Step 8
While the oil is heating, shape the fritters using your hands into small little logs or rounds
Step 9
Drop them into the hot oil slowly one by one without crowding the pan. Keep turning after a couple of minutes to make sure they are not burning.
Step 10
Cook until crispy and golden, or for 4-6 minutes.
Step 11
Remove and place them on paper towels so that the excess oil gets drained out.
Step 12
Serve hot with mint-coriander chutney or tomato ketchup.
Nutritional Information
| | |
| --- | --- |
| Calories | 104 Kcal |
| Proteins | 2.0 g |
| Fat | 2.7 g |
| Carbohydrates | 14 g |
| Cholesterol | 8 mg |
| Sodium | 78 mg |
| Potassium | 328 mg |
*For deep frying, add approximately 10 grams of fat per serving, at 9 Kcal/gram of fat.
Tip -You can bake these fritters in an oven proof dish at 450 degrees or until they turn golden brown, for 12-15 minutes