Super-Duper Cute! We're Loving These Pictures of Rani Mukherjee & Daughter Adira Travelling Together!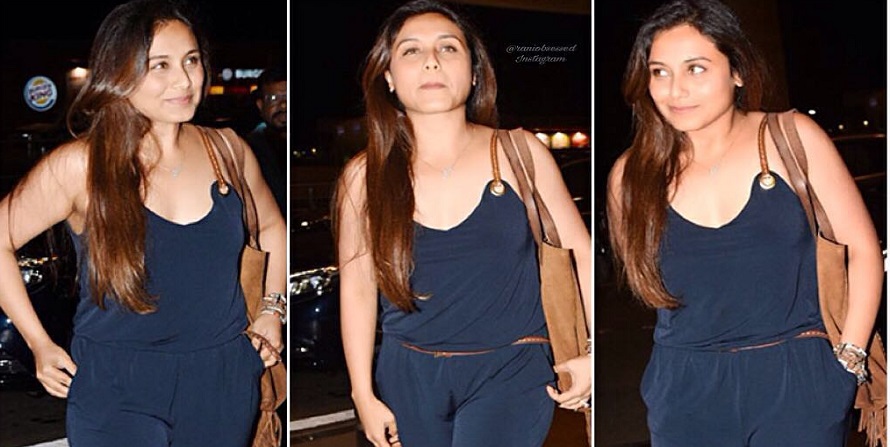 In this Article
Rani and Aditya have always been very private parents. Many of us, especially Rani's fans, have longed to see Adira's pictures and bless the little child. It has been a long time since Adira's birth, but Rani has kept away from posting any pictures online. When asked about it, she said, "I am not on social media. I don't post pictures of my daughter because my husband is a very private person and I respect that. Also, I don't like saying no to my fans, especially when they ask me to post pictures."
But last week, she had a surprise for all of us! The mommy and her daughter were spotted at the airport – and also posed for some super adorable pictures!
The 39-year-old actress was spotted at Mumbai airport with the apple of her eye. The two were travelling together to Dubai, and surprise, surprise – Rani let the paparazzi click pictures! The actress is usually reserved around the media when it comes to her daughter. But we think she is finally comfortable introducing her darling to the media – speaking of which, the 1-year-old seemed quite camera-friendly!
We think Adira looked cute as a button in her pink dress, all comfortable in her nanny's arms. She does seem a bit bewildered at first –why are all these people clicking pictures of mommy and me? I have never seen them before! But oh, those cute little hair-ties and that expression totally won our heart. Don't you think she looks a bit like her mom already?
Rani Talks About Life After Adira
Adira's birth has changed Rani in multiple ways – in ways that only a baby can change the life of a woman. Her priorities have changed, and her life revolves around her daughter. It took Rani quite a while to get back in shape after her delivery too, and she never rushed it (though we have to say, she looks spectacular now, doesn't she?).
We also respect how Rani waited till she was fine with introducing her daughter to the public eye. Every child is different, and so is every mother. It is only a mother who can understand her child's temperament and do what seems right for her social development. In fact, like her friend Karan Johar teases her, Rani believes in the "Mother India" style of parenting! She loves being a "hands-on, obsessive, thoroughly dedicated and slightly hysterical mom" who doesn't ever let her daughter Adira out of sight.
Like every mom, Rani is very proud of her baby already and wants to do her best to give her a good upbringing. She says, "I have become much calmer, more patient and more forgiving. It happened overnight one day suddenly I realized I have changed. I hope I can bring Adira up beautifully. Without any fears…I want everyone to be proud of her… Even if nobody is, I will always be proud of her."
All the best to you, Rani, and we are sure you will be a great mommy! And lots of cuddles to you, Adira – we hope you follow in the footsteps of your hard-working and talented mother 🙂