Sooji for Babies – Health Benefits and Recipes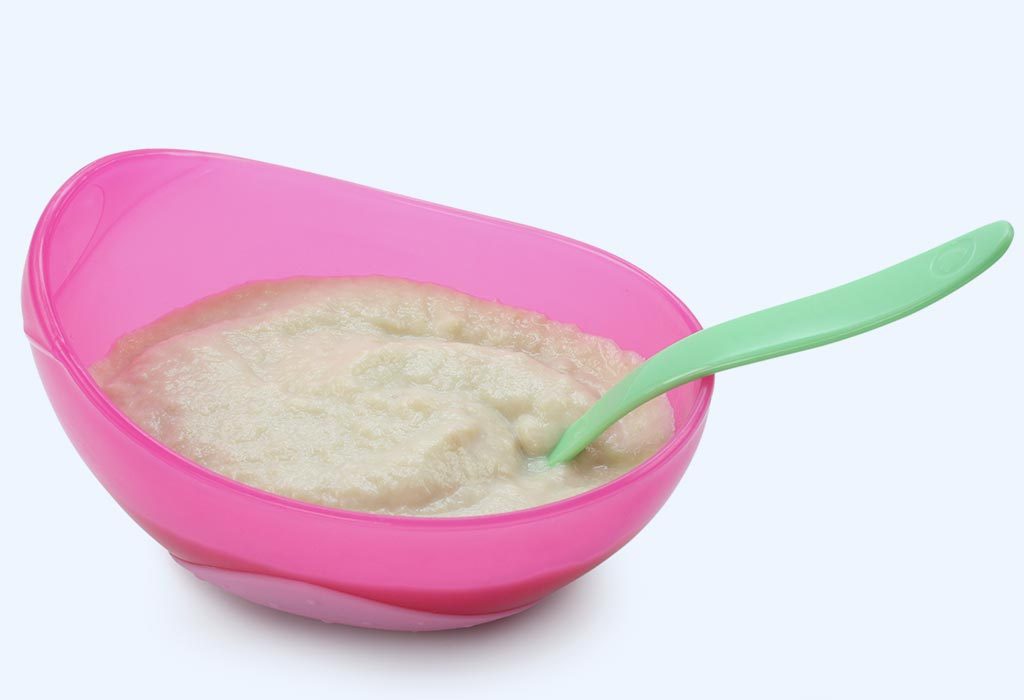 Sooji or semolina is known to be a great choice of solid food items to be introduced to your baby. The fineness and ease of digestibility can help your baby taste his first flavour of solid food and enjoy it as well. Pancakes, as well as fruit-based quick desserts, which are extremely delicious, can be made with suji for babies. With a great boost provider for the immunity system, as well as a delight for the digestive system, making sooji food items for your little one is a win-win altogether.
In this article, we have covered information on how to introduce sooji to your baby, its health benefits and some easy sooji recipes you can make for your little one. Let's read!
Is Sooji Good for Babies?
Yes, sooji is an excellent food that you can add to your little one's diet, as it has multiple health benefits. Sooji also gives instant energy to children and keeps them active throughout the day.
When to Introduce Sooji to Your Baby?
Once your baby is at least 7 months old, you can gradually start making sooji a part of the baby's diet. Make sure to keep a gap of 3 days after introducing sooji to check for allergy symptoms. In case the baby has an allergy to gluten, sooji isn't an option to be considered. Making semolina porridge for babies is the simplest way to introduce sooji.
Nutritional Value of Sooji
Now that you know that sooji is beneficial for your little one, let's read about the nutritional value of 1 cup (167 g) of sooji below.
| | |
| --- | --- |
| Nutrition | Amount |
| Vitamin B6 | 0.172 mg |
| Calcium | 28.39 mg |
| Copper | 0.32 mg |
| Iron | 7.28 mg |
| Magnesium | 78.49 mg |
| Manganese | 1.034 mg |
| Phosphorus | 227.12 mg |
| Potassium | 310.62 mg |
| Sodium | 1.67 mg |
| Zinc | 1.75 mg |
| Carbohydrate | 121.63 g |
| Fiber | 6.51 g |
| Fat | 1.753 g |
| Protein | 21.18 g |
Health Benefits of Sooji for Babies
If you are thinking about why sooji is recommended for your baby, here are some suji benefits for babies.
A rich source of iron and potassium, sooji helps improve haemoglobin levels in the body and keeps the heart strong as well.
The presence of proteins in sooji, along with carbohydrates, Vitamin B and Vitamin E, make it an all-round nutritious choice.
Since it is easy to eat and digest, it does not cause constipation related problems in the baby.
The low amounts of cholesterol and sodium make it a healthy food item for adults, too.

Sooji is rich in protein and helps in the muscle growth of babies and in achieving their physical development milestones.
The semolina benefits for babies are unending and extremely useful in the long term, too.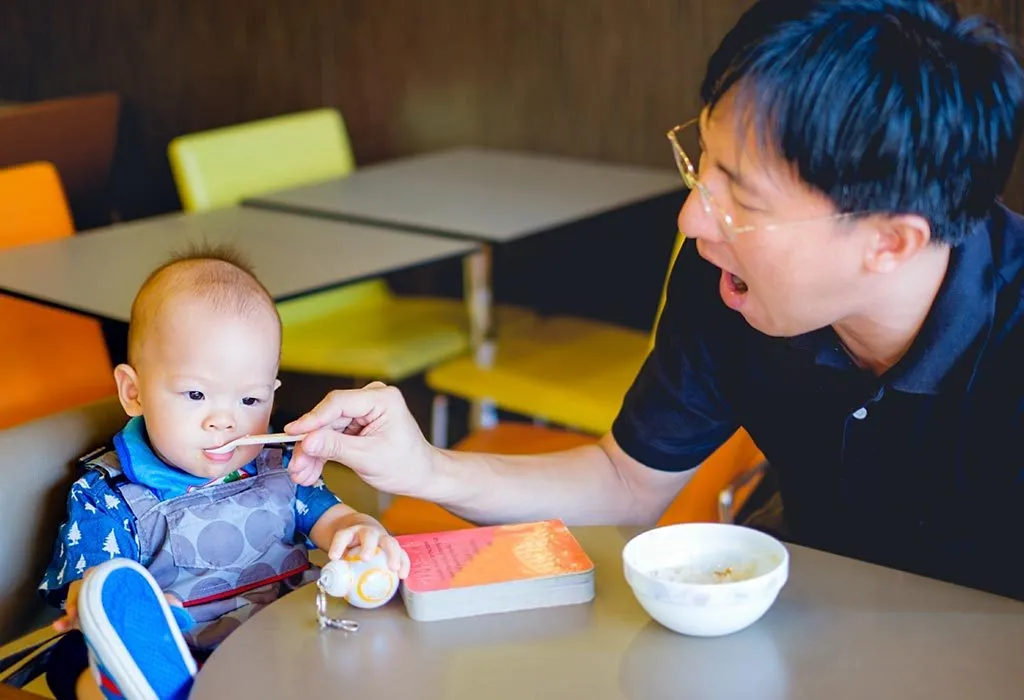 Side-Effects of Sooji on Babies
Let's take a look at the side effects of sooji as well for babies:
1. Wheat Allergy
Wheat allergy can cause symptoms associated with food allergies, like skin hives, abdominal pain, diarrhoea, vomiting, and facial swelling.
2. Gluten Sensitivity
Some babies could be sensitive to gluten, and their gut cannot tolerate gluten well, leading to symptoms like bloating, abdominal pain, diarrhoea, constipation, nausea, and vomiting.
3. Celiac Disease
Celiac disease is an autoimmune disorder where the baby's immune system is extremely sensitive to gluten. The immune response in this condition damages the inner lining of the small intestine, resulting in severe inflammation and tissue damage.
Things to Consider While Selecting Sooji for Baby Food
Although semolina or sooji is one of the best foods to give to your baby, since it is about your little one, you cannot afford to take chances. There are certain things you should keep in mind when buying sooji to cook for your baby.
Though sooji has many nutrients, the quantity of nutrients is less in comparison with other grains. Therefore, it is always necessary to give sooji in combination with other vegetables, fruits, and milk to keep a strong and consistent supply of nutrients.
The consistency of sooji, the water required, and the amount of time it takes to cook, depends quite a bit on whether the sooji grains are fine or medium-sized.
If affordable, it is recommended to purchase organic sooji, especially for babies.
Check out the expiry date of the sooji.
Do consult with the doctor before introducing sooji to a baby's diet.
Quick Sooji Recipes for Babies
For mothers wondering how to make sooji for babies, there are 3 easy and simple recipes that you can make right away.
1. Easy Sooji Upma for Babies
This recipe of sooji upma for babies is quick to make and absolutely satisfying for the baby.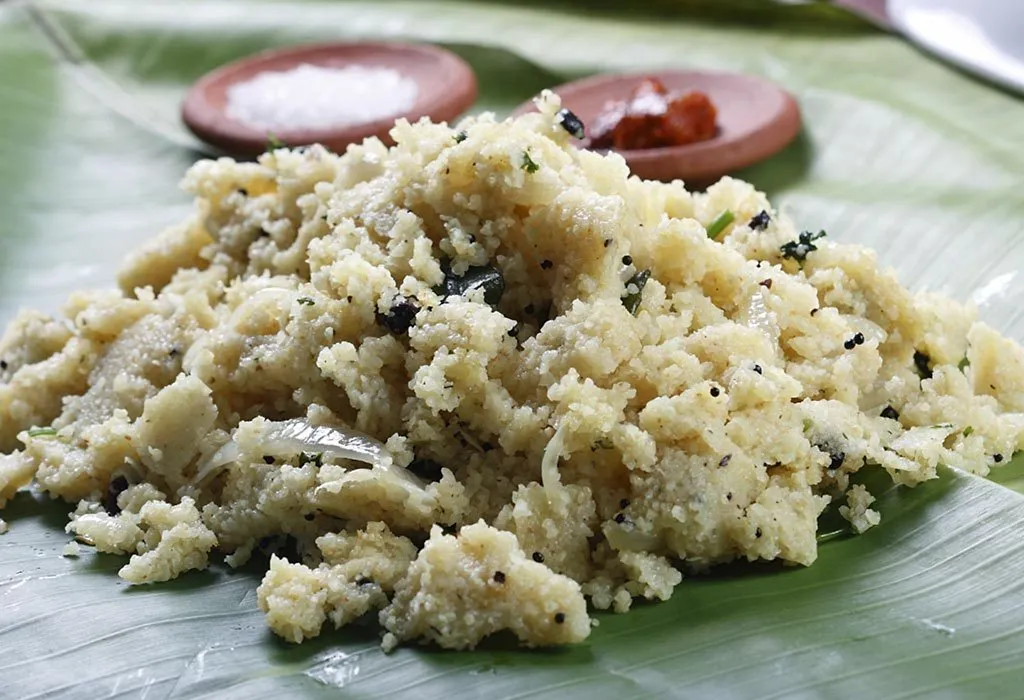 What You Will Need:
Fine sooji
Cumin seeds
Mustard seeds
Hing
Turmeric powder
Salt
Hot water
How to Prepare:
Take a pan and add some ghee to it. Heat it and add some cumin seeds, as well as mustard seeds. Allow them to crackle in the pan.
Follow it up by adding some hot water to it and letting the entire mixture boil.
As it boils, add sooji gradually, while constantly stirring the mixture. Ensure that no lumps are formed in it.
Once done, add some turmeric powder, hing, and salt to the pan.
Cover it with a lid, reduce the heat to medium-low, and let it cook for about five minutes.
Remove the pan and serve the sooji upma.
2. Sooji Kheer for Babies
Sooji kheer is really good if your baby has a sweet tooth. Also, it is easy to digest.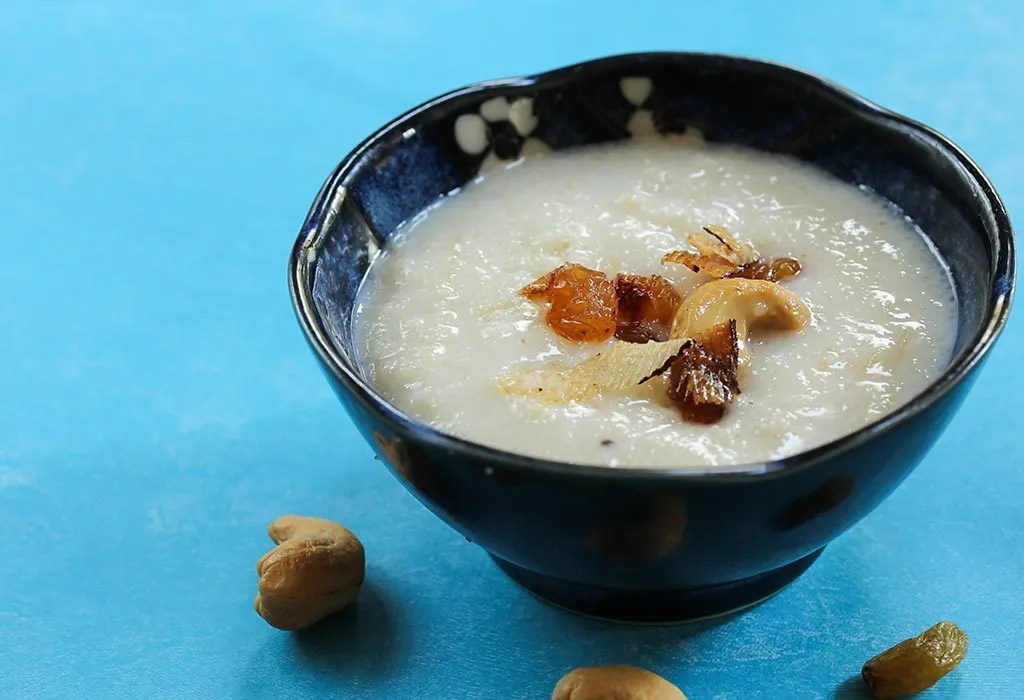 What You Will Need:
How to Prepare:
Take a pan and add some sooji to it. Heat and roast it properly.
Take another pan and add water to it. Bring it to a boil.
Once boiling, gradually add small amounts of roasted sooji to it, while constantly stirring it. Ensure that no lumps are formed in it.
Once it is all poured and seems nearly cooked, add some ghee to it.
Mix the entire mixture properly and remove the heat. Add a little elaichi powder and dry fruits powder.
Add breast milk or formula to make the consistency thinner. Add fruits if your baby is older, and sooji kheer for babies is ready.
3. Delicious Sooji Halwa for Babies
Sooji halwa, popularly known as sheera, is healthy and great in taste as well.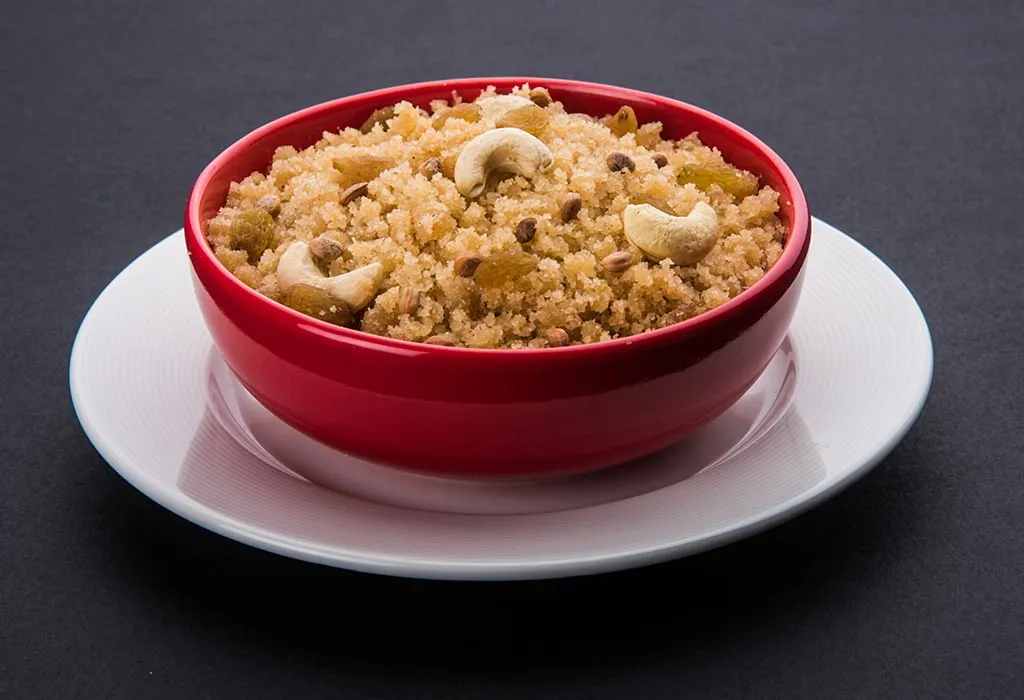 What You Will Need:
Sooji
Jaggery
Clove
Cardamom powder
Raisins
Cashew nuts
Milk
Ghee
How to Prepare:
Begin by cutting the cashew nuts into small pieces. This is primarily when babies cannot eat the nuts properly on their own as a whole.
Take some water in a bowl and add jaggery to it. Place the bowl on the stove and bring it to a boil. Allow it to boil for a minute or so. Keep stirring throughout the process.
Take another pan and add ghee to it. Heat it and follow by adding the cut cashew nuts and cloves.
Roast them together in the pan, until the cashew nuts start slightly browning. Once done, remove them and place them aside.
In the same pan, add sooji and roast it well for a few minutes. Once the colour of the sooji changes, add some ghee to it. Stir it constantly to avoid the sooji getting burnt.
Roast it for a few more minutes. Once that mixture starts turning brown, too, add some milk to it, very slowly.
Follow this with cardamom powder, along with the cashew nuts and cloves that were kept aside earlier. At this stage, you may choose to add raisins if your baby is able to chew solid food properly.
Keep stirring it well, until the mixture starts getting a consistency resembling a halwa. For smaller babies, thin it further until it is slightly liquid.
Once done, add the jaggery syrup that was made and mix it properly with the halwa. Once done, remove the heat.
If your baby is older, you can add few more dry fruits and nuts to this halwa.
Another aspect to remember is that the preparation of jaggery syrup can be avoided by using powdered jaggery. Towards the end, when the halwa is hot, turn off the flame and add jaggery to it while stirring. Do not cook it again, as the milk in the halwa will start curdling.
Allergy Warning
Though sooji is usually safe to feed to babies, it can, in some cases, cause side-effects or allergies in babies. Here are some preventive measures to take when introducing sooji to your little one's diet.
1. 3 Day Rule
When introducing sooji or any new food, for that matter, it is essential to do the three-day allergy test. Make sure to introduce only one ingredient at a time, in this case, sooji. Feed it for at least three days. If you don't notice an allergic reaction, you can continue feeding it.
2. Wheat or Gluten Sensitivity
Take your doctor's opinion if your child has wheat or gluten allergy before introducing sooji. If your child has wheat or gluten sensitivity, eating sooji may cause certain side-effects such as abdominal pain, bloating, diarrhoea, headaches, breathing issues, hives, nausea, etc. Make sure to take your child to the nearest hospital if he has rashes, breathing problems, or any other adverse issue.
FAQs
1. Is Sooji Good for Babies to Gain Weight?
Thinking if semolina for baby weight gain is ideal?
Yes, semolina might help babies gain weight if served as part of a well-balanced diet.
2. Does Sooji Cause Gas in Babies?
If the baby has gluten sensitivity, sooji can cause digestion-related issues, like stomach aches, bloating, gas, constipation, etc.
Recipes using semolina are healthy, as well as tasty. From making the tasty halwa to sooji upma recipe for babies, introducing your child to the world of solid foods couldn't be healthier, easier, and quicker than this. We recommend making some for yourself, because you won't be able to keep yourself away from these delicious recipes, either.
References/Resources:
1. Every Baby Matters; bradford.gov.uk; https://www.bradford.gov.uk/media/1908/7-nutrition-guidelines-1-to-5-years.pdf
2. Nutrition & Malnutrition Resources for India; motherchildnutrition.org; https://motherchildnutrition.org/india/complementary-feeding-guidelines.html
3. Semolina, unenriched; fdc.nal.usda.gov; https://fdc.nal.usda.gov/fdc-app.html#/food-details/168933/nutrients
4. E Jéquier; Carbohydrates as a source of energy; National Library of Medicine; https://pubmed.ncbi.nlm.nih.gov/8116550/
5. Semolina, enriched; nutritionvalue.org; https://www.nutritionvalue.org/Semolina%2C_enriched_nutritional_value.html
Also Read:
Curd for Babies
Can Babies Eat Hummus?
Giving Oats to Infants