STEM Toys for Children – Benefits and Ideas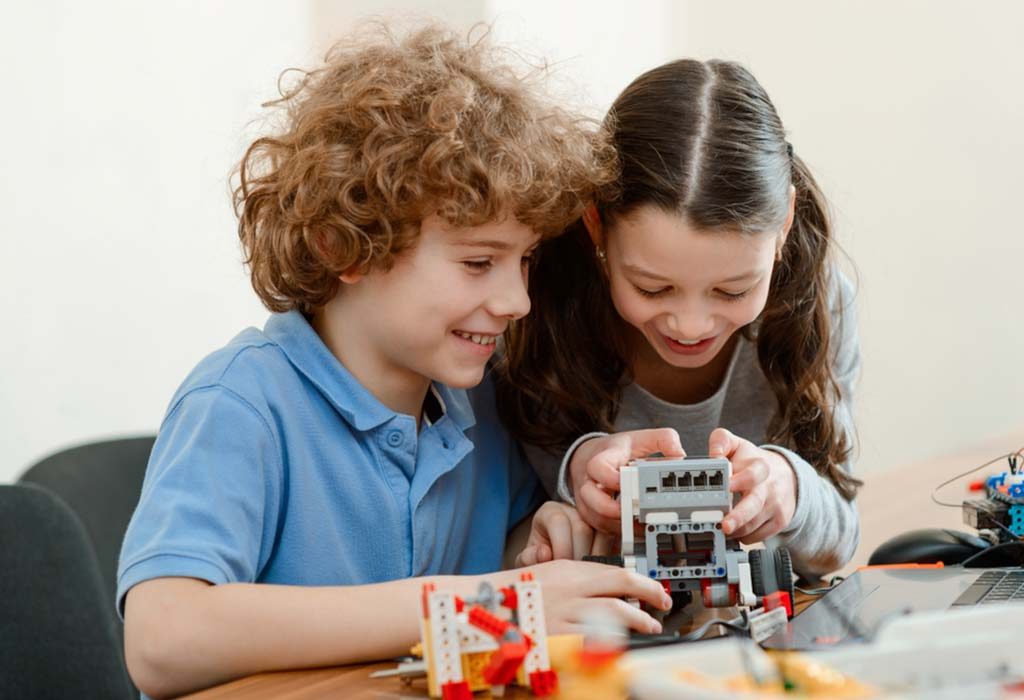 Children love toys and there is rarely a household with children that does not have toys in it. Play is a wonderful activity for kids, and it can be made even better if your child will develop some important skills during play. This is exactly where STEM toys come in, as they help your child develop different skills while playing.
What Are STEM Toys?
STEM stands for "Science, Technology, Engineering and Math" toys. These toys are meant to be educational, encouraging children to think differently and get more creative. STEM toys are designed to satisfy your child's curiosity and stimulate his creativity. STEM Toys are fun for children to play with. Different STEM Toys focus on different skills. Some focus on chemistry, some in coding, others in engineering, yet others in mechanical functioning and more.
What Are the Benefits of STEM Toys?
Experts and Child psychologists have come to the belief that the earlier children are exposed to STEM Toys, the better. Here are some of the benefits:
Helps Improve Problem Solving Skills: When your children play with STEM Toys, they are learning to overcome different obstacles by thinking and using their intelligence. Since the games offer different challenges which will encourage kids to come up with solutions to win, they learn to face struggles and become more independent in their thinking.
Stimulates Creativity at a Young Age: Since STEM Toys make children think, they are also practising creativity. It takes intelligence and creativity to come up with a solution that is out of the box when solving STEM Toy problems.
Proves STEM is Not Hard: What a child experiences on a daily basis will influence what they aspire to be in the future and what they are interested in. When children are exposed to STEM Toys, they will not see Science, Technology, Engineering and Maths as difficult topics. Their confidence is uplifted and they will be able to go into learning more about these topics with an open mind.
Learning Becomes Fun: Parents should ensure to take the effort to make learning fun. STEM Toys make their job easy in this aspect. They make learning interactive and fun. When learning is fun, it is more ingrained into memory, so the skills learnt during these learning sessions are going to be held for a lifetime.
Improves Motor Skills and Coordination: STEM Toys help children with developing and flexing their motor coordination. Their hand eye-coordination become much better, as they get more practice using their hand and their little fingers. If you introduce STEM Toys to your children when they are still young and learning to improv their skills, they will become very good at it and gain more confidence while performing these activities.

How to Choose the Right STEM Toys for Your Child
There are many types of STEM Toys out in the market. From the classic and inexpensive ones to the expensive and modern STEM toys, there are so many to choose from. Make sure that the toys that you get for your child are age-appropriate and not made for older children. If you get toys made for older children, your little one will lose interest or may even lose confidence as he will not be able to play with them effectively.
All STEM Toys should be interactive and something that your child is interested in. If your child does not like a certain type of toy, he won't play with it. When this happens, the opportunity for learning is lost.
How to Play With STEM Toys
Instead of just giving your child STEM Toys and being done with it, you need to make time to play with your child. This will help you to cultivate more creativity in your child. You will need to ask questions and give your child something to reflect on. Talking about the activity, making suggestions and interacting with your child positively is one of the best ways to stimulate learning.
You must learn not to simply tell them everything, however. Allow them the opportunity to think for themselves. The point is to ask questions or make suggestions that they can build off. If you explain too much, your child could lose interest. But pay attention for any signs that your child may be looking for help, though may not actually voice it out.
Best STEM Toys for Children
Since children of different ages have different learning and skill capacities, they will need different STEM Toys to play with at the different stages of their lives. Here are some of the best STEM Toys for kids according to age group:
Toddler
Your little one will love to assemble things at this age.
Stacking Cups: Stacking Cups are a great option for your toddler. They can flip them upside down, figure out how to organise them in the right order, and even use them as little boats during bath time. This will help them learn about the concept of buoyancy.
Shape Sorter: The Shape Sorter is a very good STEM Toy for little ones when it comes to learning about different shapes. They will need to figure out how to match the shapes to the holes in the lid. Not to mention, dumping all the shapes out again is quite fun for them.
Grippies Builders: These types of building toys will be great for toddlers as they have great grip and are big enough to not fit into their mouths, like regular building blocks. Your child will get an introduction to building things with this STEM Toy.
Nuts and Bolts Building Sets: Toddlers will love this innovative introduction to building. They will learn about the concept of nuts, bolts and how they are used to hold things together. The pieces are large, so don't worry about anything being swallowed.

Preschooler
The older a child gets, the more interested they will become in stories, reading and talking about different things. Here are some preschool STEM Toys that they will enjoy:
Magnifying Glass: It is not really classified as a toy to some, but children will certainly use them as such. By looking through the magnifying glass, they can learn a lot. Be ready to answer some interesting questions, as they watch an army of ants go about their food collection. It can be a great learning experience for parent and child.
Magic Brix: Bendy, soft and easily manipulated, your child will be able to unleash his creativity by building and creating robots, houses and whatever else he wants.
Cash Register: This is a great way to add role-play into games. By getting a toy cash register and playing shop, your preschooler will get more accustomed to numbers and learning how shopping works.
Puzzles: An easy puzzle set is great for children as they make good use of their spatial abilities. Playing with puzzles make your children better at problem-solving.
Kids
Kids are getting older and will need something that needs a bit more thinking and strategising to play with. Here are some great picks for your kids.
Human Body Puzzles: You can introduce your little ones to the basics of biology with this puzzle. They will need to fit the right body part in the right location. It is one of the more interesting STEM Toys for 5-year olds.
Coding Robot: The best STEM Toys for 6-year olds is a coding robot made for their age group. This way, they will learn all the aspects of STEM in a fun way.
Roller Coaster Challenge: Your little engineer will be able to design a roller coaster adventure with this one. It comes with hoops and everything. Your child can build the tracks and then send the car down, hoping it was a success. This is one of the best STEM Toys for 7-year olds as your child will need to really think hard and come up with a good design.
Science Explorer Set: Children will be able to have a lot of fun with this one. It is one of the more intriguing of the STEM Toys for 8-year olds as it involves solving mysteries. It comes with clues, a set for taking fingerprints and all the materials needed for decoding secrets.
STEM allows for all-round development in your child and enhances numerous skills. With so many different STEM Toys for all ages, you will not find it hard to come up with a toy that suits your child's need and age group.
Also Read:
Outdoor Toys for Toddlers and Children
Homemade Toys for Children
Toys That Helps to Foster Creativity in Children