Stay Fashionably Forward With These 7 Winter Looks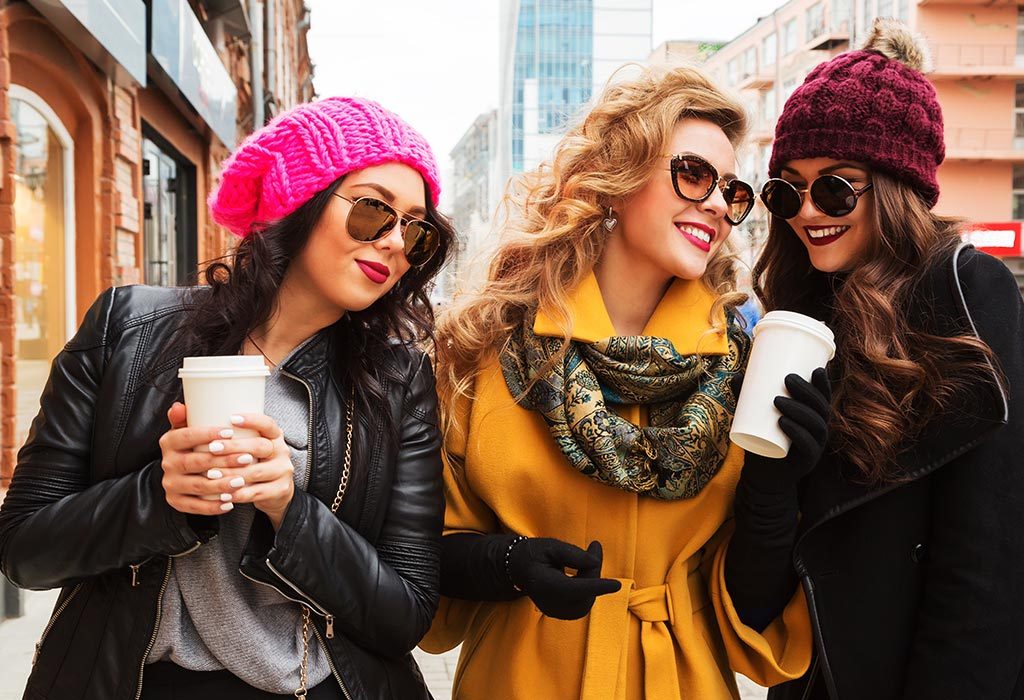 In this Article
Winter is one of those seasons that raises a lot of special requirements, for a very limited period – especially when it comes to fashion. You can't possibly wear winter clothes at any other time of the year. But buy them, you must! How else are you going to survive the cold?
However, wanting to feel warm and cosy is no excuse for you to dress up shabbily! Fashion need not take a back seat in your bid to feel comfortable. There are a lot of clever ways in which you can doll up for winter, without looking boring. Here are 7 looks you can try this winter to look chic while keeping the chills away!
7 Winter Looks To Stay Fashionably Warm
From Monday through to Sunday, we have you covered for the entire week with 7 unique winter looks you can do with great comfort and ease. Best part – you don't need to buy anything extra to pull these off. Ready? Here we go!
1. Back To The 90s!
The skirt-with-leggings look is very reminiscent of the 90s. It is so comfortable to wear that we are indeed grateful that it's back in fashion! This look is very versatile because you can swap individual garments in the look to feel warmer, or cooler. On really cold days, you can wear thermal leggings under the skirt. On the slightly warmer winter days (at the beginning and end of the season) you can switch to thinner-fabric leggings, or even stockings. The top need not always be turtle neck; however, you can throw on an extra layer in the form of a jacket to feel extra snug!
2. Boss Lady
Winter is the perfect season to wear a pant suit. If you want to add a flair to your look, you can swap your regular fitted pants for a wide-bottom pallazo. Wear a legging inside to add an extra layer for the colder days. As for the top, keep it snug and short if you're wearing pallazos. For a more trim look, wear the pants with a full-sleeved t-shirt, and throw on an elaborate scarf. Complete the look with a duster coat to add panache to your look.
3. Fusion Saree
Dreading that wedding or reception in December? Worry not! One way to warm up your saree is to team it up with an elaborate jacket or a sweater. You can wear a sweater in place of the blouse. You can also opt for a warm crop-top depending on how cold it is. However, if you want to wear your saree the traditional way, you can add a chic blazer to give your look an edge. You can even throw on an elaborate woollen cape to crank up the style quotient of your saree look. Finally, don't forget to keep your legs warm – consider wearing Long-Johns inside if attending an evening ceremony.
4. Glow With Flow
Dark colours retain heat better. However, if you like light and bright colours, opt for them in natural fibres, to get a light and warm look. Most natural fibres – except silk – are great for winters. You can go for a completely Indian look. The more flowy your garments are, the better they will circulate air, allowing your body to adapt to temperature changes. Pair a khadi skirt or wide-bottom cotton pants (preferably one that has an inner cotton-lining for extra warmth) with a long flowing kurta, and layer it up with an embroidered pashmina shawl or simple a dark coloured dupatta. You can even go for a poncho, wearing a snug camisole or a sleeveless warm crop-top underneath..
5. Shirt + T-Shirt
No need to pack away that favourite t-shirt dress just because it is cold outside now! You can use it as a base layer, and throw on a long plaid shirt. Make sure the shirt is either as long as the t-shirt dress, or longer, but never shorter than the dress. Dress your legs appropriately, depending on how cold or warm it is. This is a great look for day-time fun outdoors, when the sun warms things up a little.
6. 'Fun'jabi Kudi
This one is for the days when it seems like too much effort to go through your wardrobe to work up a look! All you have to do for this one to work out is ditch your duppatta and instead find a long sleeveless cardigan to pair with your kurta. You can add an element of 'fusion' to this fun look by using a broad belt to hold the cardigan in place. If you want to opt for something more practical, go for a Nehru jacket or a multi-coloured quilted jacket.
7. Back To Basics
As the week comes to an end, you can go back to the basics with a well-fitted pair of jeans, and a nice comfy sweatshirt. Wear sports-shoes for a casual look, and pumps for a more feminine look.
One general thumb-rule that applies for all the above looks is – you can wear close-toed footwear. For the Indian looks, you can try jutis or mojdis, whereas for the Western looks, you can opt for ankle-boots or just regular pumps teamed with leg warmers.
Also Read:
Things Not to Wear in An Office Party
Tips on Looking Magical in Black Dress
What to Wear for a Weekend Party