Spinach Thalipeeth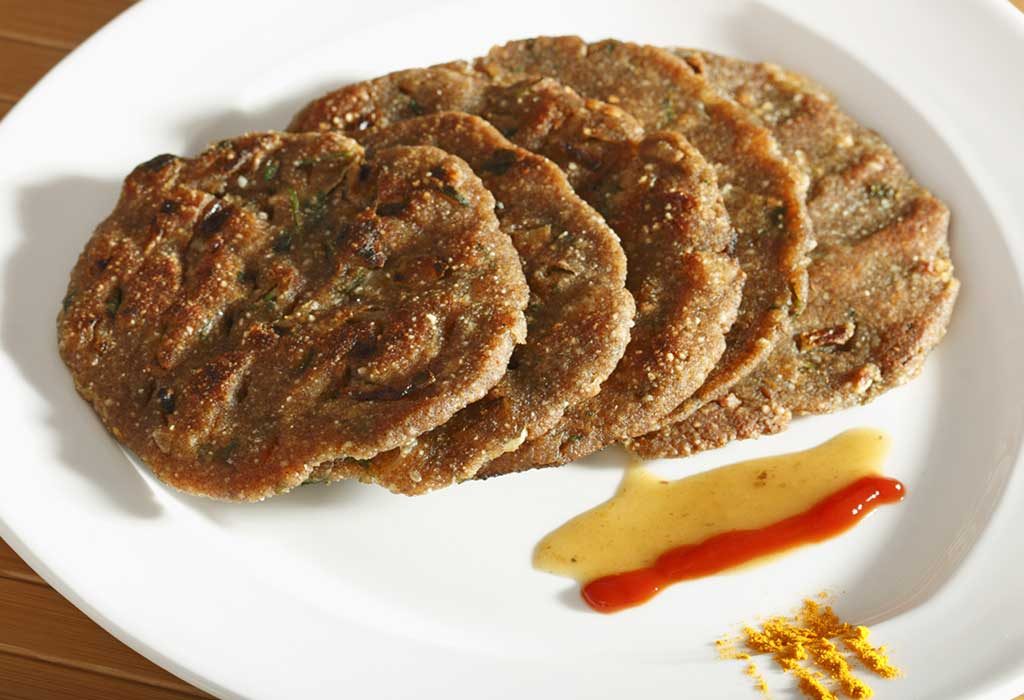 In this Article
Thalipeeth is an Indian flatbread mixed with lentil and grain flours commonly consumed in Maharashtra. Every household has a typically different combination and choice of grams and grains that they use. All individual ingredients are dry roasted; mixed and then grinded. This mixture is called "bhajani". Bhajani can be used each time by adding a wide variety of vegetables while making the dough.
An easier option is to mix the flours of choice separately, like we do in the recipe below. Thalipeeth is very healthy, flavourful and can be served any-time of the day with yoghurt/dip/sauce or just a dollop of melted homemade butter.
| | | |
| --- | --- | --- |
| Serves | Preparation Time | Cooking Time |
| 4 People | 15 Minutes | 30 Minutes |
Ingredients
1/4 cup jowar flour (sorghum)
1 cup rice flour
1/4 cup green gram flour
1/4 cup besan (chickpea flour)
1/4 cup bajra flour
Asafoetida powder (hing), a pinch
1 tsp cumin (jeera), coarsely powdered
Turmeric powder, a pinch
1 cup onions, finely chopped
1 cup spinach, washed and finely chopped
3-5 green chillies, finely chopped
2 tbsp (tablespoon) coriander leaves, finely chopped
Salt to taste
4 tsp (teaspoon) vegetable oil
Method
Step 1
In a large mixing bowl, combine all the flours.
Step 2
Add turmeric powder, asafoetida, cumin, and salt.
Step 3
Add the finely chopped onions, green chillies, and spinach, coriander leaves and mix using enough water to make a soft dough.
Step 4
Divide into 4 equal portions, and shape them into round balls.
Step 5
Heat the tawa or non-stick pan and brush some oil on it. Remove from heat.
Step 6
Lightly grease your hands and roll the dough balls so that they get coated with oil.
Step 7
Take one of the dough balls, place it in the center of the tava, and flatten it into a round shape about 1/4-inch thick with your fingers.
Step 8
Make a small hole in the center.
Step 9
Cover and cook for 5 minutes on medium heat.
Step 10
Pour one tsp of oil in the center and around the edges and cook until the underside is lightly browned.
Step 11
Flip and cook on the other side with a little oil. Remove from heat. Repeat with the remaining dough.
Step 12
Serve the thalipeeth warm with a dollop of sauce, dips, raita of your choice or with plain yogurt.
Nutritional Information
Calories
135
Sodium
1167mg
Total Fat
3 g
Potassium
119 mg
Saturated
2 g
Total Carbs
23 g
Polyunsaturated
0 g
Dietary Fiber
3 g
Monounsaturated
0 g
Sugars
1 g
Trans
0 g
Protein
5 g
Cholesterol
4 mg
Vitamin A
2 %
Calcium
3 %
Vitamin C
11 %
Iron
0%
*Percent Daily Values are based on a 2000 calorie diet. Your daily values may be higher or lower depending on your calorie needs.