#SnackAttack Not So Junk Potato Chips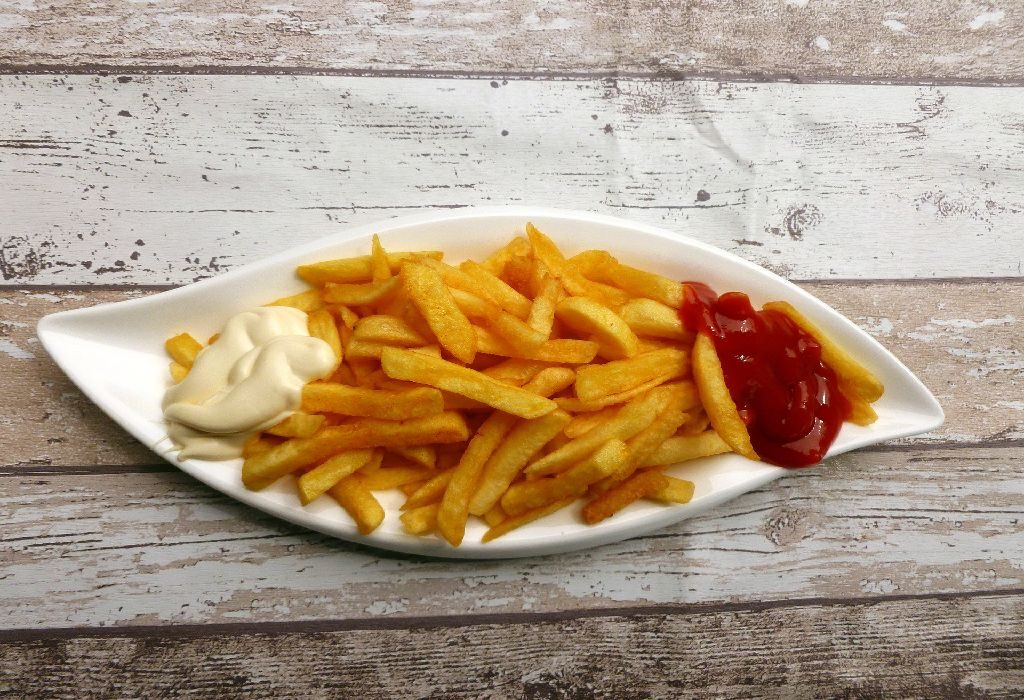 In this Article
Potato chips in any form – the french fries, the potato wedges, or simple wafers are every kid's favourite. But as a mom, you generally tend to restrict them from having a lot of these since they are fried and are rich in fats. But be assured, these potato chips are not going to raise a battle between you and your child. Find out how with this healthy potato chips recipe.
| | | |
| --- | --- | --- |
| Serves | Preparation Time | Cooking Time |
| 3 People | 5 Minutes | 40 Minutes |
Ingredients
4 potatoes
4 tsp (teaspoon) tomato sauce
4 cups hot water to soak potatoes
4 tsp olive oil
4-5 garlic pods. grated
2 tsp salt
Method
Step 1
Heat oven to 240C/Gas 9 and arrange rack in top.
Step 2
Peel and cut potatoes lengthwise as shown in image.
Step 3
Cover potatoes in hot water and let it soak for 10 mins.
Step 4
Meanwhile, combine olive oil and grated garlic in a small saucepan.
Step 5
Bring to a simmer over medium-low heat. Allow the garlic to sizzle and let off an aroma.
Step 6
Remove it from flame and set aside to cool.
Step 7
Drain potatoes and thoroughly pat dry with paper towels.
Step 8
Place potatoes on a baking sheet drizzle with garlic oil sprinkle with 1 tsp of the salt and turn to coat well.
Step 9
Spread chips out evenly across baking sheet and roast for about 25 mins.
Step 10
Turn chips using a spatula.
Step 11
Continue to roast until crisp and golden brown on outside about 15 mins more/
Step 12
Try piercing potatoes with a fork to test for doneness.
Step 13
Remove chips from oven.
Step 14
Season with remaining 1 tsp of salt and serve immediately.
Tip: Olive oil is rich in good fats and potatoes are rich in calories.