7 Tips to Look Slim in a Sari and Rock Your Next Party Look!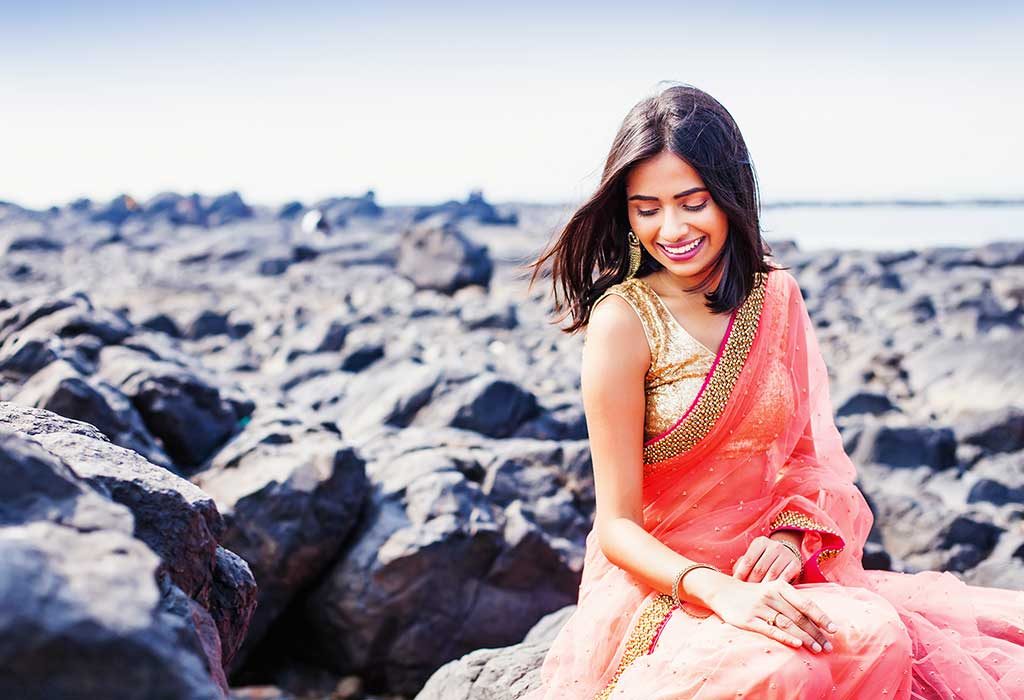 In this Article
For those of you ladies who would prefer giving gowns and dresses a miss for your next office or family party, but are worried about your sari betraying any flab you're trying to hide, we have the perfect tips for you to create a slimming effect on wearing your sari!
7 Ways to Look Slim in a Sari
Drapes, material, blouse designs, and the works – take care of these little details and watch that curvaceous sari figure take shape!
1. Go for Dark Colours
It's a very basic fashion concept that dark colours and shades can make you appear a few sizes slimmer than you actually are. But when we say dark, don't go for sombre saris! Look for monochrome saris with dull metallic accents that will look subtle and graceful. Ensure that you choose saris with thin borders so that they skim along your frame and make you look all sleek and sexy!
2. Choose the Right Fabric
Pure cotton and organza saris, gorgeous as they are, can be too stiff to enhance your curves, and end up flaring out instead. When it comes to choosing the right material for your saris, you want something that will fall on your body lightly and hug your figure – but not too much! Soft as satin is, its slipperiness while draping can test your patience. Chiffon saris too, lightweight as they are, can cling too tightly to your body, making you feel like you're revealing more than you want to! The best of the lot is pure georgette or crepe saris which drape naturally around your body, but don't draw attention to the flaws you want to hide. Soft silks or soft cottons are also relatively easier to pleat, look elegant and sophisticated, and accentuate your figure just right.
3. The Length of the Sari
The longer the sari, the more fabric it comes with, and the more volume it adds to your drape. A very lengthy sari can create the illusion of a heavier body shape because there is so much to drape with! The standard length of a sari (not including the blouse material) should be around 5.5 metres.
4. The All-important Drape
No matter how gorgeous your sari is, if the pleats are untidy and unflattering, you're just going to hate all the pictures you clicked in that sari! The pleats on the bottom need to be just around 5 to 6 in number, which are staggered out a little just for a bit of flattering flare. Make sure they are even and lay down flat by pressing them down with your hands; ask someone to help out if needed! For the pallu too, the best thing you can do is to leave it open. But if you would like to walk around without much of a fuss (which the open pallu might not guarantee), make medium-sized pleats and pull it over your torso such that your abdomen is covered. Tie the sari a little below your navel and tuck the pleats slightly to the side, as opposed to directly under the navel area. You don't have to stick to traditional styles too; there are plenty of modern draping styles you can try. Experiment with various styles of draping to see which one flatters your figure best!
5. The Patterns on the Sari
There are a bunch of patterns and designs you need to avoid while picking out your sari, because trivial as it may seem, these prints can play a role in either making or breaking your shape! For starters, you need to draw attention away from places you consider problem areas; so ensure that there is nothing big or eye-catching on the sari that falls exactly on your problem areas. Small print that is evenly spread out over the sari should be chosen over large prints (big and multicoloured stripes or checks, for example). Give chunky embellishments a pass; stick to clean, muted designs with fine embellishments.
6. The Blouse
No matter how beautiful your sari is, if your blouse doesn't support it in all its glory, you could find that the whole outfit is playing up your flaws! Your blouse shouldn't be too tight (making bulges visible) nor too loose (unflattering and bulky). A well-fitted blouse with the perfect sleeves can be the best companion your sari could ask for; 3/4th sleeves or long sleeves look best for those who want to hide flabby arms. Skip the halter-neck or sleeveless blouses if your shoulders and arms are too broad, but if you have sexy toned arms you'd like to show off, then by all means, go for a revealing blouse! Another trend that is catching on now is the jacket over the sari or a choli instead of a blouse. It cuts down on skin-show, but adds a layer of modern glamour to the traditional sari.
7. The Little Things
Remember to pair your outfit with a flattering hairstyle and makeup, with comfortable shoes to boot (heels are not always compulsory; you can always pick jootis or stylish wedges), and a clutch. If you do choose to carry a handbag, ensure that you don't hold it close to any of your problem areas, as it will become more evident, and try to pick a small bag that can house all your essentials.
And that's all there is to it! Here's a bit of cliche advice that is applicable no matter what you wear – with a killer smile and a confident attitude, own what you're wearing and show it off with grace!
Also Read:
Divine Hairstyles to Complement Your Saree
How to Wear Saree in Different Styles Perfectly
Saree Draping Tips to Avoid Tripping