Shilpa Shetty's Indian Meal Plan Shows How She Manages to Stay Fit in Her 40s!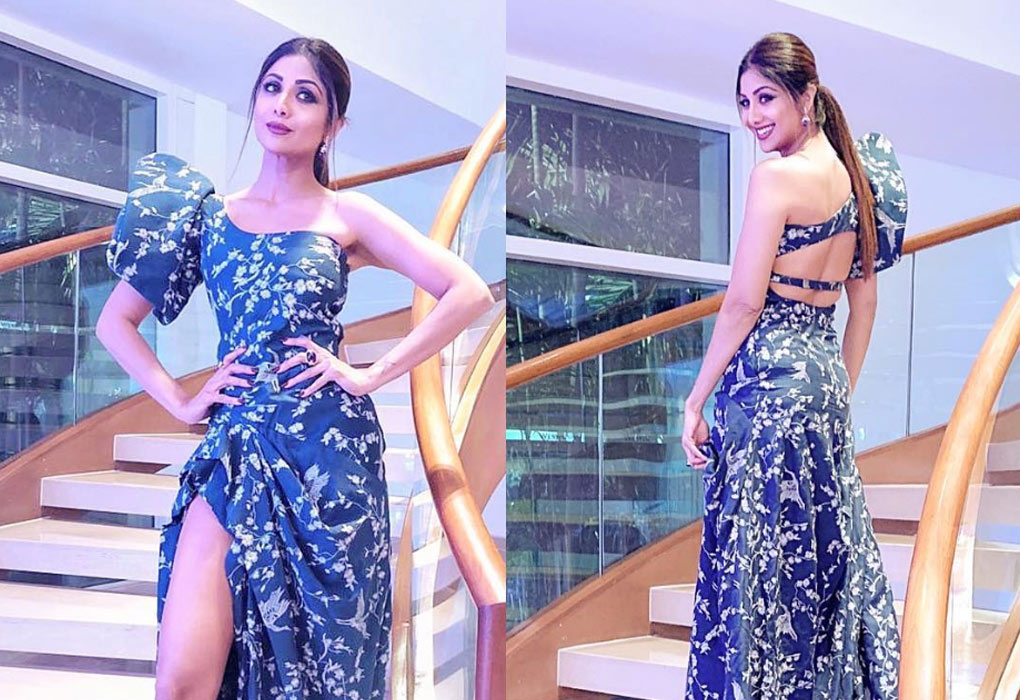 Shilpa Shetty is a 42 year old mom to a cute little four year old, but with her svelte figure and fitness level, she sure doesn't look her age! She recently shared her diet chart for looking so gorgeous after motherhood, and revealed how cutting down on ONE thing for just 3 weeks changed her body drastically!
Actor, entrepreneur, fitness enthusiast and mom to 4-year-old Viaan, Shilpa Shetty is a woman of many talents. With so many things to do and so little time, how does she find the time to keep herself in shape?
Besides her love for yoga, Shilpa follows a healthy diet with the occasional cheat day! However, Shilpa doesn't believe in workouts as just a way to lose weight; she believes in a healthy lifestyle for a fit mind, body and soul. No wonder then, that after her pregnancy, she lost 18 kilos in just 5 and a half months! The amazing transformation of her body speaks for itself.
https://www.instagram.com/p/BF8BLD5I2e3/?utm_source=ig_embed
How Did Shilpa Shetty Lose All That Post-Baby Weight?
In addition to a workout regime, Shilpa also follows a healthy diet. But don't be mistaken; she doesn't deprive herself of foods and go on crash diets! In fact, Shilpa hates dieting and has even talked about this in the introduction of her book 'THE GREAT INDIAN DIET', which she co-authored with nutrition and fitness expert Luke Coutinho. She says:
"The word diet makes the mind believe that the body is being deprived, and this deprivation leads to cravings. For instance, during fasts, I start to crave all kinds of things. It's in the mind."
What Exactly Does Shilpa's Diet Include?
Shilpa follows a clean eating diet that is flexible. She is a firm believer in a healthy lifestyle and believes that healthy living is key to a happy mind and soul.
https://www.instagram.com/p/BToUdr8hsFj/?utm_source=ig_embed
But as she mentioned, she has her cravings too! She deals with them by indulging in her favourite foods every Sunday – her cheat day! She even posts her Sunday Binge videos on Instagram, sharing what sweet or savoury stuff she is binging on.
https://www.instagram.com/p/BTg4ojchPd3/?utm_source=ig_embed
Shilpa's #DitchTheSugar Challenge
However, every now then Shilpa likes to challenge herself and keep things interesting. Recently, she took to challenging not only herself, but also her followers and other fitness enthusiasts with the #DitchTheSugar challenge. Sugar is the food that Shilpa decided to ditch for three weeks and it has been showing incredible results for her already!
Sugar can be found in sweet foods as well as most processed foods. One of the unhealthiest diets is one that is excessively rich in sugar. In fact, sugar is worse than even some types of fat! However, sugar is a major part of our diet today, and it's nearly impossible to steer clear of it and fight the cravings for the sweet stuff. But Shilpa decided to take this challenge head-on and invited other people to do the same on her Instagram.
https://www.instagram.com/p/BWDcCJXB8Mp/?utm_source=ig_embed
Shilpa Shetty's Video inviting people to take up the #DitchTheSugar Challenge
She not only skipped the sugar, but also gluten and dairy as part of her challenge. Gluten (protein found in wheat, rye and barley) and dairy foods can lead to weight gain in some women. You can find out here if you too need a gluten-free diet and how to go about it.
Shilpa tried the #DitchTheSugar challenge for a week before inviting others to join her in the challenge for two more weeks! The rules for the challenge seemed pretty straightforward but extremely challenging – after all, it's easier said than done to remove so many sugary treats from our diet!
https://www.instagram.com/p/BWZr_a8hXRw/?utm_source=ig_embed
Shilpa too thought of the same, so she motivated her followers by sharing just how harmful the effects of sugar can be on your body and affect blood pressure levels and insulin levels in the long run that can cause a host of medical problems like diabetes! Shilpa also shared some tips to replace the sugar and what to snack/eat instead – the idea is not to starve yourself but to eat the right foods for a healthy body!
https://www.instagram.com/p/BWrYoYthsm3/?utm_source=ig_embed
She also shared what you can look forward to if you #DitchTheSugar and the benefits sure make it seem worth it! Don't believe us? Check it out for yourself
https://www.instagram.com/p/BW-HjrNBkSM/?utm_source=ig_embed
With a disciplinarian lifestyle, Shilpa followed the #DitchTheSugar challenge with a reverence and the results speak for themselves – she's been looking yummier than ever!
https://www.instagram.com/p/BW4rgnNhCXN/?utm_source=ig_embed
Shilpa Shetty and Her Indian Diet Chart
Of course, there's more to her svelte figure than just a challenge, but it's not something out of our reach! In fact, Shilpa follows an Indian diet for her healthy lifestyle! A quick look at her diet chart is proof enough:

Shilpa's love for wholesome and nutritious Indian food goes back to when she was a little girl and used to spend time with her grandmother. She said in a recent interview:
"My palate is very middle class, my lunch has to be Indian food no matter where I am and what I'm eating otherwise. I spent most of my first five years with Amma(maternal grandmother) as my parents were both working at the time. She had magic in her hands and the simplest food she cooked was simply delicious. She'd make the most mouthwatering tomato saar (curry) and even a simple serving of steamed French beans with just a chaunk (tempering) of mustard seeds and curry leaves, with some grated coconut on top—had such a generous dose of love that it tasted amazing!"
https://www.instagram.com/p/BWAeAaMBcLF/?utm_source=ig_embed
So there you have it! The perfect challenge and diet chart to get you started on a healthier mind and body – with its cheats of course! Dropping sugar from your diet can have amazing results for the body and it will help you lose that stubborn fat too. You can then celebrate your achievements, just like Shilpa! The only thing to remember – don't overdo it!
Are you picking up this challenge? Tag your friends to take the #DitchTheSugar challenge with you and see the weight drop effortlessly!
?>