Shilpa Shetty Reveals Her Favourite Ghar Ka Khaana That Keeps Her Weight In Check!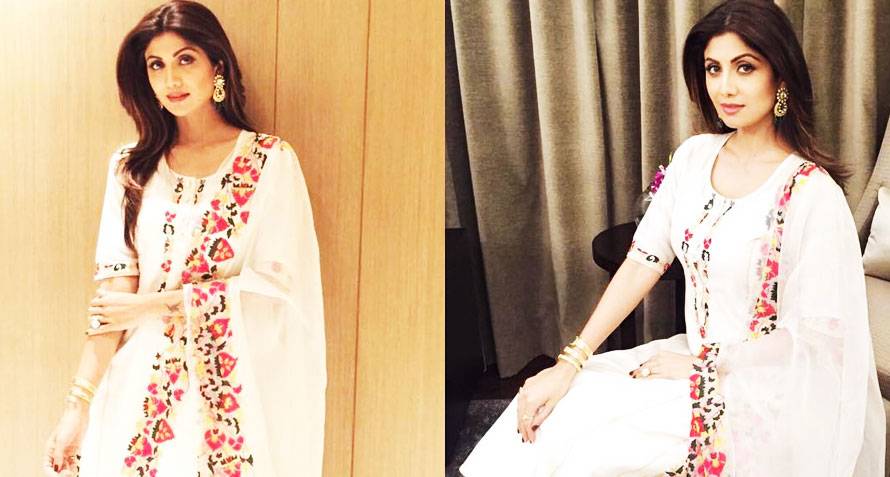 In this Article
Hard physical exercise, hours spent at the gym, a diet that screams impossible – maintaining the perfect figure especially after becoming a mom is not easy, right? And surely this is how Bollywood moms do it. Well, while there's no denying that exercise plays a major part in shedding those post-pregnancy kilos, there's something else that you can do – eat! Shilpa Shetty, a big advocate of healthy eating and yoga, has a simple diet plan that helps maintain her envious figure. So, what does she eat on a day to day basis and is it something we can emulate?
We bring you an up, close and personal look at some of Shilpa's favourite foods that are delicious but healthy and contribute toward maintaining her weight and figure. The best part is that these are regular foods made using everyday ingredients which means you can start incorporating them in your weekly menu!
1. Homemade Vegetable Khichdi With Garlic Pickle and Roasted Papad
Imagine this – it's raining cats and dogs outside. You're hungry. You're longing for some steaming hot food with a delicious smell…What comes to mind? Khichdi! This wholesome meal prepared using rice, lentils, ghee and vegetables is packed with several essential nutrients such as carbohydrates, proteins, fibre, calcium and Vitamin C. Shilpa calls this her "simple comfort food" and we couldn't agree more! The roasted papad – a far healthier option that fried papad – and the garlic pickle elevate the taste quotient of the recipe.
2. Dosa and Chutney
What? Your favourite breakfast item actually features in Shilpa's list too, what with the actress renowned for healthy eating? Well, surprising as it may seem, dosas are actually very good sources of nutrition, especially carbs, dietary fibre and moderate amounts of protein. This is what you need to kickstart your day which makes dosas a great, low-calorie breakfast option. Shilpa loves combining dosas with eggs and chutney, thus constituting what she calls a "bread free breakfast".
3. Chia Seeds, Nuts and Fruits
You may have heard about the goodness of these foods but it's now time to incorporate them into your diet. Here's Shilpa's winning combination – granola (unsweetened), grated apple, soaked almonds, pomegranate, yogurt, cherries, almond milk and chia seeds. The combination means complete fibre power for your stomach and "no hunger for three hours – full stomach work mode"! Basically, this recipe for breakfast/snack means that you will not only eat healthy but also keep your stomach satisfied for a long time, thus avoiding unhealthy binging.
4. Fish Curry
If you're a non-vegetarian, the pleasures of fish are not news to you. But what's really heartening here is that fish curry, when cooked correctly, can be a terrific health food. Fish is choc-a-bloc with protein which you need for healthy bones, muscles and skin. Just make sure you avoid deep-frying and use low-absorb oil for cooking. Shilpa's mom makes a lovely, spicy mackerel curry which daughter dearest calls "the BESTEST in the world". In fact, she says that it is this fish curry that made her fall in love with food!
5. Salad With Veggies
Salads may seem intimidating and unappetising at first but when layered with the right ingredients and slowly developed into a habit, they can be quite addictive! Also, they are great for keepimg your weight in check as they have a lot of dietary fibre that keeps your metabolism high. Recently, Shilpa and her son got together to treat Daddy to the dinner of a lifetime. For this family date night, they put together an elaborate but healthy spread of quinoa and rocket salad – this one had cranberries, walnuts, goat's cheese, beetroot, steamed asparagus and sesame sauce. Sounds delicious, right? The two also made gluten free basil pizza with zucchini, cherry tomatoes, mushroom and eggs. We bet Daddy was overjoyed!
6. Avocado and Flaxseeds
This combination is absolutely stellar when you are looking to lose weight (without giving up on food!). Avocados contain very few calories and when combined with flaxseeds can actually be quite delicious. The best news, however, is this – avocados are rich in monounsaturated and oleic fatty acids that shrink tummy fat! Shilpa's Saturday breakfast starter often comprises half an avocado with flaxseeds and hemp seed oil, topped with chia seeds and pepper. She recommends eating this raw first thing in the morning for best results.
7. Bread Pudding With Stevia
If you're wondering what this is doing here, let us tell you that some baked goodies are actually recommended by weight loss experts. The secret here is simple – you should let your body indulge every once in a while so you don't give in to temptation in a massive, irreparable way. Plus, trust Shilpa to find health everywhere – she makes these piping hot from the oven, uses stevia (sugar substitute) and 5 seeded bread.
8. Fresh Fruit Juice
Fruits are a superb way of giving your body its mineral and vitamin fix while also filling up your stomach. Fresh juice is always a better option than packaged drinks. However, excessive consumption of fruit juices may mean too much sugar running inside your body. This is why Shilpa reserves these drinks for a hot afternoon. She also adds to their health quotient by putting in a dash of ginger, lemon and mint. The colours are beautiful too!
9. Roast Chicken/Turkey
Yet another healthy delight for non-vegetarians is a roasted chicken/turkey dish that supplies your body with proteins while being very low in calories. To make chicken a strong weight loss companion, try eating chicken breast without the skin and add veggies for added benefit. For Christmas, Shilpa made this roast turkey with gravy and added lots of veggies to it. Since she's now a vegetarian, this was necessary! So in went brussel sprouts, spiced parsnips, purple cabbage, roasted potatoes and carrots…all everyday vegetables whose nutritional value we often ignore.
10. Carrot Halwa in Almond Milk
Finally, it's time for true-blue ghar ka dessert. No weight loss plan can work if your body feels deprived of all the good things in the world. Shilpa's trick is to allow herself a Sunday binge food – from panipuri to rasgullas to halwa. To make her dessert totally guilt free, Shilpa uses almond milk, stevia sugar and raisins. Not only does this add more protein and fibre to the dish but also works with her husband who is lactose intolerant. Nothing should stop you from enjoying dessert, right?
Shilpa Shetty's gastronomic journey is indeed a good mix of healthy, delicious and guilt-free. She doesn't deny herself simple joys like binging on panipuris at a street vendor's but also compensates for it by consuming healthy foods through the week. Of course, along with a balanced diet, her daily yoga, positive thinking and good times spent with her son and husband play a major role in keeping her fit as a fiddle!