Shepherd's Pie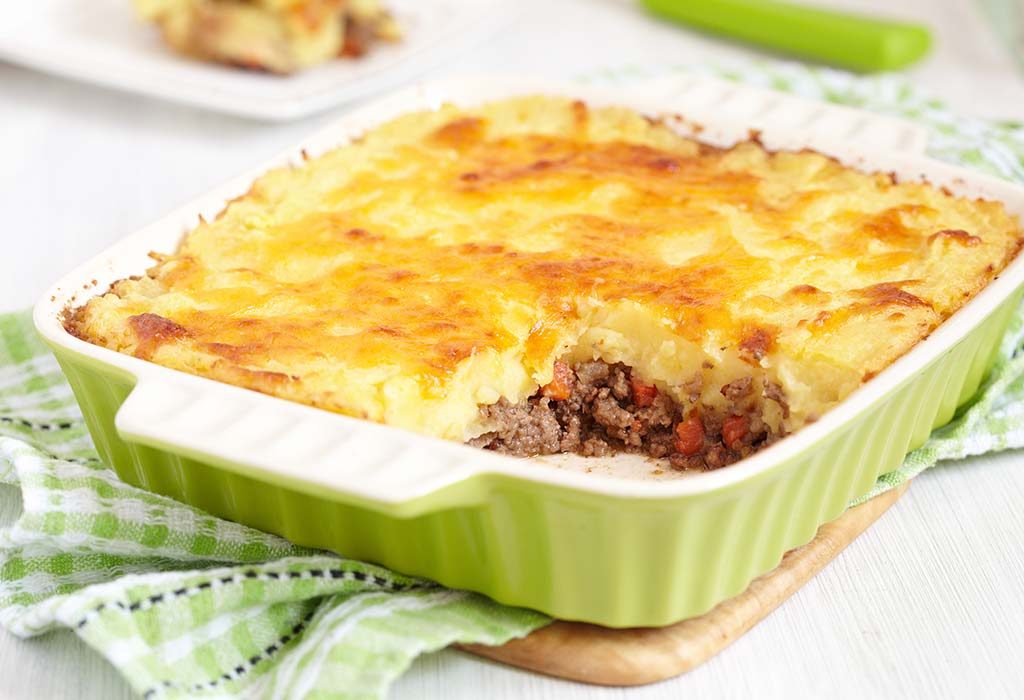 In this Article
This dish from England is actually made with beef, but here in India, we are more of a chicken-eating culture. So we have bought about a lovely twist to the recipe, in a way that it agrees with the Indian mindset, but falls nowhere short on taste parameters, when compared to the original classic recipe. It is a simple layered casserole of chicken, veggies and potato, and we reckon that you can't go wrong with it. Include your kids in the preparation and enjoy a satisfying Sunday lunch together.
| | | |
| --- | --- | --- |
| Serves | Preparation Time | Cooking Time |
| 6 People | 10-15 Minutes | 50-55 Minutes |
Ingredients
4 large potatoes, peeled and quartered
8 tbsp butter
1 medium onion, chopped
1-2 cups vegetables—diced carrots, corn, peas
1 1/2 lbs ground chicken
1/2 cups chicken broth
1 teaspoon Worcestershire sauce
Salt, pepper, other seasonings of choice
Method
Step 1
Cook the potatoes till tender by immersing the peeled and quartered pieces in water, for about 20 minutes.
Step 2
In the meanwhile, melt 4 tablespoons of butter in a large saucepan on medium heat. Add the chopped onions and sauté for 4-5 minutes.
Step 3
If you are including vegetables in the recipe, you need to add them according to their cooking time. Carrots should be added with the onions, because they take a long time to cook. If you want to add peas or corn, add them towards the end of the cooking of the onions.
Step 4
Add ground chicken to the pan with the onions and vegetables. Cook until it no longer looks raw and pink. Add salt, pepper, Worcestershire sauce and chicken broth.
Step 5
Bring the broth to a simmer on low heat. Cook uncovered for 10 minutes.
Step 6
After the potatoes are done, remove them from the pot and add the remaining 4 tbsps of butter. Mash the potatoes and season with salt and pepper to taste.
Step 7
Keep the oven for preheating to 400°F. In a large baking dish, spread the chicken, onions, and vegetable mix in an even layer.
Step 8
Spread the mashed potatoes over the top of this and rough up the surface of the mashed potatoes with a fork, so there are peaks that will get well browned.
Step 9
Place in the oven and cook until the top layer gets browned; it will take approx. 30 minutes.
Step 10
Remove from heat and let it cool. Scoop out pieces from the baking dish and serve warm.
Nutritional Information
| | |
| --- | --- |
| Calories | 540 K cal |
| Proteins | 37.9 g |
| Total Fat | 24.1 g |
| Total Carbohydrates | 42.4 g |
| Cholesterol | 142 mg |
| Sodium | 335 mg |
| Potassium | 1384 mg |
Tip: You can put a layer of corn between the chicken and mashed potatoes. You can also sprinkle grated cheese on top of the mashed potatoes before you bake the pie.