Scrapbooking for Kids – Importance and Tips
Scrapbooking is a great way to create something unique and be able to keep it with you for the rest of your life. This scrapbook could include absolutely anything that is of sentimental value. Scrapbooking is a favorite pastime amongst kids around the world because it allows them to not only make something that they can keep but also test their creativity. With all the digital data and technology that is available, there is something about having a physical copy of something that one creates. A scrapbook is something that can easily be passed on to future generations. Read our list about scrapbook ideas for kindergarten, the importance, as well as some tips that will help you out with your child.
What Is Scrapbooking?
Scrapbooking is a crafting activity that involves the use of a blank book. In this blank book, kids may choose to add anything that is of sentimental value and that includes photos, letters, memories and embellishments. The main idea of scrapbooking is to be able to preserve memories for your kids in the future as well as for when they start their little families. However, scrapbooking is also a great way for kids to be able to test their creativity because each scrapbook is unique and has the owner's signature on it in the form of how they have constructed it. Read our article to find out more about its importance and get some tips on how you can make this a fun as well as an activity that will help your kids learn and grow.
Benefits of Scrapbooking for Kids
Encouraging children to indulge in scrapbooking is important because it has various benefits that might help out your child in the long run. Here are some of them.
1. Creativity
Scrapbooks for nursery class level kids is a great way to harness their creativity and let their imagination flow. The kind of memorabilia and photos that they choose, the way they arrange it, the kind of embellishments they choose, all help build creativity and also lets them decide for themselves. These skills are extremely useful in life and it's great to start them early!
2. Organization
Since the process involves a whole lot of finding, cutting, pasting, arranging, sketching etc., it really tests kids' organizational skills. This skill, again, is very useful in real-life situations and scrapbooking helps them hone this specific skill.
3. Focus
Making sure that the scrapbook is coming together perfectly requires a lot of concentration and focus. Due to the high levels of energy that kids have, it can be challenging to channelize all that energy into something productive but scrapbooking makes for the perfect activity to do so.
4. Memories
As kids grow up, they understand that value of nostalgia and may want to have a look at stuff from the past. Scrapbooks make great keepsakes and help provide kids with great memories from their childhoods that they can eventually share with their special someone or families.
5. Relationships
Scrapbooking is a great way to bond with kids. Taking time out of your busy schedule in order to spend it building something with your child is something that will strengthen your ties.
6. Relaxation
Scrapbooking is almost therapeutic for many people. It helps to shed off the stress from work or school by hanging out together and doing an activity.
7. Communication
Communication is one of the most important aspects of creating a healthy relationship. Scrapbooking helps parents spend time with their kids and reduces communication gaps. The more chances that a child gets to communicate, the smarter they will become as they grow up. In order to solve any problem, communication is key and if scrapbooking helps harbour that then why not!
8. Keepsake
Future generations might have questions about their grandparents and great-grandparents and that is where scrapbooks come in handy. They serve as wonderful keepsakes that help show the passage of time in one book. Your kids will definitely love showing their scrapbooks to their families and kids and will most likely create a scrapbook for their own kids, continuing the tradition.
How to Make a Scrapbook for Children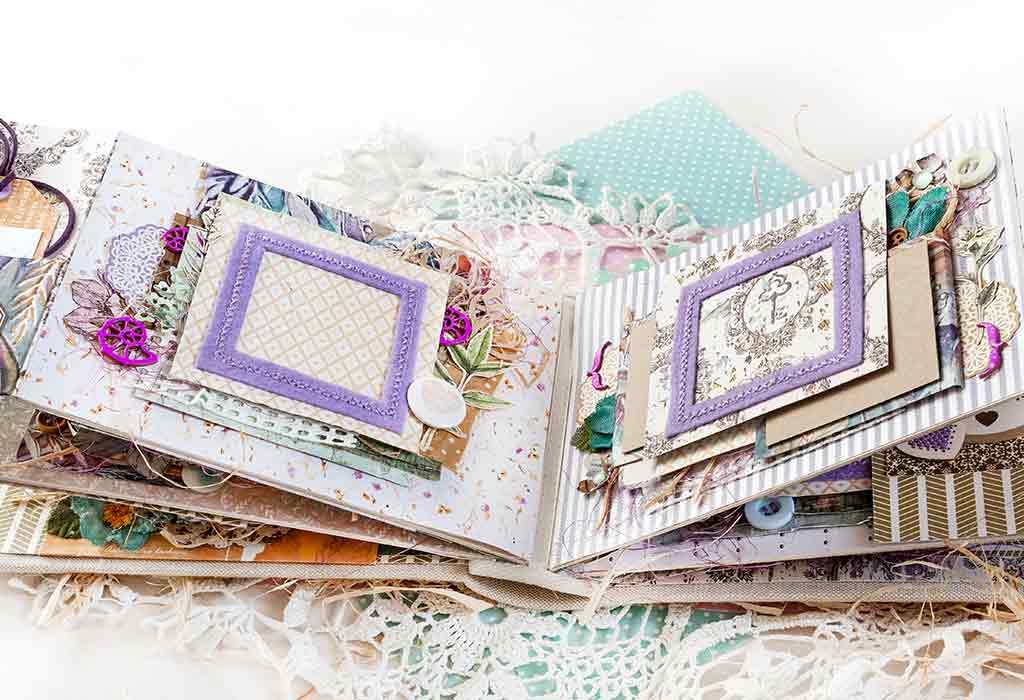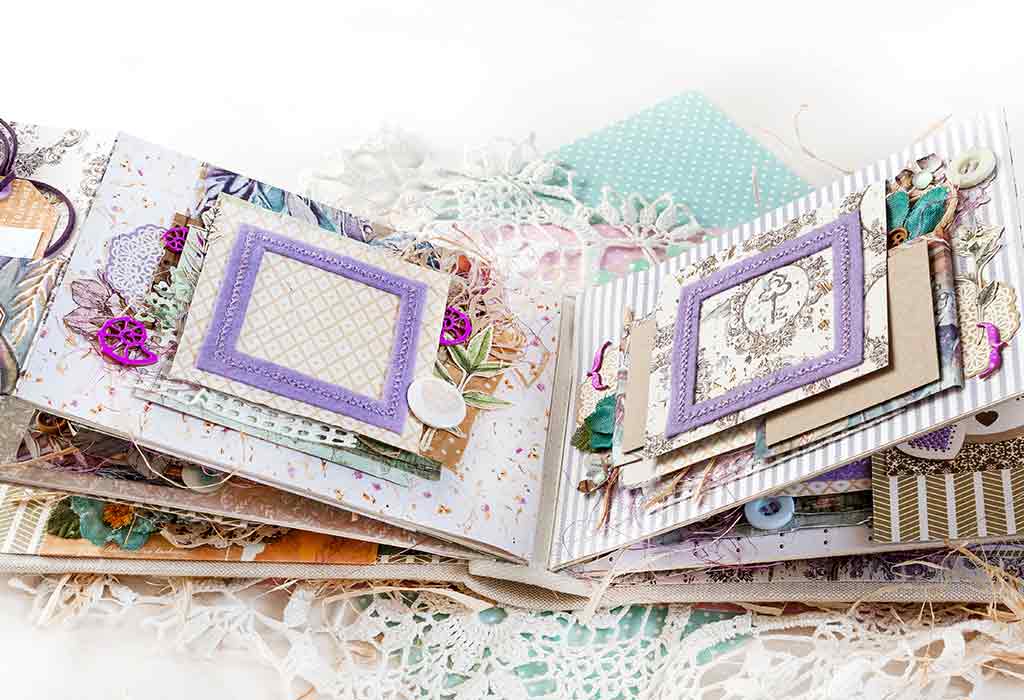 The main question that arises is how to make a scrapbook for children's artwork and memories. Read on to find out more about this process.
What you will need
Cardboard
A few sheets of coloured paper
Glue
Scissors
Paper punch
Ribbon or some string
How to make
In order to start your suitcase-style scrapbook, make the cover of it using the thick cardboard that you have.
Cover the cardboard with coloured paper.
Using a pencil, draw handles for the suitcase on another sheet of coloured paper. Glue the paper on the cardboard and cut out the handles.
Stick each handle to the existing cardboard.
Make sure to punch two holes at the bottom of the suitcase.
Next, cut out pieces of coloured paper into the size of the cover that you made.
Cut out triangles in another colour so as to stick it on to the corners of the cover of the scrapbook.
Punch holes in the bottom of all the coloured paper and make sure to do it in the centre.
Place the papers inside the covers.
Use the ribbon or string and put them through the holes to tie them all up together.
Your scrapbook suitcase is ready to get bedazzled with embellishments!
Tips and Ideas to Make Scrapbooking Interesting for Kids
Since the preschool scrapbook is now ready, we have put together some ways in which you can make this scrapbook even more interesting for the kids.
1. Backgrounds
Scrapbooks should not be left plain and backgrounds matter a lot because they decide how interesting your scrapbook will be. Before your kids start stacking up all the memorabilia and photos, make sure to choose a nice background for the scrapbook. This could include a map of a place where the family had gone for a vacation, for example.
2. Adding Collectables
The scrapbook need not have only photos and letters, your kids can spruce theirs up by adding other, cute collectables like tickets, entrance bands, etc. These may not seem like a lot at the moment but once you have them stored away in your scrapbook; they make for a great memory at some point in the future.
3. Artwork Scrapbook
Some kids might really love painting, drawing, sketching and other artwork. These items might mean a lot to them once they grow up and you can help out now by creating an artwork scrapbook for your little one. Kids draw and sketch all the time, throughout their childhood, and it's a great idea to have all of them in one place so that all the memories can be stored away.
4. Event Scrapbook
It might be a bit tedious to try and include all the events from family holidays, functions, school, friends etc. in one scrapbook. In this case, kids can choose to have a scrapbook for each event or make them based on themes. This way, their scrapbooks are organized and they have memories of each and every aspect of their lives.
5. Accomplishments
Similar to the previous tip, in case you notice that your child is excelling in school and is racking up a bunch of awards, certificates, ribbons and medals, you can help them create a scrapbook just for their achievements. This scrapbook is sure to help build confidence in your child because of all the rewards being in one place from the hard work that they have put in.
6. Hero Scrapbook
Kids have different role models in their lives and a good way to get them to appreciate their role models is by creating a scrapbook in their honour. This role model could be anybody ranging from a family member, friend or even an on-screen superhero like Superman. As and when you find photos, you can save them and hand them over to your child. They can put together all the things that they love about their hero into one book to inspire them at all times.
7. Big Scrapbook
Another cool way to make a scrapbook is by making a huge one. This might require some time and effort but a unique aspect of this is that you can create a smaller scrapbook inside the big one. This is useful in the case of family scrapbooks; you can give your child some space in the scrapbook to create their own so that all of the wonderful family memories are locked away, together in one book.
Scrapbooking is a great way to not only pass time but also get kids to really test their imagination and creativity. It might seem like too much work at the beginning but once you get around it, the results are sure to please you. Kids love arts and crafts and they are bound to love something, especially since they will be putting it all together with their own photos, memories and other stuff. We hope our list has given you an idea of the importance of scrapbooking as well as how it can impact the lives of kids. These tips are sure to help you out the next time you choose to indulge in an activity at home with your little one. All the best!
Also Read:
Simple and Creative Paper Cup Craft for Kids
Simple and Quick Newspaper Craft Ideas for Kids
Easy Paper Craft Ideas for Kids