Scrambled egg on toast triangles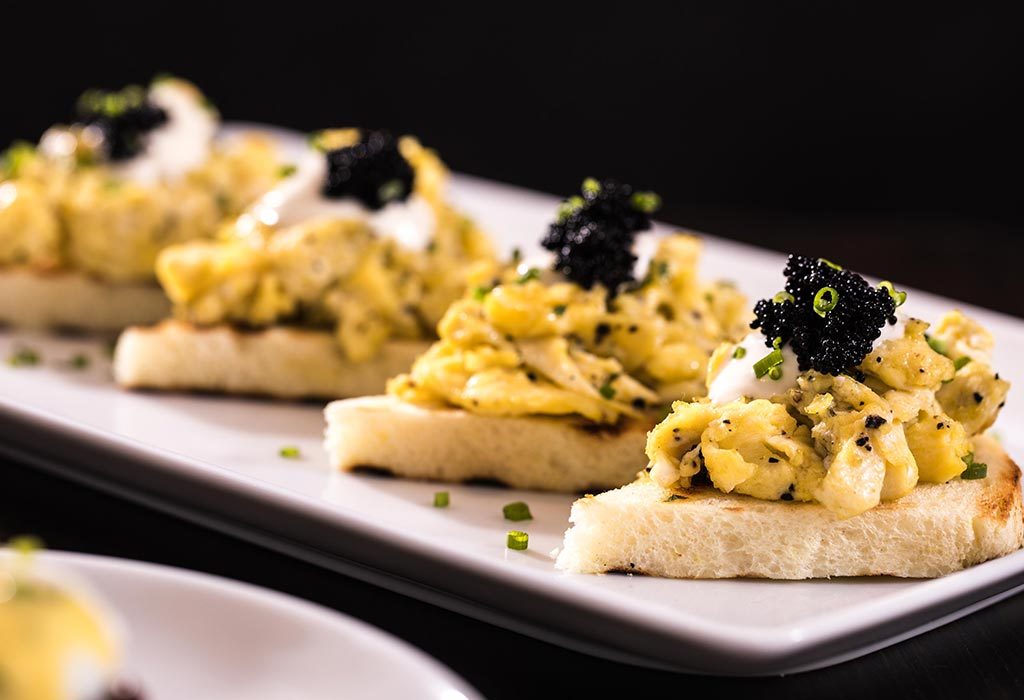 In this Article
Scrambled eggs are a quick, easy and popular breakfast dish. They're also suitable for a light lunch or supper dish. A select few call scrambled eggs, the perfect English breakfast. Scrambled eggs on toast is a failsafe classic breakfast recipe that can be bought at fast-food drive-throughs or made easily at home. The calories will vary accordingly and depend on the number of eggs, the quantity of butter and the type and amount of bread used.
| | | |
| --- | --- | --- |
| Serves | Preparation Time | Cooking Time |
| 4 People | 5 Minutes | 5 Minutes |
Ingredients
8 large free-range eggs
Salt to taste
Freshly ground black pepper
A small knob of unsalted butter or 2 tsp(teaspoon) olive oil
Method
Step 1
Crack the eggs into a bowl.
Step 2
Add a pinch of salt and pepper.
Step 3
Beat them together, using a fork or an egg beater.
Step 4
Put a medium saucepan over low heat.
Step 5
Add unsalted butter or olive oil.
Step 6
Once the butter melts or oil heats up, carefully pour in the eggs.
Step 7
Stir slowly with a wooden spatula.
Step 8
Stir gently until the eggs still look silky, slightly underdone.
Step 9
Turn off the flame, the heat of the pan will continue to cook the eggs to perfection.
Step 10
Toast your bread slice in a toaster or on a tawa.
Step 11
Cut the slice in half diagonally as shown in the image to form 2 triangles from 1 toast slice.
Step 12
Serve the warm scrambled eggs on toast triangles.
Nutritional Information
Calories
245
Sodium
42 mg
Total Fat
26 g
Potassium
0 mg
Saturated
0 g
Total Carbs
46 g
Polyunsaturated
0 g
Dietary Fiber
6 g
Monounsaturated
0 g
Sugars
12 g
Trans
0 g
Protein
26 g
Cholesterol
0 mg
Vitamin A
4%
Calcium
0%
Vitamin C
0%
Iron
0%
*Percent Daily Values are based on a 2000 calorie diet.
Your daily values may be higher or lower depending on your calorie needs.
Tips :
For extra flavor, you can add a few sprigs of fresh soft herbs, fresh red chili, deseeded and finely chopped or even fresh podded peas to the beaten mixture.
For those who want to go the low-fat way of making scrambled eggs, use only egg whites or you can add two egg yolks to the eight egg whites and beat them together. On doing this, the calories would reduce by nearly 100 calories.