Save that Saree! Carry a Saree Without Tripping Over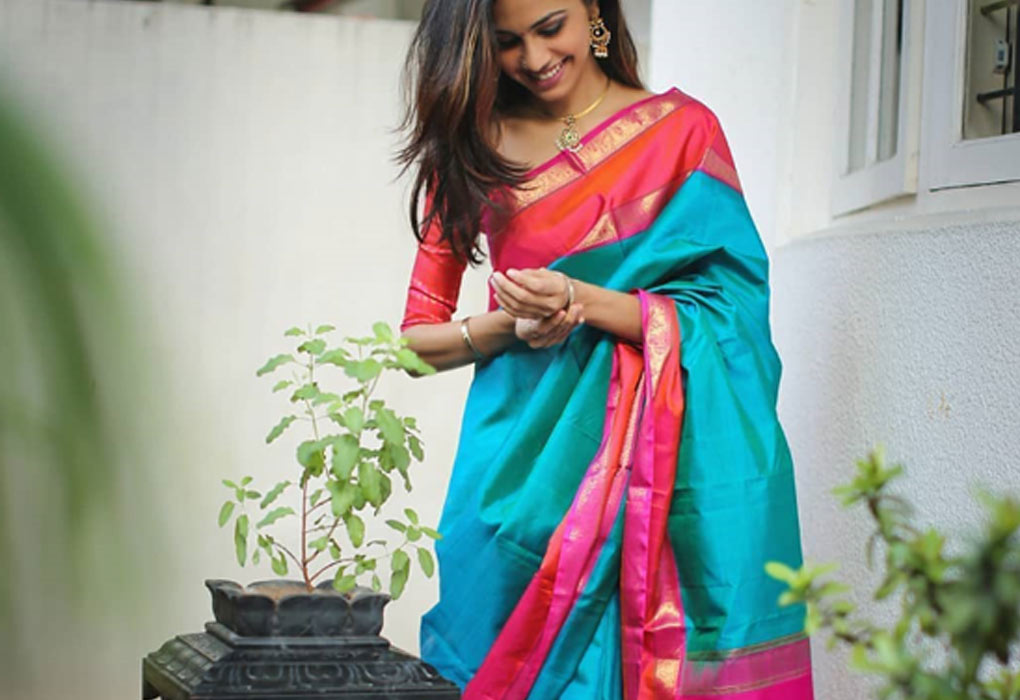 In this Article
The different ways to drape a saree add to its beauty. But there are many women who aren't comfortable wearing one. You can see them walking with one hand holding up the pleats and the other trying to keep the pallu in place. Learn how to drape this elegant garment.
The saree, oozing with panache, is one garment that can never get old- no matter how the fashion scene changes. It personifies grace and elegance and does the practical job of camouflaging problem spots. But do you shy away from wearing one due to fear of tripping over it? Well, no more! Learn to drape this six-yard wonder with élan!
6 Helpful Tips to Avoid Tripping over Your Saree
From you tipping over the lower hem of the saree, to the saree falling off itself if not tucked in properly – there are many unfortunate mishaps that can happen when it comes to wearing a saree. Here are 6 simple tips on how to drape a saree and keeping wardrobe malfunctions at bay!
1. Pin it up
How often have movies shown saree pallus flying with the breeze? Though it seems ethereal, a constantly flapping pallu in reality would be irritating and unmanageable! So this is the first and foremost of saree draping tips we want to share with you, and that is – secure the pallu! If you don't, you'll end up thinking of nothing else but trying to keep it from going crazy. Thanks to the little safety pin, you can put it neatly in place. Just pin it to your blouse and you're done.
2. Stitch a fall
It might seem cumbersome to go to the tailor and get a fall stitched to a saree, but it's worth the effort. This ensures that no matter what way you drape the saree, it falls perfectly and doesn't get entangled about your ankles or look clumsy.
3. Low is a no-go
Don't drape a saree so low that it literally sweeps the floor. Even if you feel that looks picturesque, it'll be a nuisance. Imagine trying to get your little one to sit still when your saree is caught in your heels! You'll be watching your step and and end up gathering it in your hands to avoid tripping.
4. Tie it at the right height
To have a saree fall a couple inches off the floor, tie it at the right height. Be prepared for some trial and error. You might've to attempt it several times to find the perfect height. If you prefer tying it low to show your belly button, make sure to consider the height of the petticoat too as it tends to slip down sometimes.
5. Wear medium heels
Whoever said that stilettos are the only shoes to wear with a saree! While they definitely look gorgeous and are great if you can walk comfortably in them, for most women the ideal choice is shoes with medium heels. Kitten heels are stylish and popular. And in case you want to go higher, try block heels as they're easier to balance on.
6. Be fabric-wise
When shopping for a saree, you may be tempted to buy satiny soft ones made super-stylish by celebs. Avoid the temptation! As pretty as they are, they slide and need plenty of pins to hold in place. Instead, opt for sarees in chiffon and georgette that are easy to drape and manage. You also want to avoid heavy sarees that have a tendency of pulling down petticoats.
Drape your six-yard wonders confidently with these tips on how to wear a saree. Have the perfect pleats by getting them stitched in place. They'll give you the comfort of wearing a dress and no one will be able to tell the difference!