Samosa with Masala Chana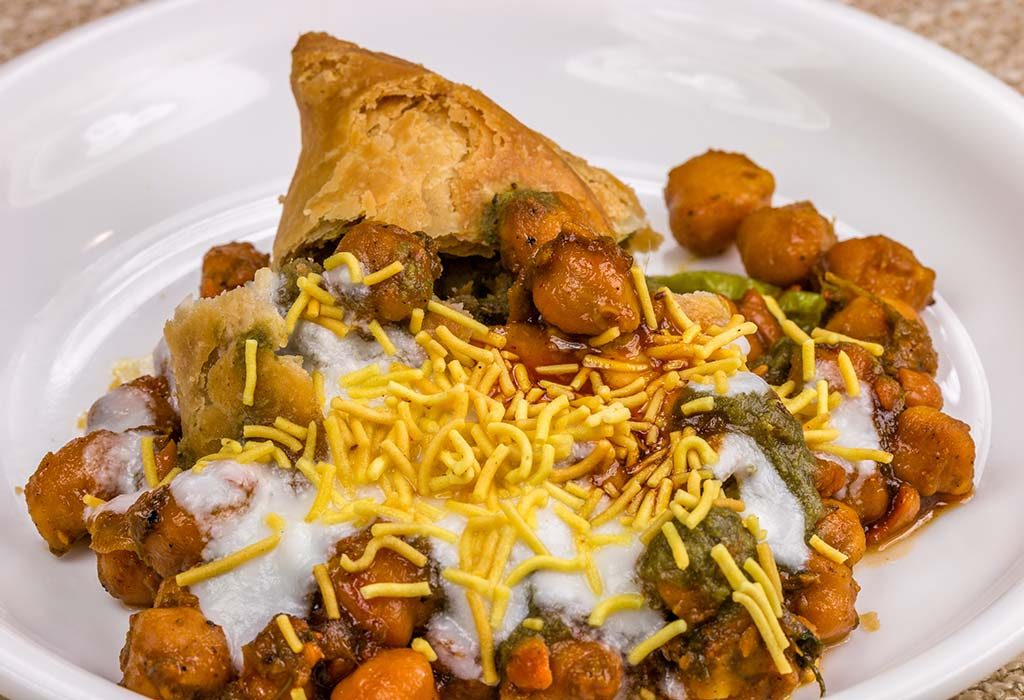 In this Article
Samosa has the prominence of being designated as the food of the nation. No matter to what nook and cranny you go inside India, there will always be a local 'halwai' frying samosas in a huge kadhai, and the eager customers stuffing themselves with the universal snack. Given that this dish is omni-present, you can't blame your kid if he yearns for a plate of this snack. The least you can do is, you can make samosas at home to make sure he is not indulging in the unhealthy road-side food. Our recipe will not only satiate his cravings, but also would tempt him to come back for seconds.
| | | |
| --- | --- | --- |
| Serves | Preparation Time | Cooking Time |
| 4 People | 15-20 Minutes | 25-30 Minutes |
Ingredients
100 g chana (Chick Peas)
300 g potato, boiled and smashed
200 g maida
100 g onion, chopped
¼ th cup tomato puree
6 chillies, finely chopped
20 g tamarind chutney (optional)
20 g coriander chutney (optional)
½ Lemon juice
½ tsp chat masala
½ tsp cumin powder, roasted
1 tsp sugar (optional)
2 tsp garam masala
Cashew nuts and Raisins (optional)
Method
For Samosa
Step 1
In a bowl, take flour, salt, carom seeds and oil. Mix the ingredients well with your fingers. Now, add water to the flour and make a firm dough. Wet a muslin cloth and cover the dough with it. Keep it aside for 20 minutes.
Step 2
Pressure cook potatoes.
Step 3
On a cutting board, chop onions, green chillies and coriander finely.
Step 4
Take a plate and peel the potatoes. With a masher smash the potatoes. Now add salt, chopped chillies and coriander, roasted cumin powder and squeeze half a lemon. Mix all the ingredients well.
Step 5
Now make even size balls of the dough and keep it aside. Do not roll the dough too thick as it will make the cover hard.
Step 6
Roll the dough into a cone shaped container that can hold the stuffing. Now, stuff the filling made in the cone shaped dough and seal all the sides properly.
Step 7
Press all edges properly so that the filling does not spill out and oil reaches till the filling while frying. Make all the samosas and keep them aside, covered under wet muslin cloth.
Step 8
Now, in a wok, keep oil for frying. When the oil is hot, slide 2 – 3 samosa into the wok, and reduce the flame to low. Fry them until they become golden brown. Fry rest of the samosas with the same procedure.
Masala Chana
Step 1
Soak chana overnight.
Step 2
Drain the excess water from the chana with a strainer.
Step 3
Pressure cook chana, until they become soft.
Step 4
In a pan, take some oil. On a high flame, add cumin seeds, chopped onions. Fry them till onion becomes translucent. Now add chopped green chillies.
Step 5
Now pour tomato puree and let it cook. Add the garam masala and stir it nicely.
Step 6
Take the boiled chana and add to the wok. Stir the ingredients well. Add a little water to the chana and let it cook for 10-15 min on low flame.
Step 7
Remove it from the gas and serve with the samosa.
Nutritional Information
| | |
| --- | --- |
| Calories | 845 K cal |
| Proteins | 8.9 g |
| Total Fat | 6.7 g |
| Total Carbohydrates | 57.2 g |
| Cholesterol | 2 mg |
| Sodium | 285 mg |
| Potassium | 311 mg |
*For deep frying, add approximately 10 grams of fat per serving, at 9 Kcal/gram of fat.
Tip: Do not fry on a fluctuating flame. Add samosa only when the oil is hot, so that they become crispy. If you fry them when the oil is not considerably hot, they will soak oil and not become crispy.