Salman Khan Just Gave Nephew Ahil a Gift More Beautiful Than Anything You've Ever Seen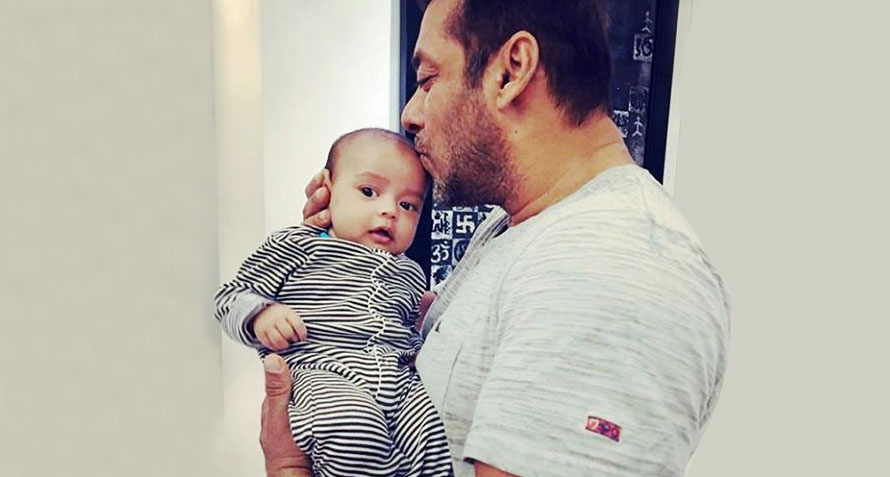 They pull at our hair, ride on our back and make the craziest demands like pizza at midnight. But our nephews and nieces are our best friends and we love them to bits! Ditto for Salman Khan who absolutely adores his little nephew Ahil. Spending time with Ahil is therapeutic for Sallu Bhai and lets him unwind and be as crazy as possible. This is why he got him a gift so special and meaningful that we are sure Ahil is going to cherish it throughout his life!
Ahil was born to Salman Khan's sister Arpita Khan on March 30 this year. It has been an exciting year for the Khan household as Ahil is rapidly gelling with everyone and creating a BIG space for himself in everyone's hearts! When we saw him on Eid, all dressed up in an adorable kurta pyajama, it reminded us of just how fast time goes. Especially when you have a bundle of joy at home and a hundred little milestones he crosses everyday…But it has been almost four months since his birth already, which is why Mamu Jaan decided to get him a gift. Now, the gift is a story in and of itself…
Mamu Salman wanted a way to cherish the memory of Ahil forever. Just as he is now, his tiny hands so gentle and beautiful. But how can we hold on to time? Well, the Sultan star found a truly royal way of doing it in style! He commissioned an impressionist artist to make a 3D image of Ahil's hands placed within his own hands. The 3D replica symbolises the bond between an uncle and his nephew – a bond so playful, so innocent, and so very special. And if this wasn't indulgent enough, hold your breath – the impression is made of real gold!
There is so much happiness that children bring into our world, right? They transform the mundane into the special, the everyday into a cause for celebration. From the time our baby first smiled to when he first learnt to walk, every moment is held dear and close to our chest. Salman too is enjoying every second of bliss with his young playmate. Recently at a party, he was showing Ahil how to pack a punch or two while his other uncle Sohail Khan held him in position. Talk about beginning self-defence training early in life!
Let's leave the happy Mama-Bhaanja duo to enjoy themselves and make some terrific memories together. Childhood is a phase in life untainted by the passage of time and we hope Ahil has a beautiful one!