Sabudana (Sago) for Babies – Benefits and Recipes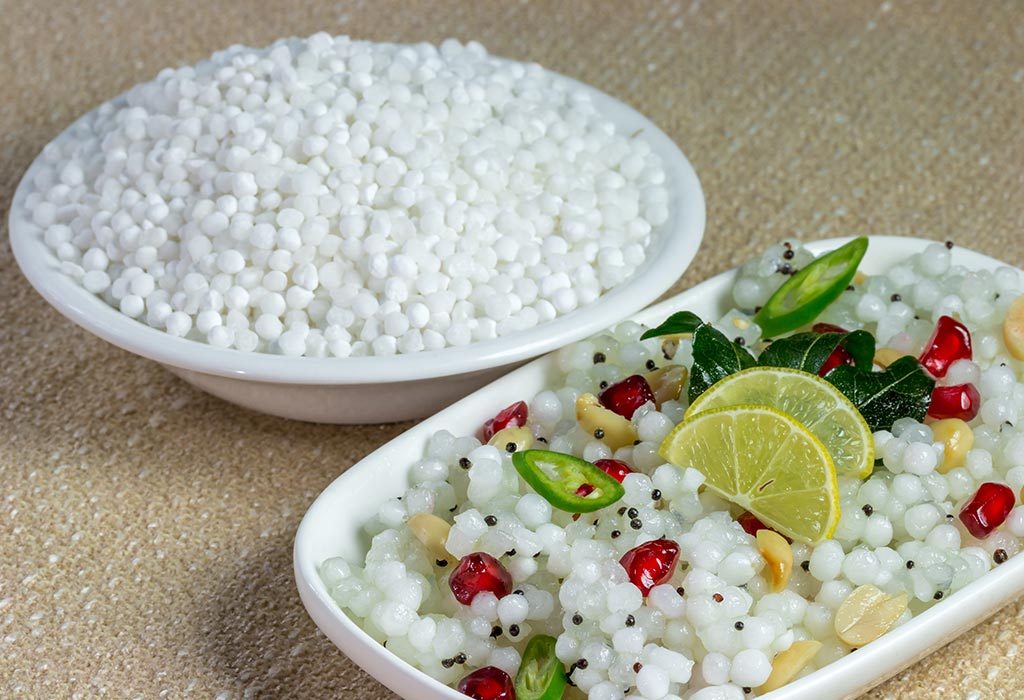 Sabudana is often considered an unhealthy option due to its starch content and limited nutrients. However, it actually has pure forms of starch and carbohydrates, which is great for babies. It is also rich in nutrients that help in the baby's physical development.
What is Sabudana?
Starch is extracted from tapioca roots and sieved under heavy pressure to form pearls of various sizes. These pearls are popularly known as sabudana.
Can You Give Sabudana to Infants?
Since tapioca itself is not known for its nutritious properties, sabudana is the starch of tapioca, which would mean it hardly has nutrients. However, it is the purest form of starch and, hence, an excellent source of carbohydrates. If you're wondering, 'is sabudana good for babies?' Yes, it is! Although is its nutrient properties are less, due to its simple form, it can be given to babies as an introductory food.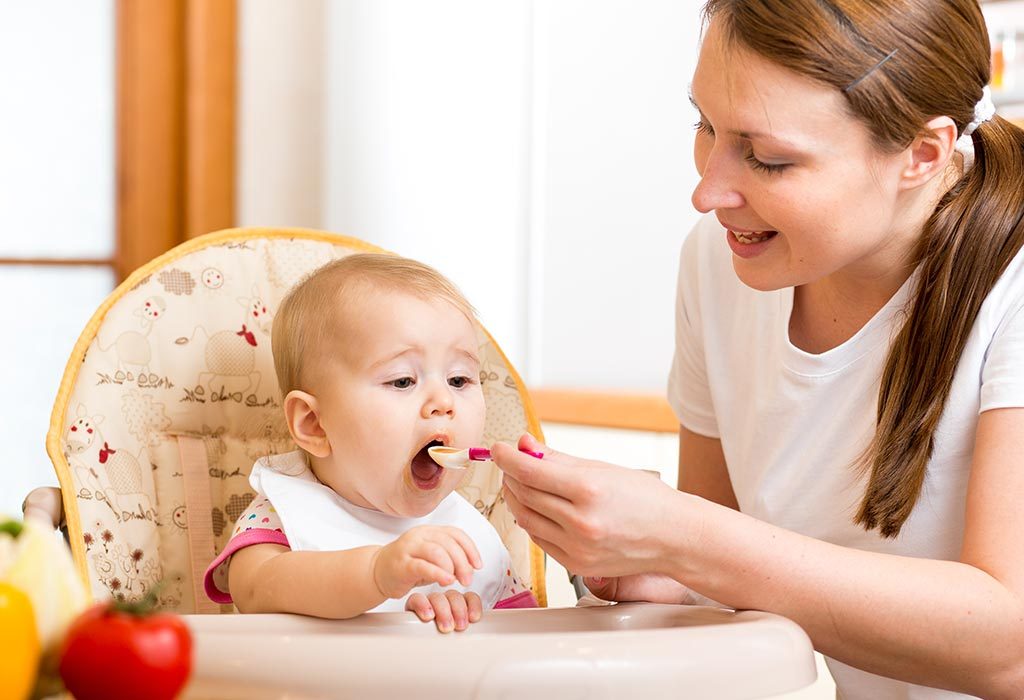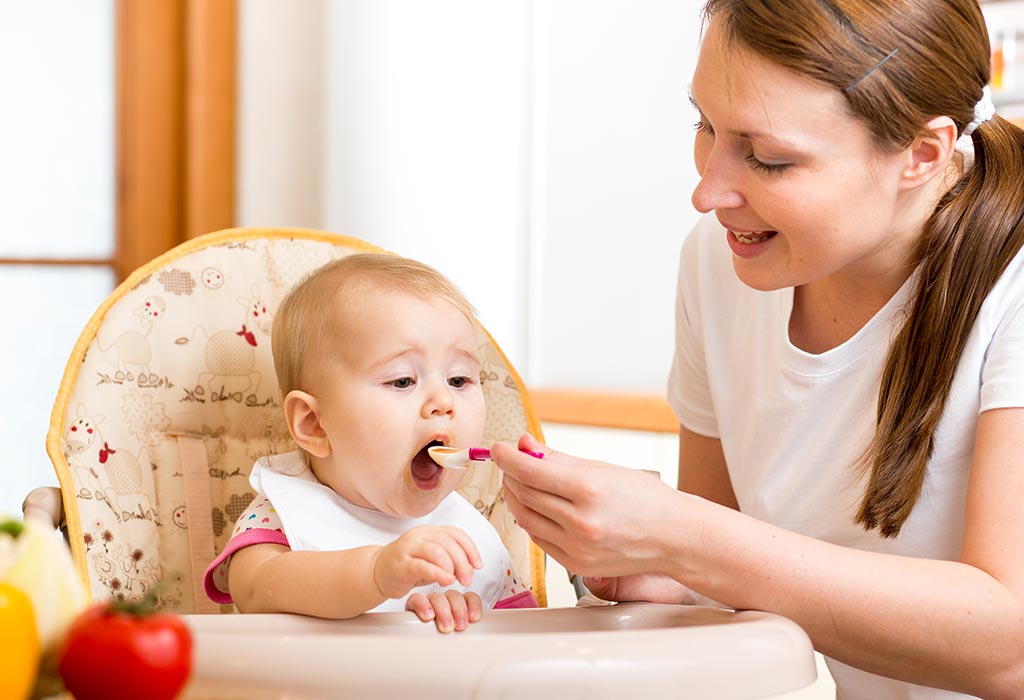 Benefits of Sabudana for Babies
Sabudana is beneficial for a baby's development and may be considered as part of the staple diet after six months of a baby's birth. Sabudana aids in:
1. Muscle Growth
Sabudana has a small amount of protein. It is one of the natural sources of vegetarian protein.
2. Bone Development
Sabudana has calcium as well. Calcium is a crucial requirement of the baby during the initial months, as at that time, a baby is still learning to use his body strength. Making sabudana a regular food will help in providing the calcium that a baby requires for bone development.
3. Blood Circulation
Sabudana has high potassium levels and, hence, aids in the functioning of the cardiovascular system. Blood flow and blood circulation are taken care of if sabudana is consumed by the baby daily.
4. Weight Gain
Rich in starch and carbohydrates, sabudana helps a baby gain good fat and muscle. So, if you think your baby is underweight, then you should consider making sabudana a part of his staple diet.
5. Regular Digestion
Sabudana is a pure (not processed) form of starch and carbohydrates. Hence, it is not only easy to digest, but also good for the digestive system. If a baby has constipation, feed him sabudana, and he will be at ease.
6. Body Temperature Regulation
Sabudana also has a cooling effect on the baby's body. Sabudana can, thus, regulate the body temperature of a baby from getting too warm and uncomfortable.
7. Keeps Hunger Away
The carbohydrate content in sabudana is so high that it keeps fatigue away and increases energy levels. Sabudana can be digested easily, but it breaks down slowly, so a portion a day keeps hunger away.
Delicious Sabudana Recipes for Your Baby
Though sabudana can be used to make a variety of foods, you need to keep food recipes simple for babies. Here are three popular sabudana (sago) recipes for Babies.
Note of Caution:
Always refer to your doctor before introducing a new food like sabudana.

Do not continue feeding sabudana if you notice any allergic reaction.

The milk used in these recipes can be breastmilk, formula, cow's milk or dairy (only if the baby is old enough to consume dairy milk).

Do not use honey as a sweetener for babies below 12 months of age.
Preparing Sabudana:
You have to wash the sabudana pearls just like grains.

You can either soak them overnight or boil the washed pearls till they become translucent.

Either of the methods is compulsory before cooking sabudana.
1. Sabudana Kheer Recipe for Babies
Ingredients
¼ cup sabudana

1 ¼ cup milk

1-2 tbsp. jaggery

¼ tsp cardamom

1tsp ghee (optional)

1 tsp raisins

Water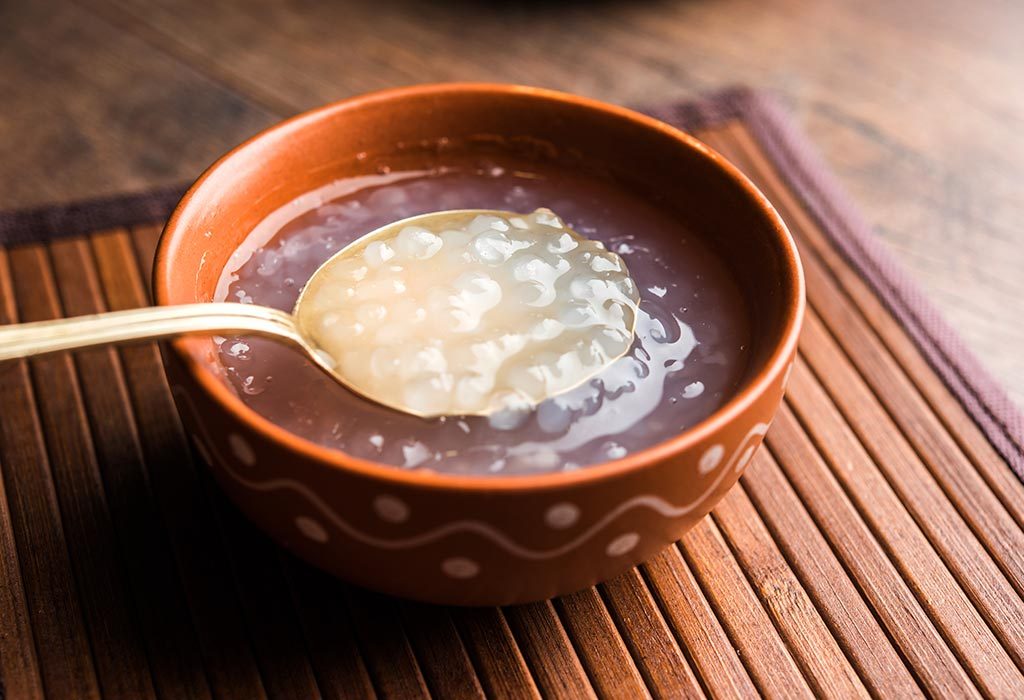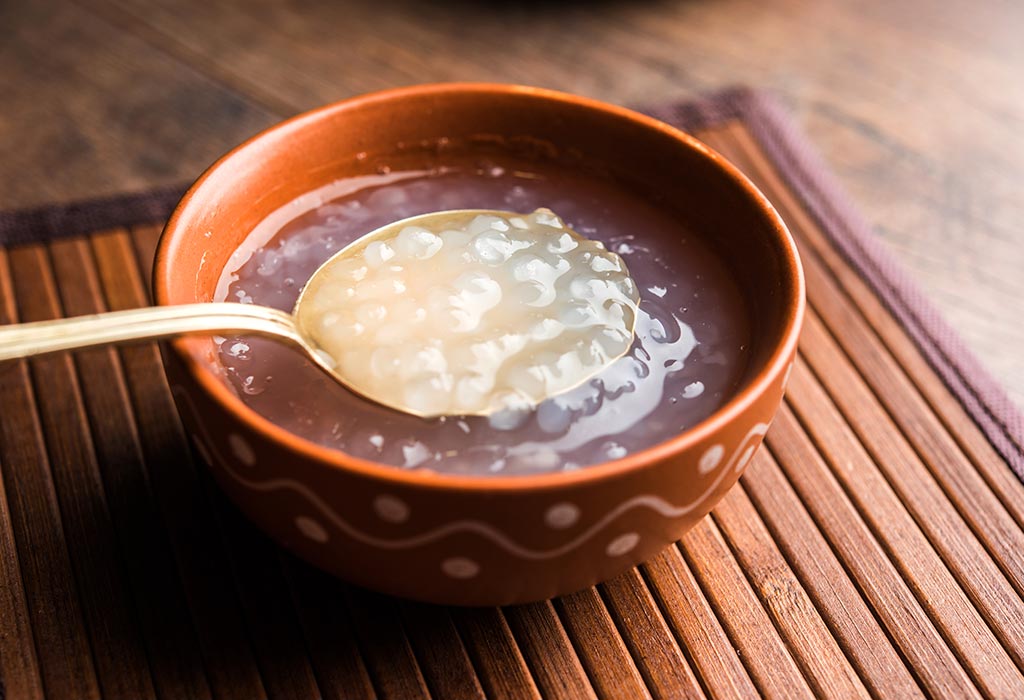 How to Make
Wash and soak the sabudana.

Boil some milk in a pan.

Add the sabudana to the boiling milk, along with some water. Keep the flame low to avoid burning or curdling.

Add cardamom, raisins, ghee, and jaggery to enhance its taste. Cook for a maximum of seven to ten minutes.
2. Sabudana Khichdi for Babies
Ingredients
¼ cup sabudana

1 small boiled and chopped potato

1 small boiled and chopped carrot

½ tsp cumin seeds

A pinch of asafoetida

½ tablespoon ghee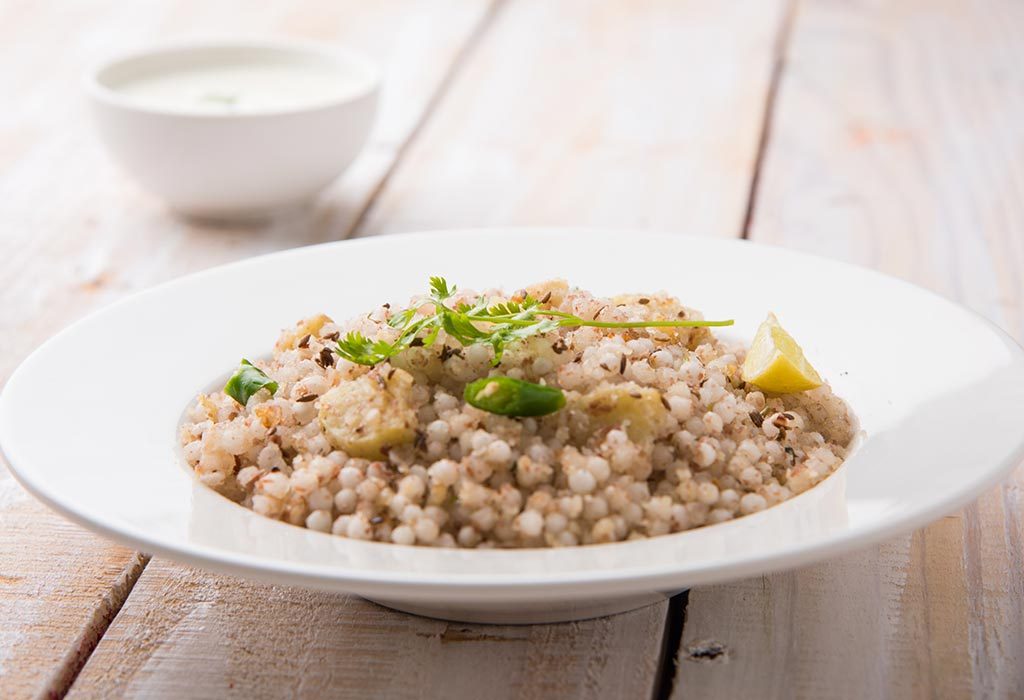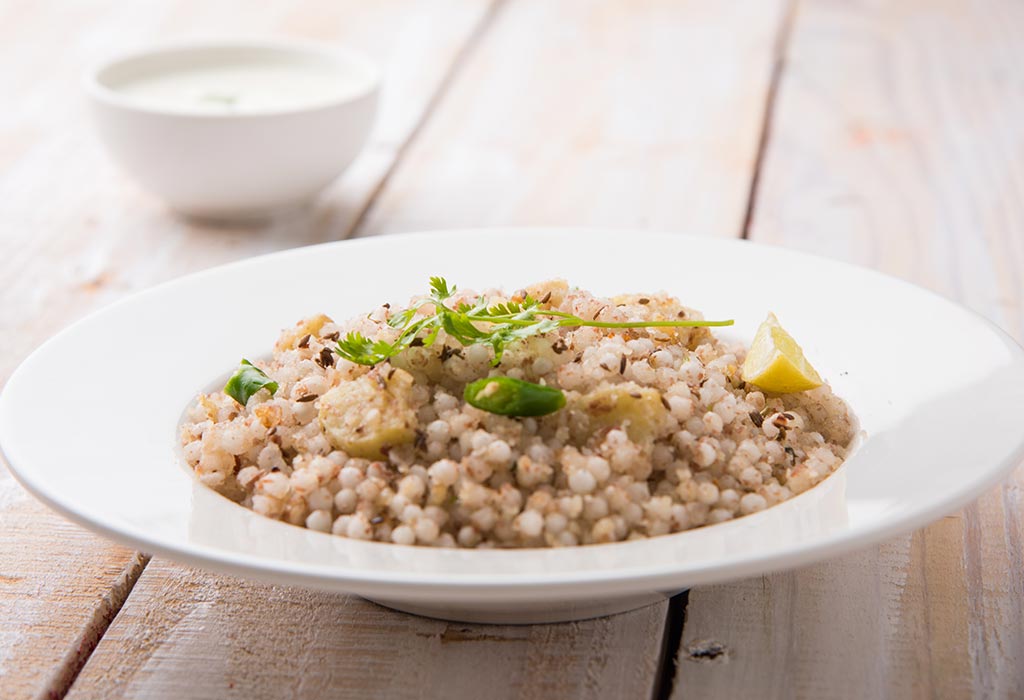 How to Make
Wash and soak the sabudana.

Heat some ghee in a wok and add cumin seeds.

Let them splutter, and then add asafoetida.

After a minute, add potatoes and carrots and sauté for 2-3 minutes.

Finally, add the translucent sabudana and sauté for a few minutes.

Add a little water if it's too dry for the baby.
3. Sabudana Water
Ingredients
¼ cup sabudana

1 tsp ghee
How to Make
Wash and soak the sabudana overnight.

Drain the water.

Heat two cups of water in a vessel and bring to a boil.

Add the sabudana and cook until they become translucent.

Add some water if the mixture looks thick.

Cool the sabudana to room temperature.

Mash the mixture until it becomes a smooth consistency.

You can also choose to puree the mixture if required.

Add ghee and serve.
Measurements can vary as per your taste. There is no hard and fast rule when it comes to cooking something for babies. Although, remember that sabudana absorbs water easily, so do not keep it over the gas for too long. Serve when it is lukewarm or at room temperature.
Sabudana is a good way to begin new foods, and as your baby enjoys the food, you can discover new ways of serving sabudana.