Revealed! Mommy Shilpa Shetty Discloses How She Looks Smoking Hot Even At 41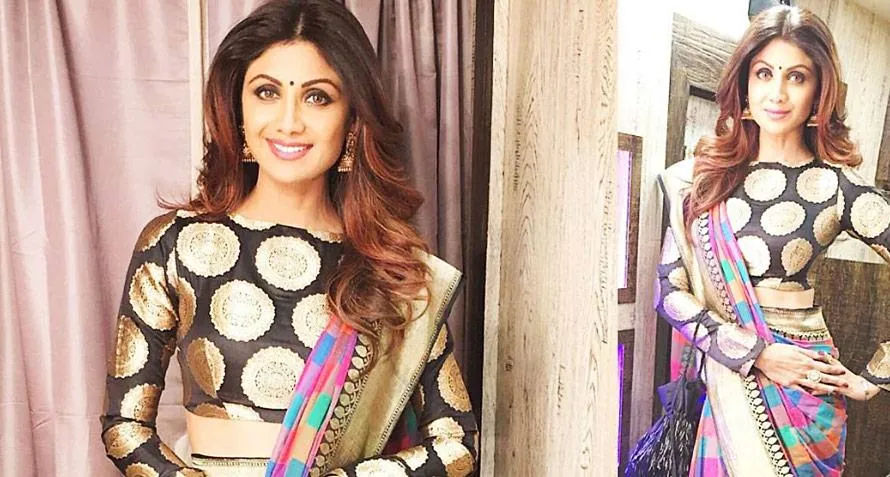 When Shilpa Shetty joined the film industry many years ago, she was athletic but a little chubby. She spent gruelling hours at the gym and stuck to her training schedules. She became fit. It was all very well until something happened that changed her life like she didn't know possible…
Well, here's what happened. She became a mom! A little boy, Viaan Raj Kundra, was now part of her life, and her world became a constant flurry of overwhelming emotion…
"Till I had my child, I had no idea about how much your body can transform. As an actor, you have a certain image. Mine was that of a glamorous icon. But when I had my baby, my body changed. That celebrity image was shattered completely. It was quite unsettling. Viaan is the centre of my world, and at that point, nothing was going to take away from me the happiness of motherhood."
During her pregnancy, Shilpa had put on 34 kilos! She realised that things would not be as smooth from now on. Apart from the extra weight, the postpartum stage also brings a spate of skin problems such as dullness of skin, loose skin and spots/acne. While we see these things as part of motherhood, it is important that we do not neglect self-care or fitness just because we assume these side effects are permanent!
Today, when you think of hot Bollywood moms, Shilpa Shetty's name is the first one to come to mind. Her work toward fitness, yoga and dieting has inspired hundreds of people, but to be honest, we continue to be a little apprehensive. Bollywood stars have a lot of money for cosmetic treatments, fancy equipment, high-class eating habits – things that we typically stay away from. But what if we told you Shilpa Shetty's secret is completely natural and something we can TOTALLY adopt as well? Don't believe us, eh?
Presenting to you, therefore, fitness and wellness secrets shared directly by Shilpa Shetty. These have helped her achieve the envious looks she now has, and continue to keep her energized and well:
Bring More Discipline To Life
"The realisation that now my body was not as easy to maintain as before, had set in. It took me five months of hard work to lose that weight. This experience also made me realise that anyone with issues can overcome them. They only need to understand what suits them best. It is not about dieting, and it is never about a one-week, one-month, or one-year commitment. It is a change in the way you live." says Shilpa.
Fitness is a lifelong habit that can happen only when you pursue it with sincerity. So it's time to forget about overnight wonder creams and belts, or miracle tonics and daydreaming. Instead, make a permanent commitment to lead a healthier life!
Plan Your Three Meals In Advance
When do you have breakfast? Or do you have it at all? As busy moms, breakfast can often elude us, as does following fixed timings for our other meals – and this is what makes you unhealthy! Here are the timelines that Shilpa follows for her meals:
Breakfast: Between 8 AM to 9 AM
Lunch: Between 12 PM to 1 PM
Dinner: Between 7.30 PM to 8 PM
Shilpa also recommends starting the morning with a glass of warm water and lemon juice. Also, try and avoid eating anything after 8 PM, especially junk food!
9 Bollywood Moms Eat These Breakfasts For Weight Loss!
Get Enough Sleep For Six To Seven Hours
This is another challenge for moms but remember this, it isn't an option! Poor sleep can make you cranky, less productive and ill – something that is going to harm the health of your entire family! Poor sleep also affects your skin and can give you dark circles and under-eye bags. "Whatever you do — study, work or exercise — will not reach its full potential if you don't recharge your body with a good night's sleep." says Shilpa.
Do This Little Thing For Your Skin Every Night
Every night, no matter what, make sure you take out 5 minutes to wash and cleanse your face. Try to avoid using soap as it may be too harsh. Also, do not forget to remove your make-up. Shilpa Shetty suggests a good way to do this: mix pure coconut oil with olive oil and apply this over the skin. You can wipe it off with cotton wool.
Whatever you do, stay away from too many cosmetic products. They may show results in the short-term but excessive exposure to chemicals makes your skin rough and damaged in the long run. Shilpa says, "Don't overload your skin with fancy products. My mum, who is 57 and has amazing skin, says the more you use when you're young, the worse it gets when you age."
Cook Food With Healthy Oils
Shilpa uses Indian oils for cooking which include coconut oil, mustard oil and groundnut oil. The thumb-rule here is to use oil in minimal quantities and avoid fried food. Healthy eating is the best way to maintain not just a good figure but also great, problem-free skin.
Start Consuming Brown Items
If you thought this is just a fad, think again! Science has proved that brown foods can actually be beneficial for your overall health. Shilpa consumes brown rice, brown sugar and brown bread. Further, she also recommends using seeded bread and sea salt.
Make Yoga a Part Of Your Life
If exercise has been difficult for you (ask us!), consider taking up yoga. It is possibly the most relaxing, de-stressing and rejuvenating experiences ever that also keeps your weight in check!
"I belong to a stressful professional community. And above all, Viaan is my priority and kids are full of surprises. Among all this, yoga helps me keep my balance. I try and do yoga for 40 minutes, at least five days a week."
Have a Day When You Can Indulge
Eating is not just for the body, it is for the soul too! Mark a day for yourself when you will eat all that you want to, without thinking too much. This lets you keep your temptations in check during the rest of the week. "For me, it is Sunday when I eat anything I want without feeling guilty. If you eat and are not happy, it obstructs your digestion."
Top 12 Healthy Sunday Snacks for Kids!
As moms, time runs faster for us than anyone else. The day is over before we know it and there are a hundred things still pending. We ignore our health, our skin, our wellness, because hey, everything else is more important, right? At this rate, we will wake up one day and realize we have aged overnight!
"I am a proud 41-year-old today. It is not me defining my age, but me trying to bring a perspective on ageing." says Shilpa. "You can't defy it, but you can definitely choose to grow old gracefully."
Kudos to you, Shilpa, for sticking to the natural route to fitness and proving that we all have it in us to be fit, healthy and beautiful, if only we change our perspective toward life. Here's to a fitter us!