Revadi / Revari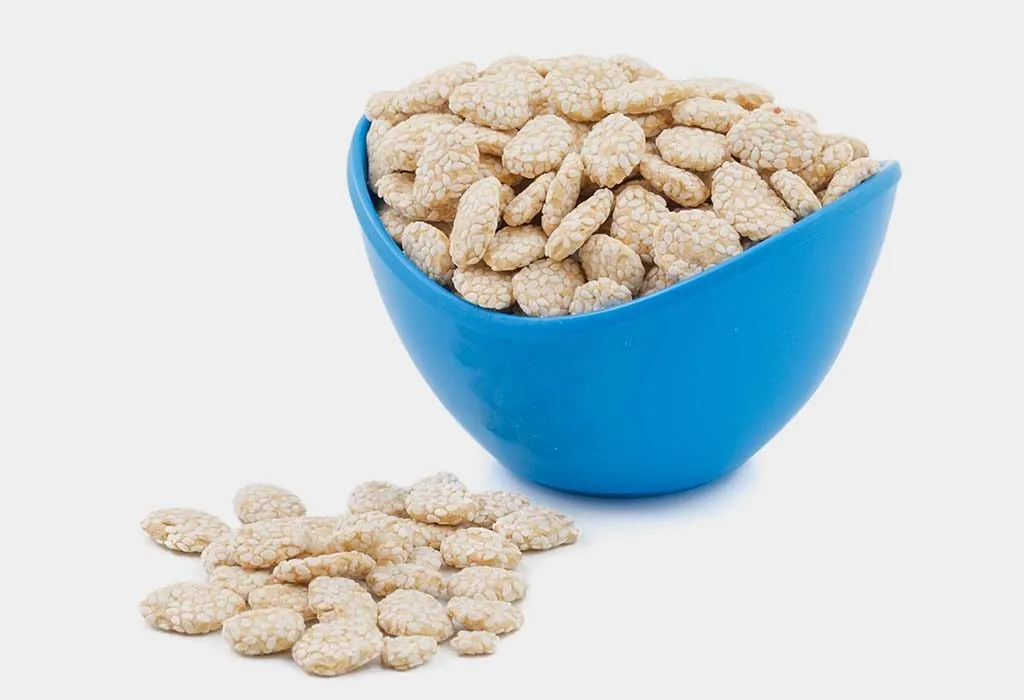 In this Article
Scrumptious, comforting and yes… Healthy! Revari forms an important part of the winter cuisine. This wonderful recipe combines the crunchiness of Til and the rich sweetness of Jaggery. The reason why it forms a winter staple is that til, both, black and white variety and Jaggery, are known to generate heat in the body after digestion, which eventually helps in combating the cold weather. So this Sankranti, bid adieu to the fattening creamy soups and other cheesy junk to keep yourself warm, and say hello to the old school 'til and gud'.
| | | |
| --- | --- | --- |
| Serves | Preparation Time | Cooking Time |
| 4 People | 30-35 Minutes | 45-50 Minutes |
Ingredients
100 g Sesame seeds
100 g Sugar
30 ml water
1/4 tsp cardamom powder
2 tsp ghee
Method
Step 1
Roast the sesame seeds in a pan till they turn light brown and keep it aside.
Step 2
Now, heat water and sugar together and make a sugar syrup of two-thread consistency
Step 3
Add cardamom powder and ghee in the same mixture and stir.
Step 4
Next, add the sesame seeds and mix. Switch off the gas when the mixture starts getting separated from the sides.
Step 5
Drop the spoonful of mixture onto a ghee greased plate evenly and let it cool for 2-3 mins.
Step 6
While the mix is still warm, press the dough and make it flat. The thickness should be about half an inch.
Step 7
Mark parallel horizontal and vertical lines on the dough, and let it cool completely.
Step 8
After it has cooled down completely, break it into pieces along the marked lines.
Nutritional Information
| | |
| --- | --- |
| Calories | 216 K cal |
| Proteins | 3.2 gm |
| Total Fat | 11.1 gm |
| Total Carbohydrates | 29.3 gm |
| Cholesterol | 5 mg |
| Sodium | 2 mg |
| Potassium | 86 mg |