Renovate Your Home with These Innovative Budget Friendly Ideas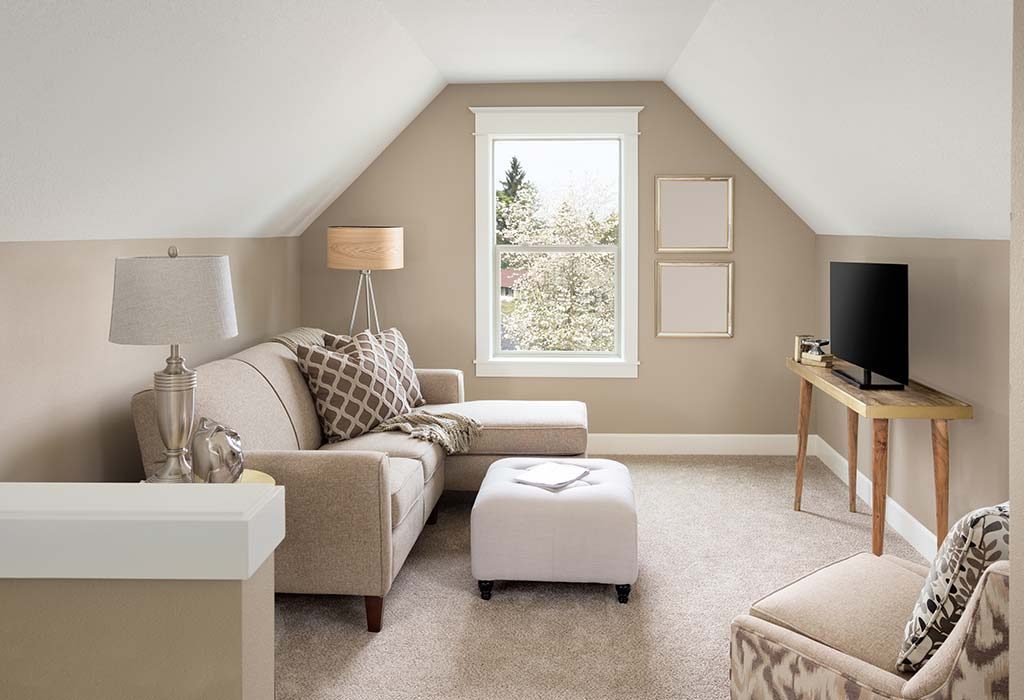 In this Article
A lush bedroom or a kitchen just like a professional chef's, a living room spacious enough for family get-togethers are tiny dreams we all cherish. When the time comes to change things, we often back out thinking too much about the cost. But it doesn't have to be an overhauling change. Petite changes here and there can uplift the feel of your rooms. All home renovation ideas for interiors and exteriors do not come with a costly tag. Some of them are pretty pocket-friendly, only if you know where and what to do.
Innovative Ideas to Remodel Your Home
If you wish to have all within a budget, then be open to innovative ideas. A little texture change here or a slight remodelling there can do wonders instead of a complete makeover. Only you have to know what to do exactly. Here are some old home renovation ideas that can help you get close to your dream home in a budget-friendly way.
Living Room
This is the first place that your guests would notice in your home – you would spend a lot of time here watching your favourite spot or a mood-lifting film with your loved ones. If it is a party, then people would gather here to have lively conversations. You would surely feel joyous if they shower the living room with compliments. After all, who doesn't like to hear good things about their home?
1. Build Some Shelves

Shelves are always a great way to enhance the look of a room. With tasteful trimming and framing, these shelves can look more attractive and expensive. You can always buy DIY products that would curb the end price by a great margin. This house remodelling idea for small homes can bring in a lot of stuff in one place and yet, put them on display with a good taste.
2. Display Collectibles

Next time you go to the flea market or travel to some cities, don't forget to buy collectibles. A mask with an African feel, a little colourful puppet, vibrant relics, or curios can always change the look of the room. Just, while putting them on display keep colour, subject and shape in mind. These collectibles would bear your taste and put forward the person you are. With this old home renovation idea, you can add a cheerful look to your living room.
3. Use Layer Rugs

Rugs can change the look of the floor. If your furniture sits atop rugs, then the outline of it gets a highlight. Smaller rugs can be used for areas where you can have small chit-chats with your buddies. Such rugs are extremely affordable and can be incorporated into your home remodelling floor plans.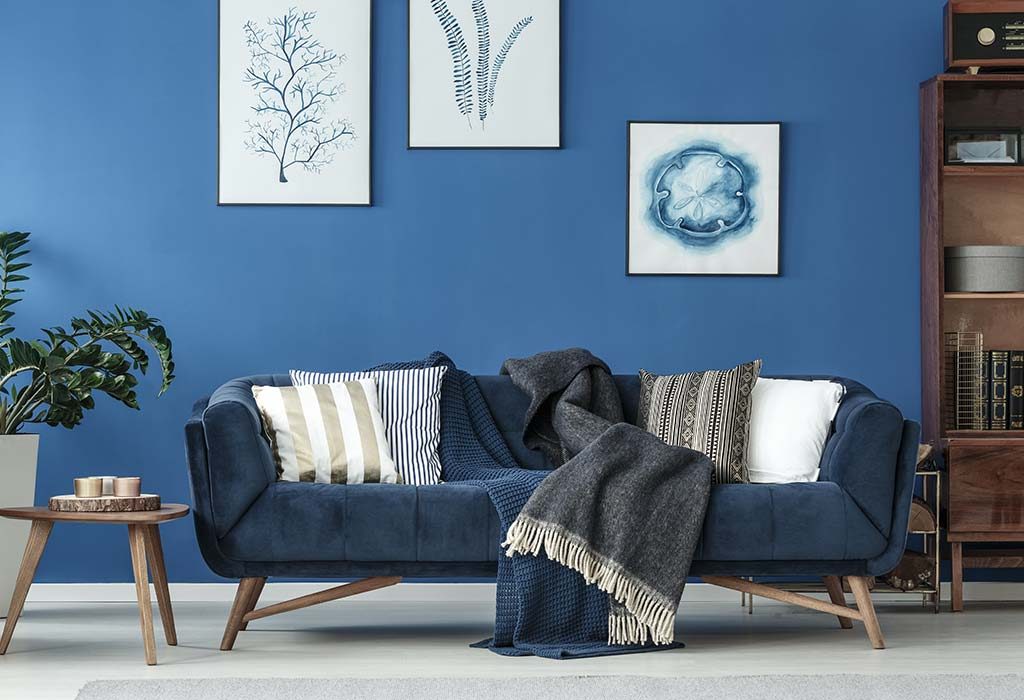 Bedroom
Old home renovation ideas are incomplete without a proper strategy for your bedroom. This is the room where you would sleep and spend most of your private moments. The room has to be decorated accordingly so that the sleep comes with sweet dreams and make you feel rejuvenated every morning.
1. Light up Your Bedside

You can always buy a small table lamp to put it on your bedside table. These lamps are inexpensive and come in handy at times. Small bedside lamps are cosy, and with the right kind of shades, they can make your bedroom look comfortable and reflect the lifestyle you have adopted.
2. Headboard to Give Heads up

Often understated, but a headboard of classy design that goes in sync with the decor of the bedroom can enhance the rooms appeal. This old home renovation idea is a gem in itself. If you have time, you can always design it yourself. Sleek designs are always available in stores.
3. Add a Storage Place in Your Bed

The bed takes a lot of space in the bedroom. But if you can add storage units in it, it can do good by hiding a lot of rarely used stuff. Take time and design accordingly to optimise the functionality of your bed. Especially as a house remodelling idea for small homes, this can save a lot of space.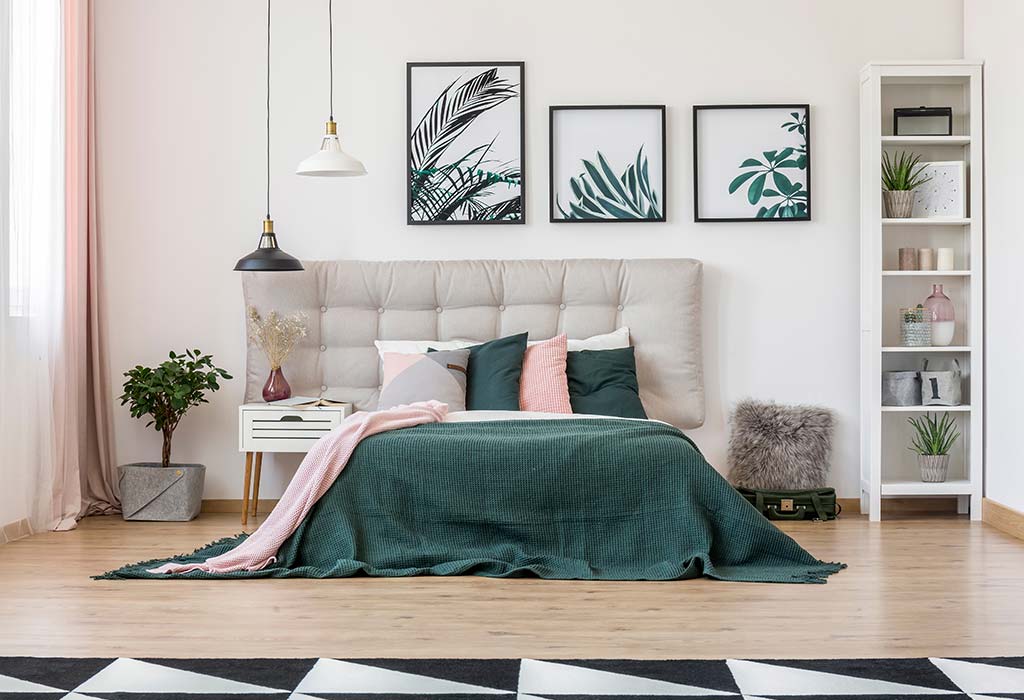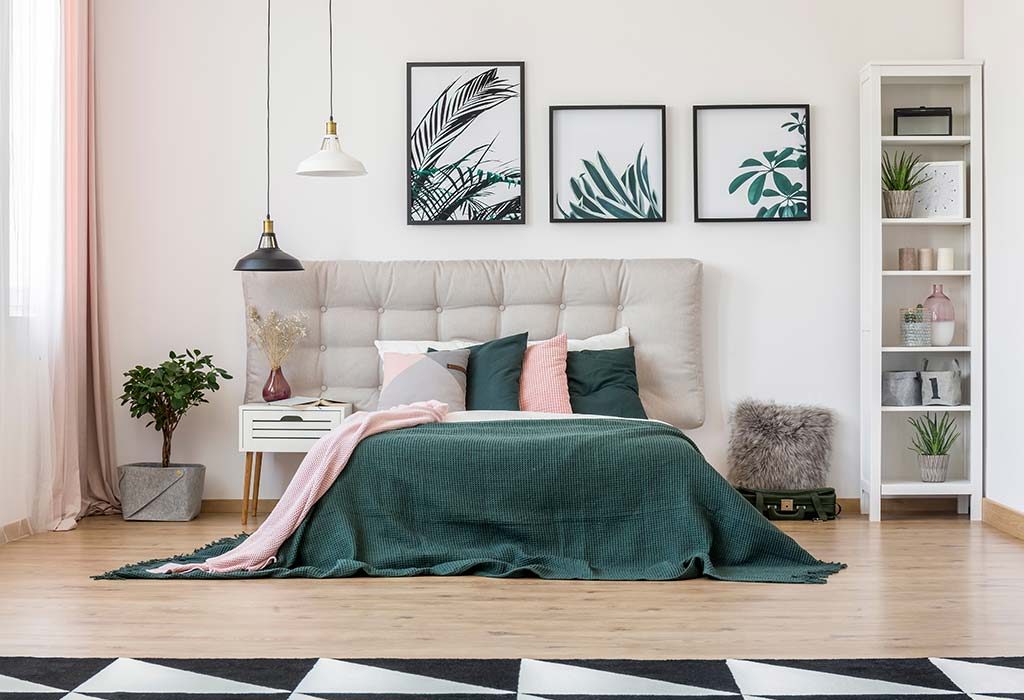 Kitchen
This nook in the house dishes out delectables to family members and guests. We all know the importance of a hearty meal as it can lift spirits high. That is why the chef's corner should be decorated accordingly. Right from your home kitchen colour to shelving units and the dining area, everything must be planned properly.
1. Place Drawers Under the Sink

Mostly unused space, but the place under the sink can come handy if you create drawers there. As a house remodelling idea for small homes, these drawers can garner accolades. It would be an ideal spot to keep essentials and drawers will make it easier for you to find stuff there.
2. Spice up with Colors

Your home kitchen colour ideas can go either classy or bold. A few vibrant brush strokes can completely change the look of your kitchen. Choose anything from blue to green to chrome, explore different colour palettes and schemes to make it a happening corner. Let the ideas brew there over some innovative tidbits or sumptuous meal. But always add white or neutral colours in the corners to complement the colour scheme.
3. Add Space with Pull-out Cabinets

Pull-out cabinets and corner cabinets are a great way to use space to their optimum potential. These are fairly cheap and can help you in having your kitchen stuff organized. You can put your utensils, plates, cups, and bowls inside. The kitchen would look tidy and spacious once you place everything inside the cabinets. If you specifically look at an Indian home, this can be deemed as a great home renovation idea on a budget.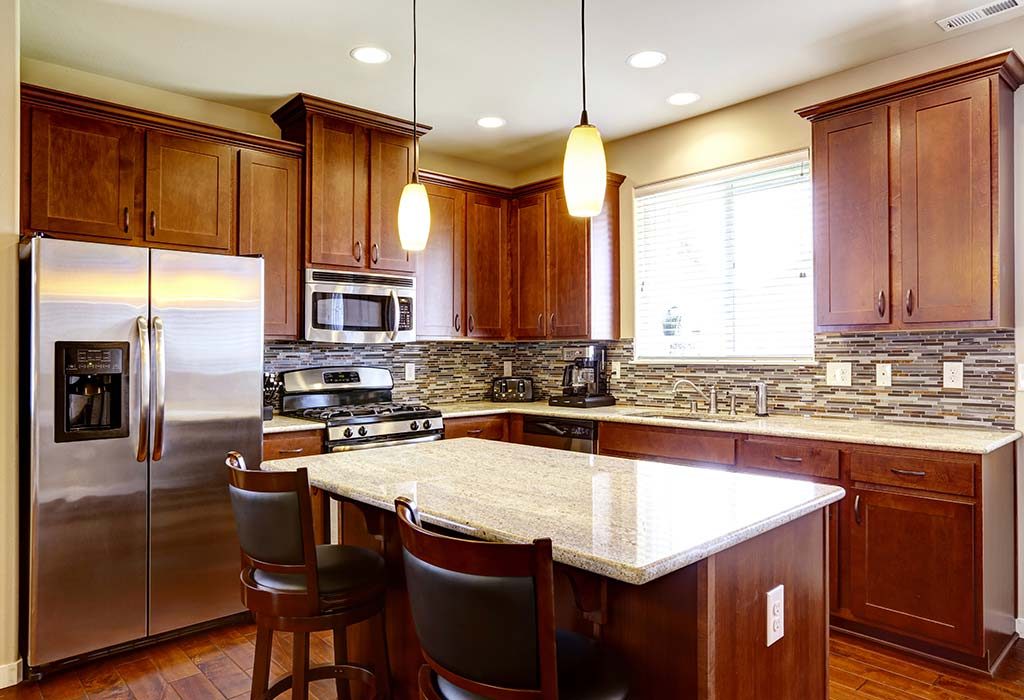 Bathroom
Your bathroom adds a bit of serenity to your life. There you go to wash your worries of the day down and emerge as a revitalized person. The sprinkling water cools you and lets you enjoy a brief moment of self-indulgence. To make the experience even better, you can check these house remodelling ideas for small homes.
1. Change the Fixtures

Little details often bring in great change. For sure you would not want some old brass taps displayed in your bathroom. As an inexpensive old home renovation idea, you can update the towel rack, lights, and sink faucets in a cost-friendly way.
2. Choose Tiles Wisely

If you have a thing for artistic tiles, don't buy them for the entire bathroom. This will cost you a huge amount. Instead, buy cheap tiles to cover the maximum available space and a few artistic tiles to place them in between. This will lower the total cost substantially and at the same time, accentuate the beauty of the artistic tiles. This is one sure shot budget-friendly house renovation idea for small homes.
3. Use Vinyl Tiles

As a home remodelling floor plan, changing the old laminates of your bathroom floor can be a good idea. Vinyl tiles are inexpensive but attractive. Dig up the old floor and put some vinyl tiles to give your bathroom a fresh new look. You can put a rug on it with a matching towel set to enhance the finished look.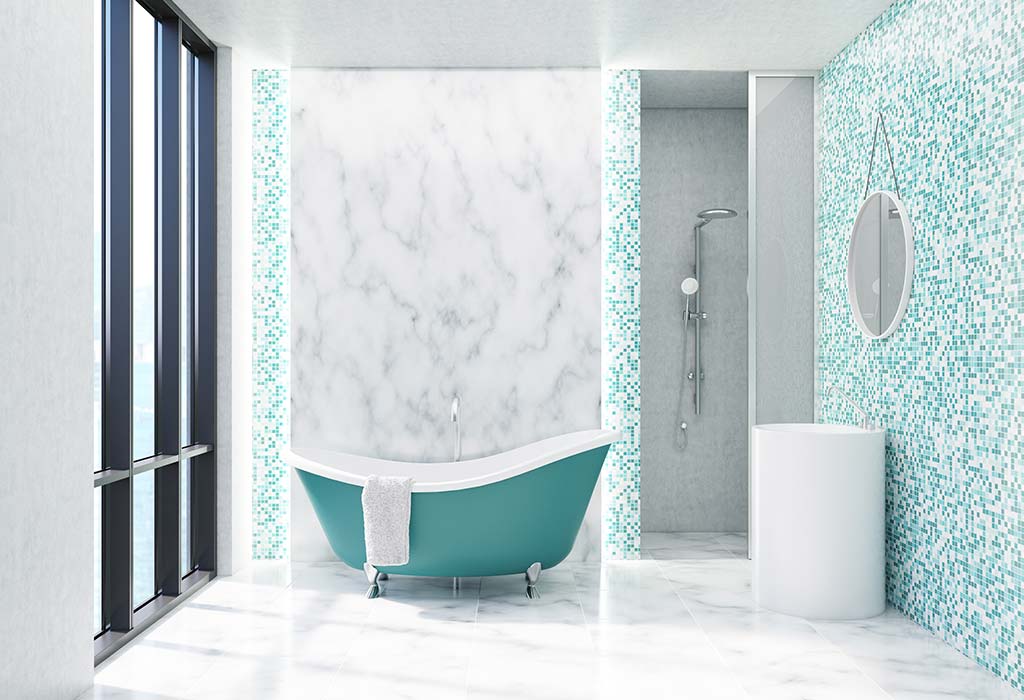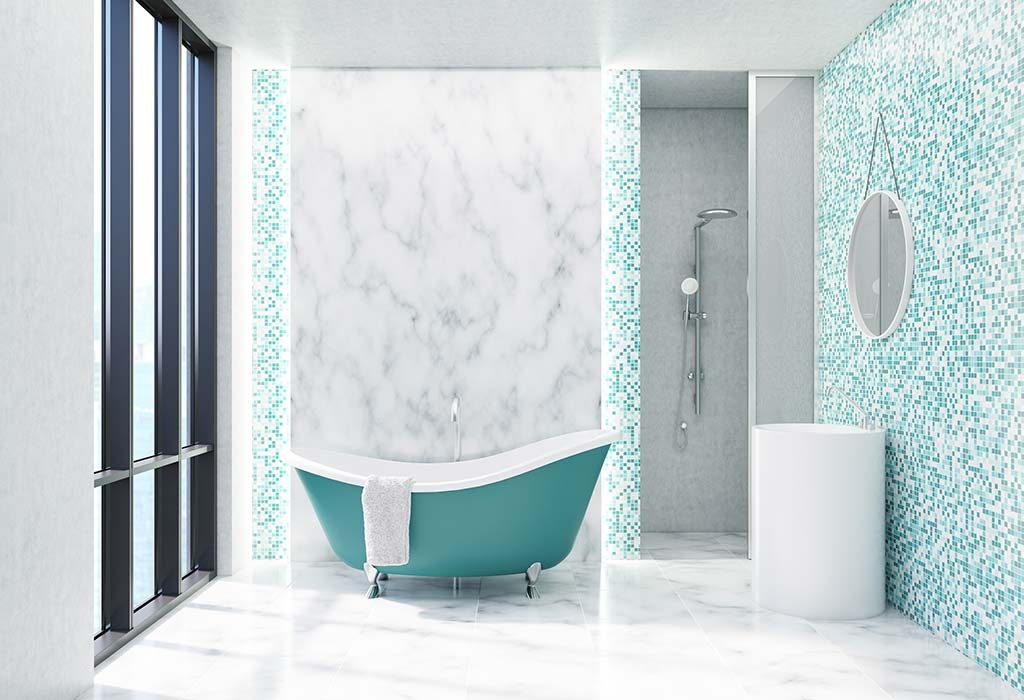 Basement
The basement of a house can be a good place to hang out with friends on weekends without disturbing others much. People often ignore it as a clunky place but giving it a makeover can change the holistic decor of your home.
1. Give the Floor a New Look

If you want to avoid concrete flooring and carpets, you can always add vinyl planks to improve the look of the floor. A part of the entire home remodelling floor plan, this material is quite inexpensive, yet adds extra pizzazz. A plus, these planks are better than hardwood when it comes to water.
2. Use a Barn Door

You can cover the pantry with a sliding barn door. The door would require some metal wheels and rails and a few wooden planks. But it can enhance the beauty of the room considerably. This old home remodelling idea can put a vintage touch on the basement and uplift the look drastically.
3. Build a Half Wall

Separating the basement area with a half wall is an effective house remodelling idea for small homes.Put up the half wall in between the space with all the furniture and the empty zone. This would cost less as the wall would require less raw material. But the basement would not look all hunched up. It would allow movement.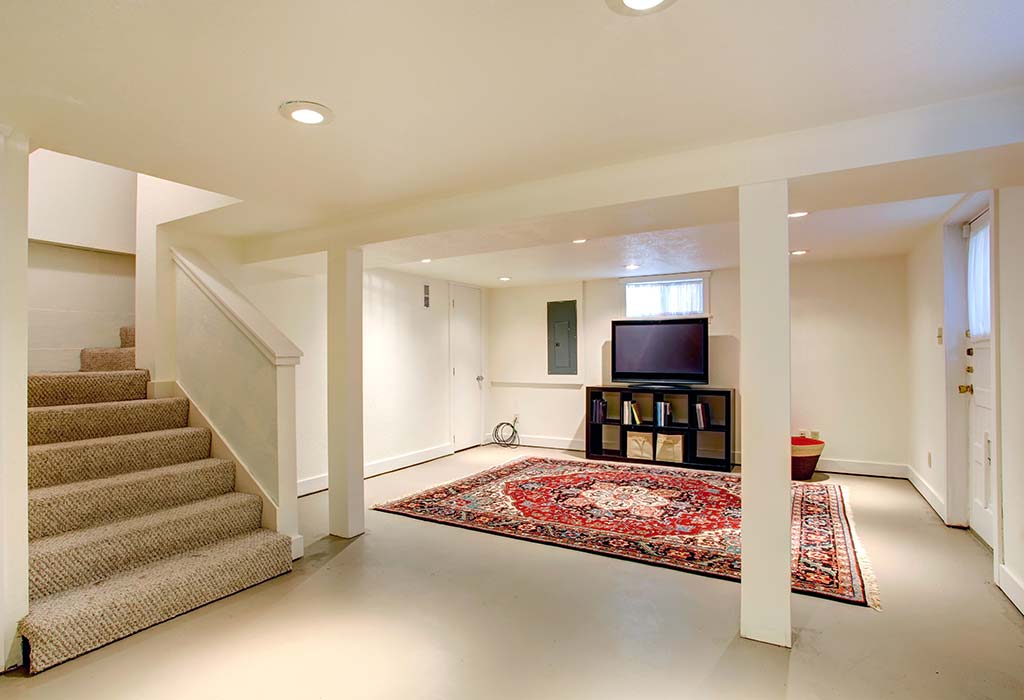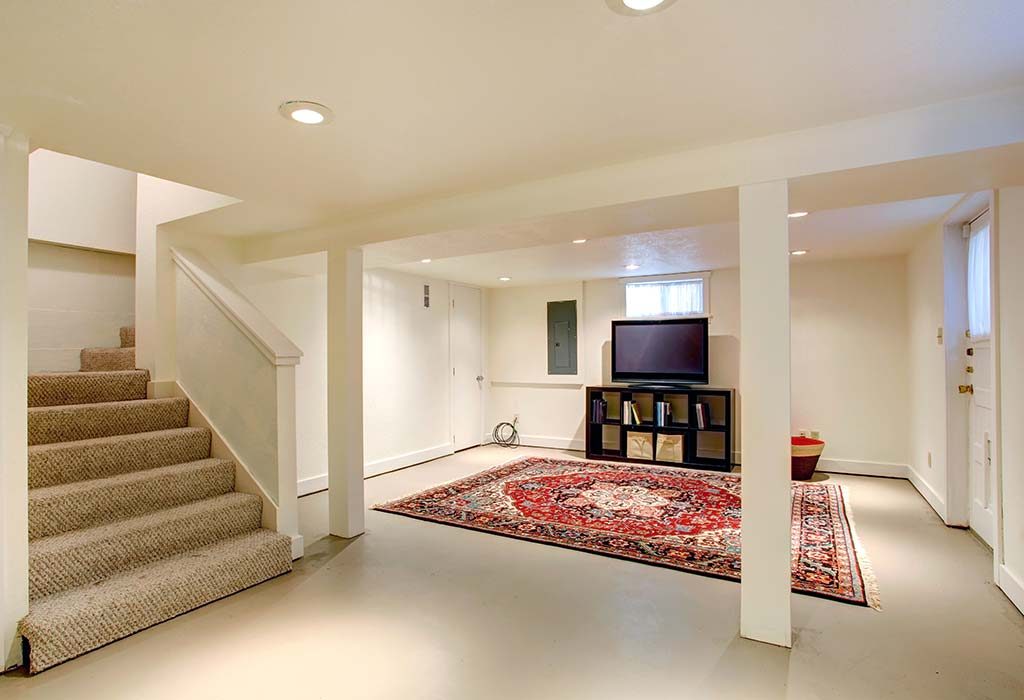 Other Renovation Ideas You Can Try
When guests arrive, they look at each and every corner to form an impression of the house. A little left out corner or space can be an eye sore. It is your dream home after all, so give it the best. The beauty in details can always cast a charming spell on your visitors. And seeing them like that would extend your smile to your ears.
Other areas in the house such as the hallway, staircase, foyer, and closets should look radiant in tandem with the rest of the interior space. These are the spaces that often connect one room with the other and need closer attention to better the chances of the extensive impact. Old home renovation ideas are never complete without specific attention paid to them.
1. Panelled doors

Doors connect two different spaces which may have two distinct types of furniture and wall decor. And the chances are there that the door may look out of place or too simple. In such cases, panelled doors can work really well. If you already have a wooden door, then keep yourself free for a few hours and do it yourself. Just put some planks on the door horizontally, and a fresh coat of paints. The end product can heighten the beauty. Putting a broader frame all around the door with contrasting colour can accentuate the visual impact of it. But the frame colour should also go in sync with the wall paint. With such doors, the decor of the hallway would definitely improve. This can be applied on the front door as well, as it is an excellent home renovation idea for interior and exterior.
2. Minimalist closets

If done right, minimalist closets can give your room lots of spaces and uplift the total look of your rooms. Aptly a part of house remodelling ideas for small homes, these type of closets can store more than you can imagine. Choose the correct shelving unit for your room and add a lot of hooks, hangers, and place small baskets to keep the odd things in. A fresh touch of some bright colours on your closet would make the room vibrant.
3. Wooden Stairs

The staircase can also have a new lease of life. Wood is classy and the sound that it makes when someone climbs it adds elegance. But you don't have to make the entire staircase out of wood. Just the top part of each stair can do good. This can significantly curb the renovation cost without compromising much on the finished look. The side part with its own colour would complement the wooden part. You can also put a nice carpet on the staircase just to make it more sophisticated.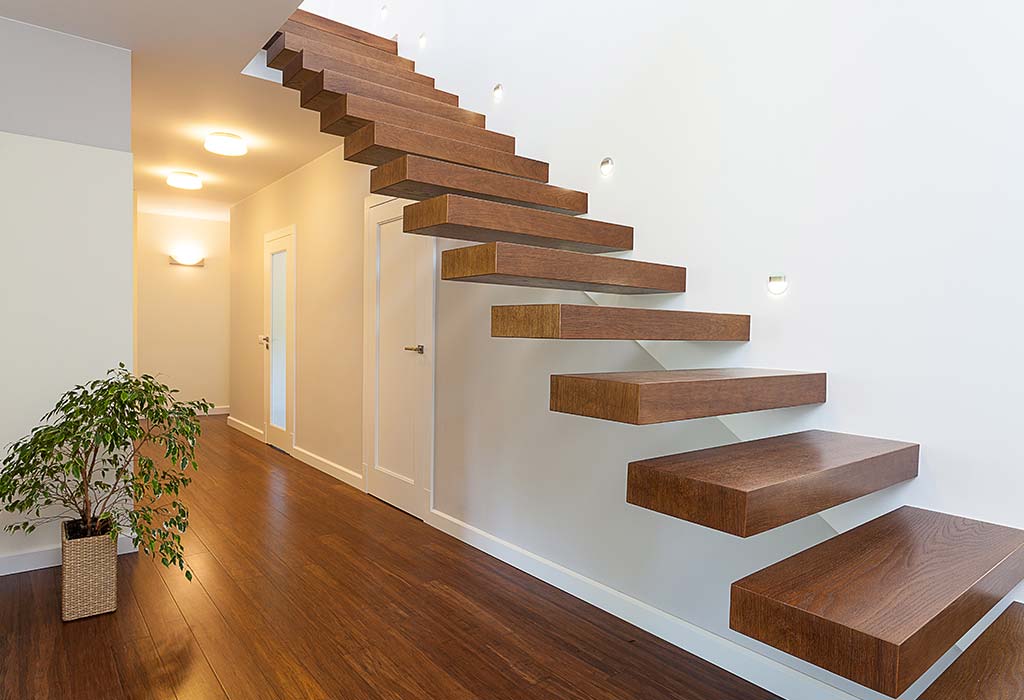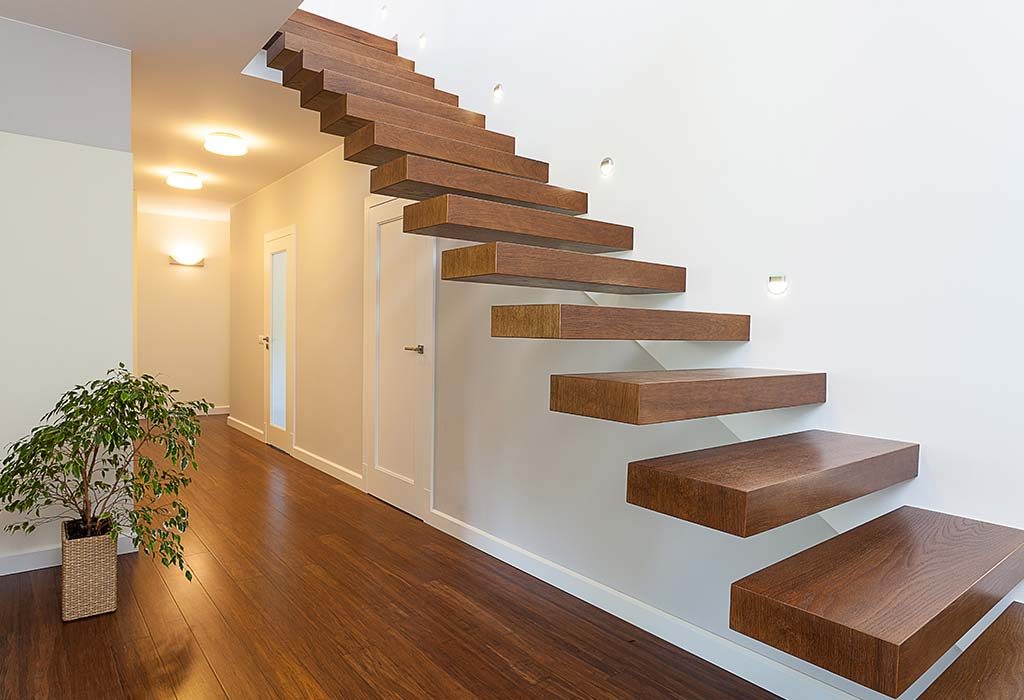 4. Home office under the stairs?

As a home office renovation idea, you can always put a table with a shelve and a chair under the staircase. The empty space, the staircase creates, can then be utilized to its maximum potential. At the same time, it can be of more impact as a house remodelling idea for small homes. You can also create an altogether different room there where you can focus more on your business plans and official works without much disturbances. The space can also be used for kids who want a little nook to play on their own.
5. Kids zone

If you have a foyer area with a lot of space, use that as a zone for your kids. Just create a wooden floor there where your kids can play or you can put away a few shelves. This way of utilizing unused spaces can be termed an excellent house remodelling idea for small homes, where even a square foot matters.
Most of the changes mentioned as old home renovation ideas, you can do on your own. The materials required for such renovation needs a careful looking around. And all this you can do with only a little investment. But don't rush into buying things before comparing them with other sources for quality and price. With a little planning and aesthetic steps, you can turn your old home into a dream one.
Also Read:
Living Room Centre Table Decoration Ideas
Effective Tips for Renovating Your Bedroom
Interesting Vastu Shastra Tips for Your Home