Reema Lagoo As The Youngest Mom & 9 Of Our Favourite Bollywood Mothers Over The Ages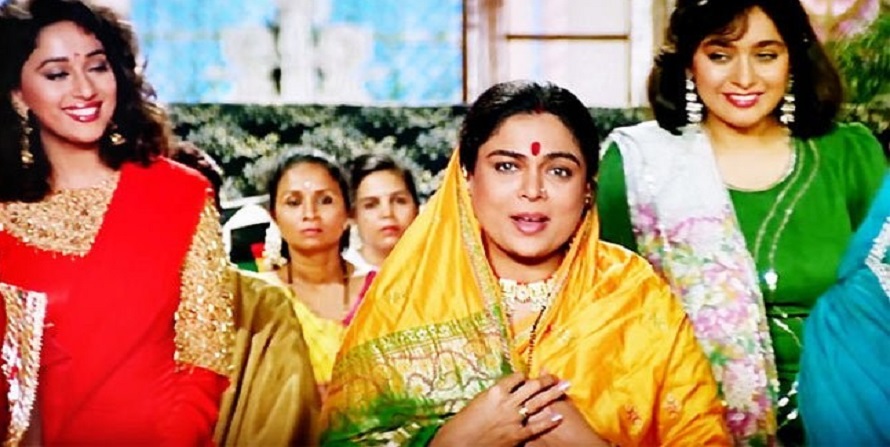 In this Article
Did you know Reema Lagoo was one of the youngest actresses to ever be cast as 'mother'? She was only 30 years old when she played Juhi Chawla's mom in the Qayamat Se Qayamat Tak, the 1988 Bollywood adaptation of Shakespeare's famous romantic tragedy! The recent news of her death was equal parts shocking and saddening, and all of India mourned at the monumental loss that her death is for all of us – colleagues and fans alike. In her memory, we have put together a list of some of our favourite Bollywood moms of all time – we bet there is a teeny-weeny bit of all these moms in our mothers too!
The Best Bollywood Moms Over The Ages
1. Lalita Pawar – The Eternal Mean Mom of Bollywood!
Gharana (1961), Junglee (1961), Sau Din Saas Ke (1980)

If there was one actress who repeatedly got cast as the mean, hateful mother, it was Lalita Pawar. And boy was she good at it! There isn't one movie in which Lalita Pawar reprised her mean mother stereotype and was not unanimously despised by viewers. Although everyone in the industry always maintained that the actress was in fact, very genteel and kind.
Her role as Raj Kapoor's mother in Hrishikesh Mukherjee's Anari (1959) won her the Filmfare Award for Best Supporting Actress that year.
2. Nirupa Roy – The Most Careless Mom of Bollywood!
Do Bigha Zameen (1953), Deewar (1975)

Surprised? Well, we do not know of any other mom who lost her kids so many times! Be it in Amar Akbar Anthony (1977), or even in Suhaag (1979) one can trust her to lose her kids all the time! Jokes apart, Nirupa Roy always trumped the role of the poor old helpless mom quite well. Her most iconic role as a mother was the one she portrayed in the Hindi 1975 blockbuster hit Deewar. The movie has given us some of the most overused clichés related to motherhood!
Nirupa Roy bagged the Filmfare Award for Best Supporting Actress several times, and was given the Filmfare Lifetime Achievement Award posthumously in 2004.
3. Nargis – The Larger-Than-Life Mother India!
Mother India (1957)

This article, this list – it would be incomplete without India's mother, Nargis. Her role in the 1957 Bollywood masterpiece Mother India set the benchmark so high, that we believe no one has ever even come close to touching it, let alone raising it. Mother India became a record-breaking film in many ways – it was one of the most expensive Hindi films to have been made in those times (also the highest revenue fetching one). It was officially India's first entry to the Academy Award for Best Foreign Language Film, 1958.
Nargis became the first film actress to ever be conferred with the Padma Shri title in the year 1958.
4. Farida Jalal – The Ideal Mom of Bollywood!
Dilwale Dulhaniya Le Jayenge (1995), Kuch Kuch Hota Hai (1998), Kya Kehnaa (2000)

There are so many movies in which Farida Jalal played the role of a mother, that it is hard to pick one as her best performance ever. However, we can say without a doubt that her role as Kajol's mother in the iconic Bollywood romance Dilwale Dulhaniya Le Jayenge is indeed the most popular one ever. Always the understanding, caring, keep-to-yourself-and-your-work type of mother, Jalal also broke away from the stereotype once in a while. Her lesser known titular role in Mammo (1994) is one such example of a refreshing change.
While we all love her as one of the most docile mommies of Bollywood, Jalal's unconventional role in Mammo (1994) brought her the Filmfare Critics Award for Best Performance.
5. Kiron Kher – The Overbearing Mom of Bollywood!
Main Hoon Na (2004), Dostana (2008), Khoobsurat (2014)

The loud, outspoken, overbearing, but incredibly energetic and loving mom that is equal parts loving and annoying is a stereotype that is oft depicted in Indian films; and we do not know anyone who knows how to play it out as well as Kiron Kher does. Through her career she has played mother to many of our beloved Bollywood stars, both men and women – Aishwarya Rai, Zayed Khan, Abhishek Bacchan, Sonam Kapoor, and many more.
IIFA honoured her with the coveted Best Supporting Actress Award for her role as Paro's mother in the 2002 remake of the 1955 classic Devdas.
6. Smita Jaykar – The Mom We Never Remember of Bollywood!
Hum Dil De Chuke Sanam (1999), Devdas (2002)

We admit – we had to Google this one. Although Smita Jaykar has given us some fine performances as a mother, we somehow tend to always forget her! Just to refresh your memory, apart from the two movies mentioned above, she always played the role of the protagonist's mother in Pardes (1997), Sarfarosh (1999), Rehnaa Hai Terre Dil Mein (2001), Dil Maange More (2004), Taxi No. 9211 (2006), Ajab Prem Ki Ghazab Kahani (2009), Akira (2016)… surprised? So were we!
7. Raakhee – The Eternally Hopeful Mom of Bollywood!
Shakti (1982), Khalnayak (1993), Ram Lakhan (1989), Karan Arjun (1995)

If there is one mother who teaches us how to keep hope and faith in tact even in the most adverse of conditions, it has to be Raakhee. Her unflinching faith in her son, his character and goodwill, and in Karma, is major life goals for all of us. Raakhee is also someone who has played diverse kinds of mothers – from a villain's mother in Khalnayak, to the mother of two reincarnated brothers in Karan Arjun.
Raakhee was awarded the Padma Shri Award in 2003.
8. Jaya Bhaduri Bachchan – The Mopey Mom of Bollywood!
Fiza (2000), Kabhi Khushi Kabhi Ghum (2001), Kal Ho Na Ho (2003)
While she may have played the mother in only a select few movies, we could not possibly leave Jaya Bacchan out of this list – for the roles she has played have been memorable, and much loved by audiences unanimously (except for all the crying maybe!). One of the sweetest emotion that Jaya-ji has managed to portray on the silver screen is the emotional connect that a mother shares with her child, irrespective of whether the child is an adopted child or not (as shown in Kabhi Khushi Kabhi Ghum).
A highly decorated actress, Jaya-ji has won several accolades in her career, the latest being the Master Deenanath Mangeshkar (Vishesh Puraskar) Award 2013, for her outstanding contribution to cinema and theatre.
9. Zohra Sehgal – The OLDEST Mom of Bollywood!
Cheeni Kum (2007)

We do not know anyone else who is as old, as cute, as lively, as funny, and as evergreen as Zohra Sehgal. Also we can't think of anyone else who could have played mom to the one and only Amitabh Bacchan and nailed it so well! Quite frankly, Zohra Sehgal stole the show in every frame of Cheeni Kum that she was in – be it with Tabu, with Paresh Rawal, or with Mr. Bacchan himself. Her ready wit added the perfect tadka (in the words of Martin D'Souza of Glamsham) to an amazingly crafted movie that is a pleasure no matter how many times you watch it!
In her lifetime of over a hundred years, Zohra Sehgal managed to win all three Padma Awards – Padma Vibhushan, Padma Bhushan and Padma Shri in 2010, 2002, and 1998 respectively.
10. Reema Lagoo – The Youngest Mom EVER of Bollywood!
Qayamat Se Qayamat Tak (1988), Maine Pyar Kiya (1989), Hum Aapke Hai Kaun (1994), Rangeela (1995), Kuch Kuch Hota Hai (1998), Hum Saath Saath Hai (1999), Vaastav (1999), Kal Ho Na Ho (2003)
We saved the best for the last. Undoubtedly, Reema Lagoo is our most favourite Bollywood mom. Reema Lagoo had an illustrious career as a Marathi as well as Hindi, theatre as well as Film actress.
Reema Lagoo was also very successful as a TV actress and has given us some of our fondest memories of early Indian television, in the form of daily soaps like Shriman Shrimati and Tu Tu Main Main. Her death will be grieved for months to come.