Red soup with herbs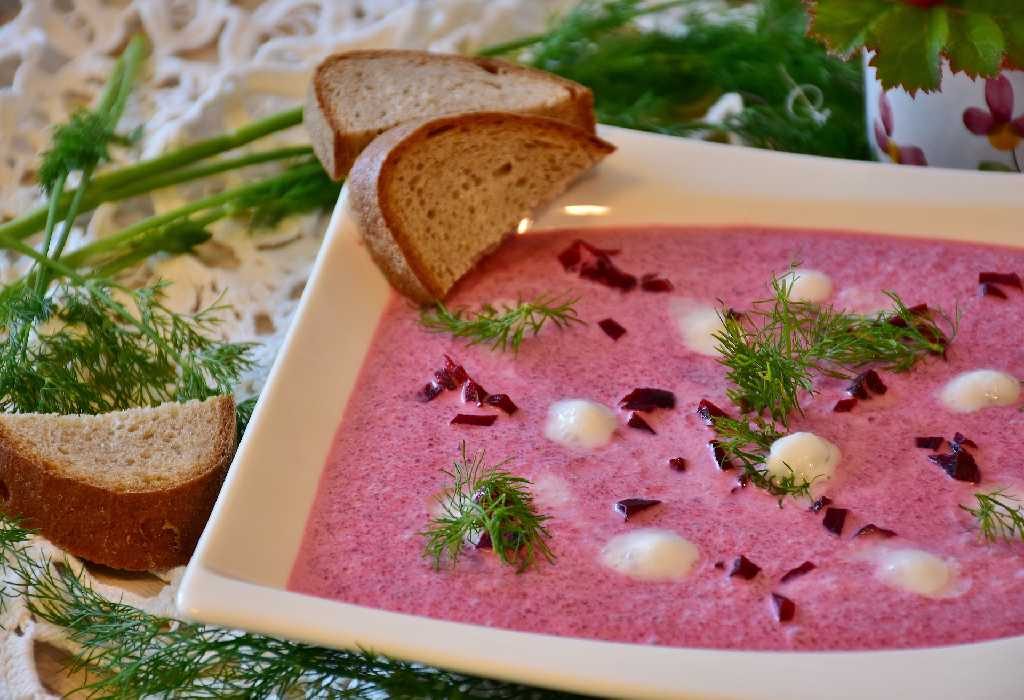 In this Article
This recipe is all about beets, with a just little dill, tamari, and yogurt added. It's different and best suited for summers, as it's served at room temperature. Chilled or slightly warm options work too. The beet greens in this recipe add to the earthy taste. Tamari – a gluten free soy sauce, adds an earthy flavor of its own, balancing and modulating the beet taste, so don't substitute that ingredient. In the end, using a super-thick yogurt will thicken up the soup. So all you beet-eaters, enjoy!
| | | |
| --- | --- | --- |
| Serves | Preparation Time | Cooking Time |
| 6 People | 15 Minutes | 15 Minutes |
Ingredients
5 medium beets
5 cups vegetable broth(less salty)
3 tbsp. Tamari(gluten-free soy sauce)
1 cup chopped beet greens
2 tsp. chopped fresh dill
1 scallion(spring onion), chopped
1 ½ cups yogurt
Dill for garnish(optional)
Method
Step 1
Scrub beets under running water properly.
Step 2
Grate beets in a food processor or by hand.
Step 3
In a soup pot, combine the beets, broth, and tamari.
Step 4
Bring to boil over moderately high heat.
Step 5
Cover and reduce heat to low and allow to simmer for 10 minutes.
Step 6
Add beet greens, dill, and scallion and simmer 5 minutes longer.
Step 7
Remove from flame and let cool to room temperature.
Step 8
Serve at room temperature or chilled.
Step 9
Just before serving, stir in the yogurt.
Step 10
Garnish with dill, if desired.
Nutritional Information
1 serving = 1 cup
Monounsaturated 1g Sugars 5g
Calories
78
Sodium
495 mg
Total Fat
4 g
Potassium
289 mg
Saturated
2 g
Total Carbs
8 g
Polyunsaturated
0 g
Dietary Fiber
2 g
Trans
0 g
Protein
3 g
Cholesterol
7 mg
Vitamin A
0%
Calcium
5%
Vitamin C
15%
Iron
4%
*Percent Daily Values are based on a 2000 calorie diet. Your daily values may be higher or lower depending on your calorie needs.