Quick Breakfast Recipes for Your Busy Mornings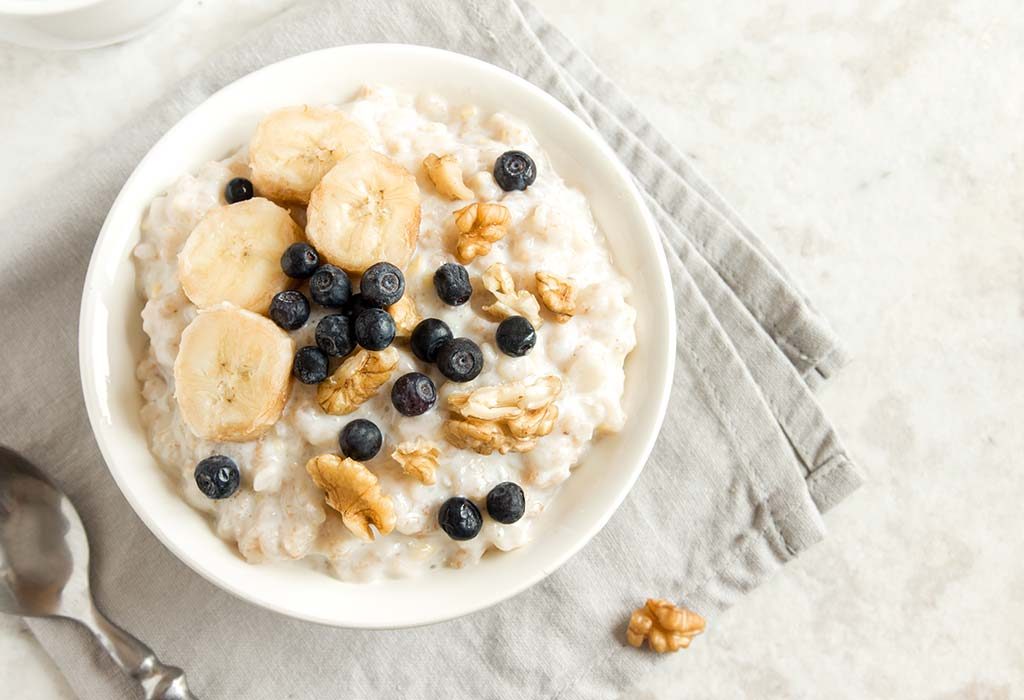 Mornings might get really stressful during workdays. In the midst of the chaos, you might sometimes miss the most important meal of the day, breakfast. These recipes will make sure you don't waste too much time making breakfast.
Instant Healthy Breakfast Recipes That Can Be Cooked in a Few Minutes
Check out these quick breakfast recipes you can make in no time.
1. Scrambled Eggs with Chicken Sausages
Try out these easy to make scrambled eggs with mild spices and chicken sausages.
Ingredients
½ chopped onion
1 chopped potato
2 sliced chicken sausages
3 tbsp olive oil
6 eggs
Salt
Pepper
2 tbsp grated cheese
A handful of chopped spring onions
Butter
Burger Buns
½ cup milk
Total Cooking Time: 25 minutes
Servings: 1 person
Method:
Heat the olive oil taken in a pan. Fry the potatoes in the pan till they become golden brown.
Place the chicken sausages into the pan and toss them around.
Now, with some salt and pepper, add the onions into the pan.
Turn the heat off and transfer the contents into another pan.
Beat the eggs to a mixture. Add some milk and cheese to it, and whisk.
Heat a pan and add both of the mixtures. Cook on low heat.
Add some salt and pepper after scraping the bottom. You could also sprinkle the spring onions.
Preheat the oven at 240 degrees for about five minutes.
Spread some butter on the burger buns and for 4 minutes, grill them in the oven.
Finally, garnish the dish with spring onions.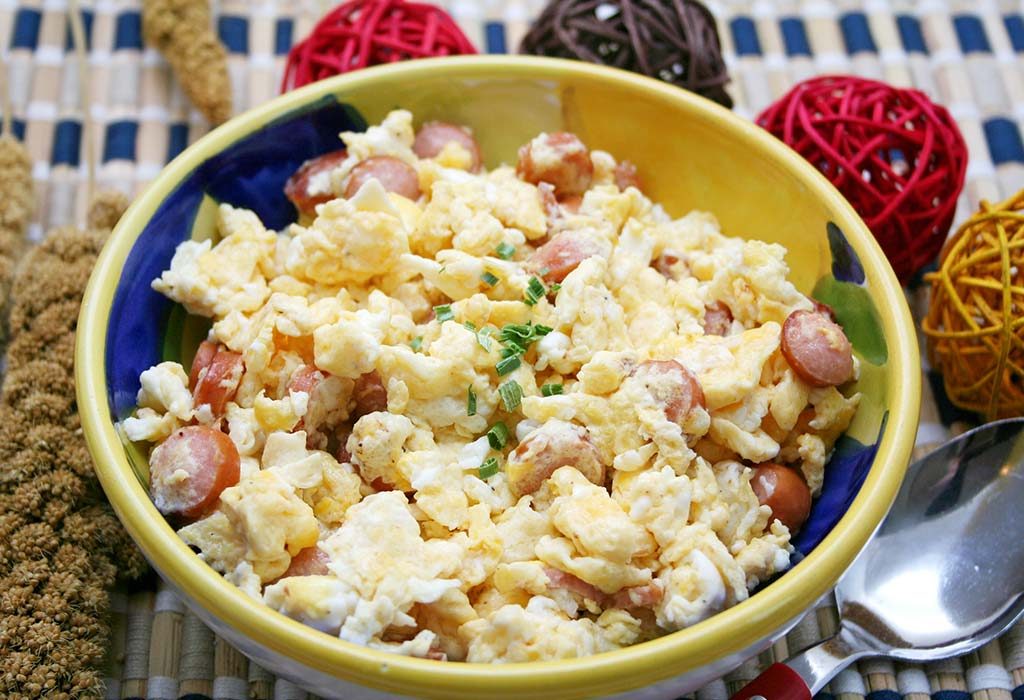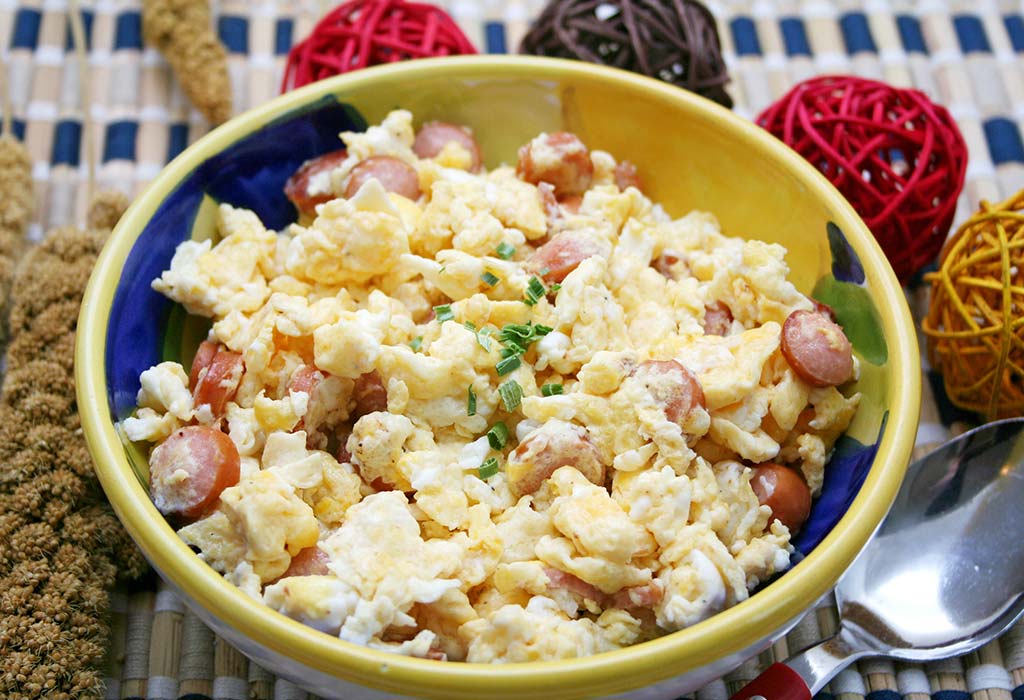 2. Masala Cheese French Toast
This toast contains a mixture of sauces, herbs and has a spicy twist.
Ingredients
2 tbsp chilli tomato ketchup
1 tsp mustard
2 tbsp mayonnaise
3 slices of brown and white bread
4 slices cheese
4 egg whites
1 spring onion
2 green chillies
Coriander leaves
2-3 basil leaves
1 bunch chives
Salt
Olive oil
Total Cooking Time: 30 minutes
Servings: 5 people
Method
For the herb paste, blend the basil, spring onions, green chillies, chives, and coriander.
For the sauce paste, mix mustard, mayonnaise, and tomato ketchup.
To make the egg mixture, take some egg whites and whisk them in some salt. Add the herb paste to this mixture.
On a bread slice, apply the sauce paste and place 2 cheese slices. Place another sauce spread slice of bread on top of the cheese. Chill the bread for 2-3 minutes.
Dip this sandwich in an egg mixture.
Cook the French toast in a pan of heated olive oil till it becomes golden brown.
Serve after cutting the fingers.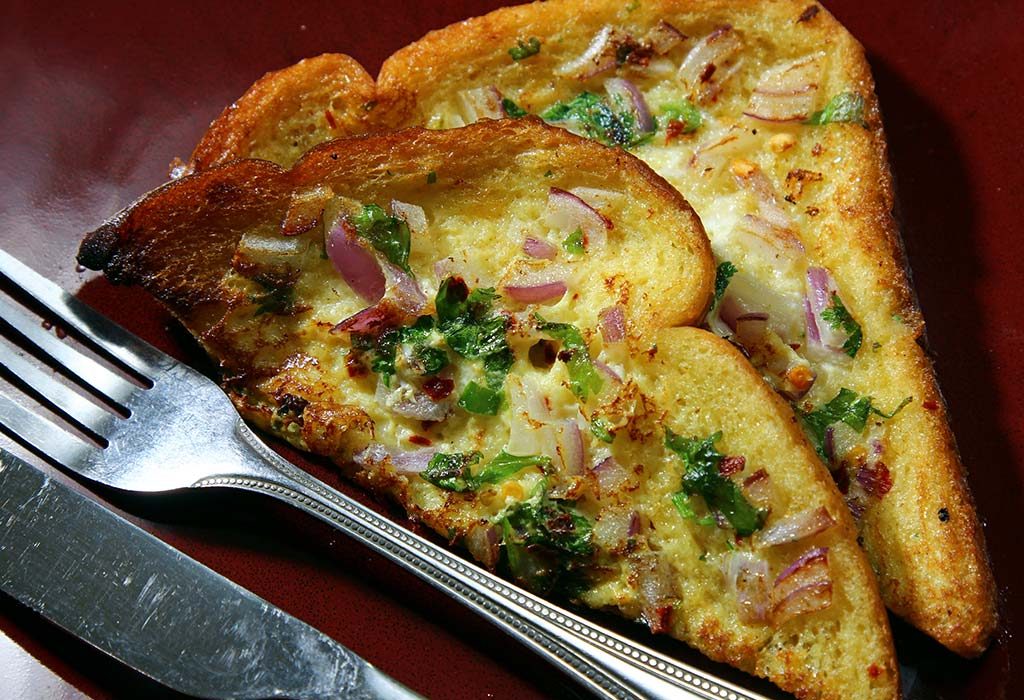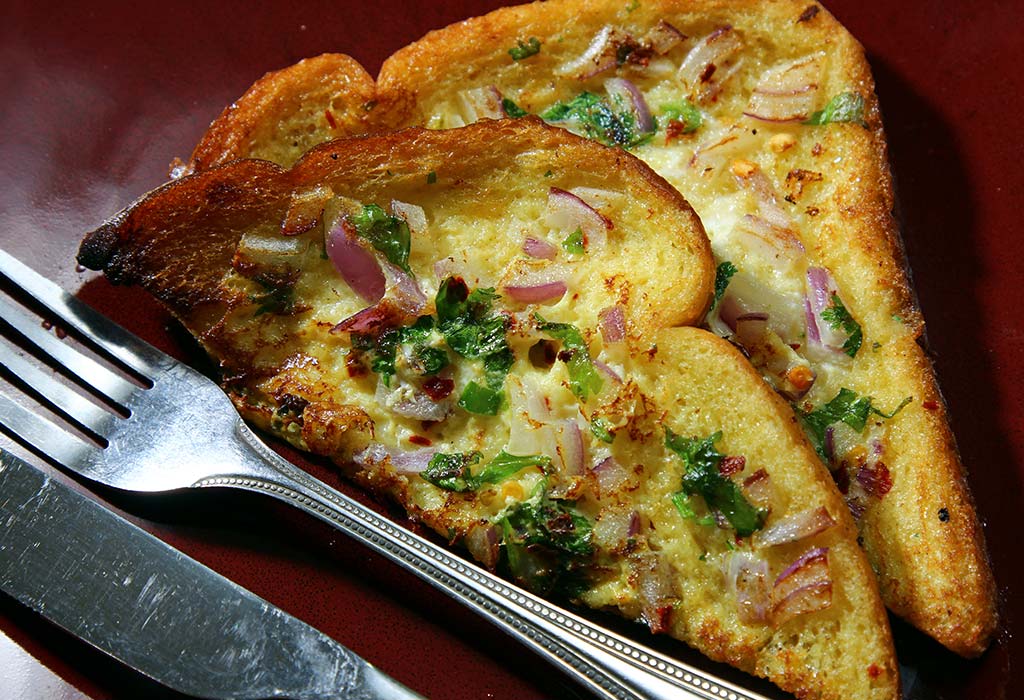 3. Rawa Upma
This is one of the yummiest south Indian breakfast recipes which will not consume a lot of your time.
Ingredients
250 gm Semolina
650 ml water
75 gm ghee
5 gm mustard seeds
2 gm black gram dal
2 gm Bengal gram dal
100 gm onions
5 gm green chillies
25 gm cashew nuts
2 gm curry leaves
Salt
Coriander leaves
Grated coconut
Total Cooking Time: 30 minutes
Servings: 2 people
Method
Start by boiling some water.
Cut the chillies and slice the onions lengthwise.
Heat ghee in a pan, and add mustard. When it starts crackling, add dal.
Next add the curry leaves, onions, green chillies, and cashew nuts. Add the semolina when the onions become translucent, and sauté them.
Add the boiling water to the pan and then stir it rapidly with some salt. The upma is cooked when the mixture is absorbed.
Finally, garnish with some grated coconut and coriander leaves.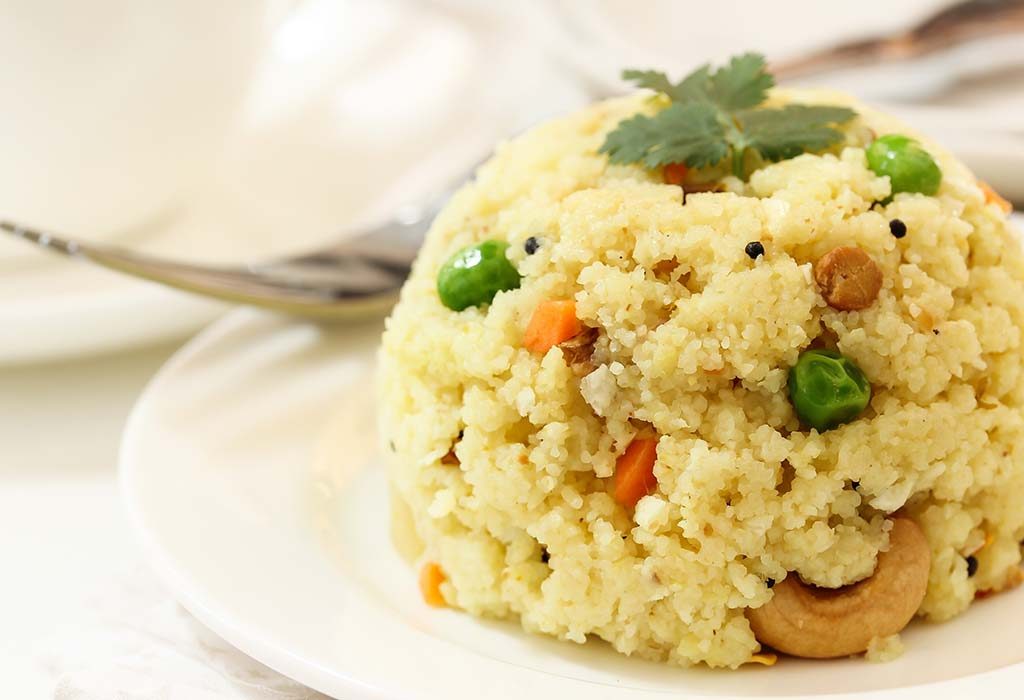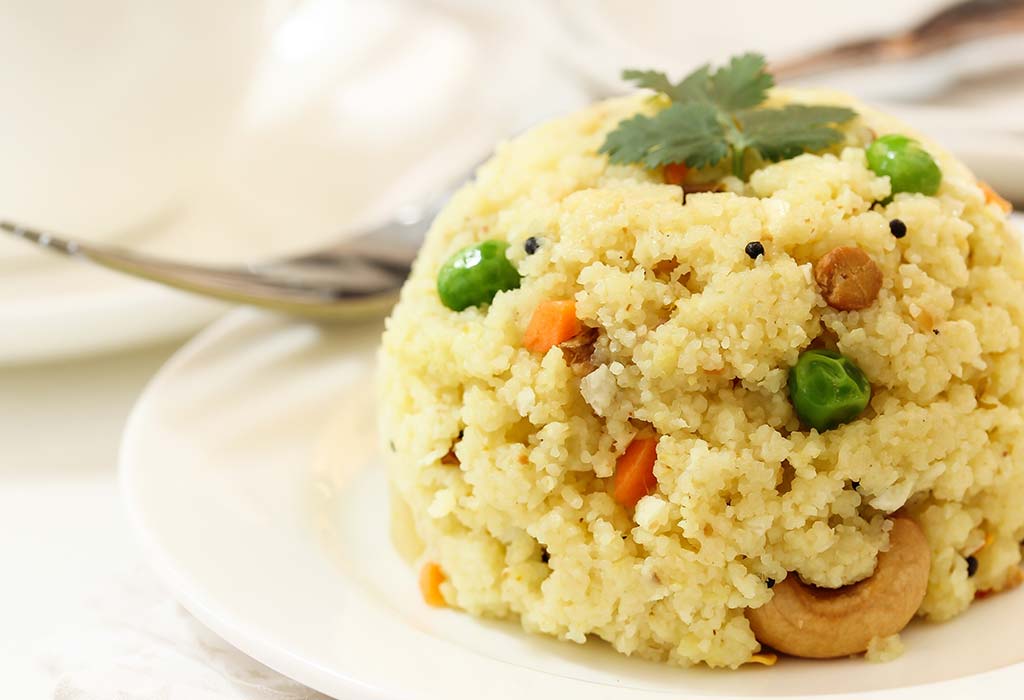 4. Bombay Toasty
This is a really simple and quick breakfast recipe.
Ingredients
4 brown bread slices
50 gm butter
1 onion (peeled and sliced)
1 capsicum (sliced)
1 tomato (sliced)
1 cucumber (sliced)
1 potato (boiled and sliced)
Mint chutney
Salt
Chaat masala
Total Cooking Time: 30 minutes
Servings: 5 people
Method
Take the bread slices and butter them. Once done, put a layer of mint chutney on the slice of bread.
Place potatoes, onion, cucumber, capsicum, and tomato slices.
Season them with some salt and chaat masala.
With a teaspoon of butter, heat the frying pan.
Till they are crispy brown, toast both sides of the sandwiches.
Serve your sandwiches with some potato fries.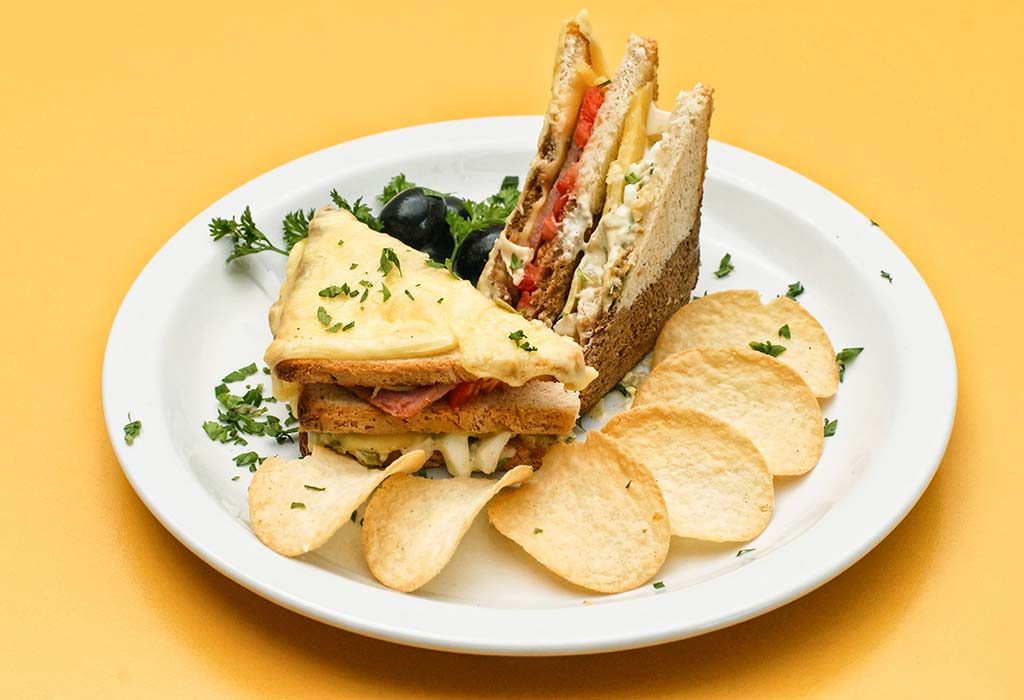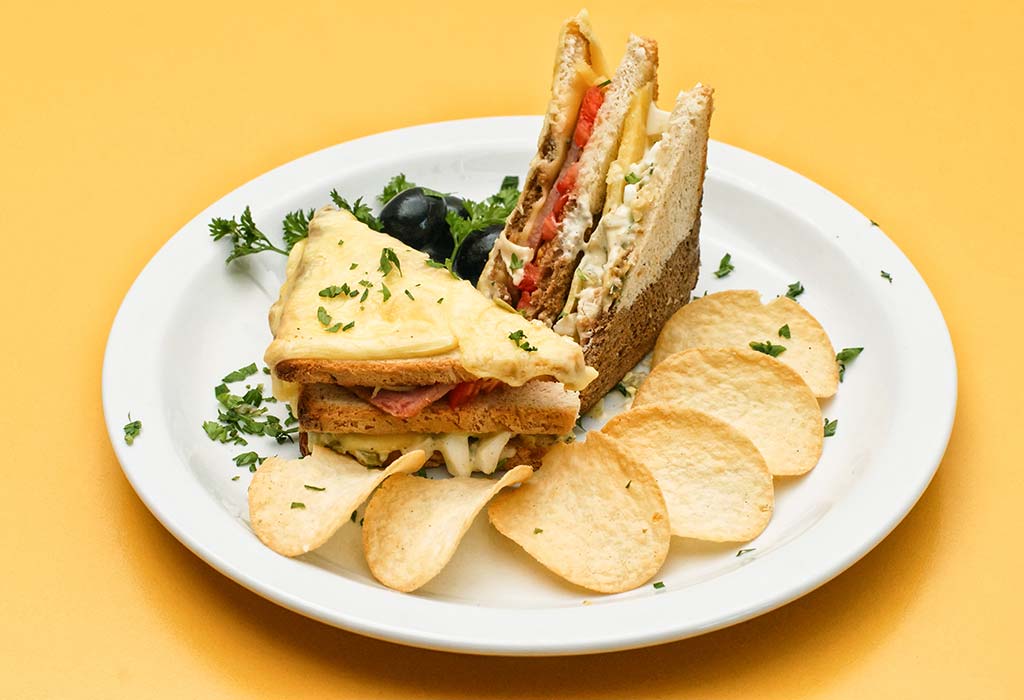 5. Masala Chicken on Toast
This amazing toast recipe with chicken is flavourful on a hot, buttered toast.
Ingredients
½ kg boneless chicken (diced)
50 gm hung yoghurt
½ tbsp Kashmiri mirch
½ tbsp garam masala
½ tbsp garlic paste
½ tbsp ginger paste
2 tbsp lime juice
1 ½ tbsp oil
2 onions (diced)
¼ tbsp coriander powder
¼ tbsp chilli powder
Salt
Pepper
4 tomatoes (peeled and chopped)
2 tbsp coriander (chopped)
Total Cooking Time: 45 minutes
Servings: 2 people
Method
You should start by marinating the chicken in hung curd, garam masala, chilli powder, ½ of the garlic and ½ of the ginger paste. Set aside for 1 hour.
Heat the oil in a pan and sauté the onions until golden brown. Add some spices, the remaining ginger, and garlic. Sauté this for a minute.
To the mixture, add the chicken and stir it for a minute. Include the tomatoes and simmer uncovered until the chicken is coated on both the sides.
Garnish with some coriander and serve it on a hot buttered toast.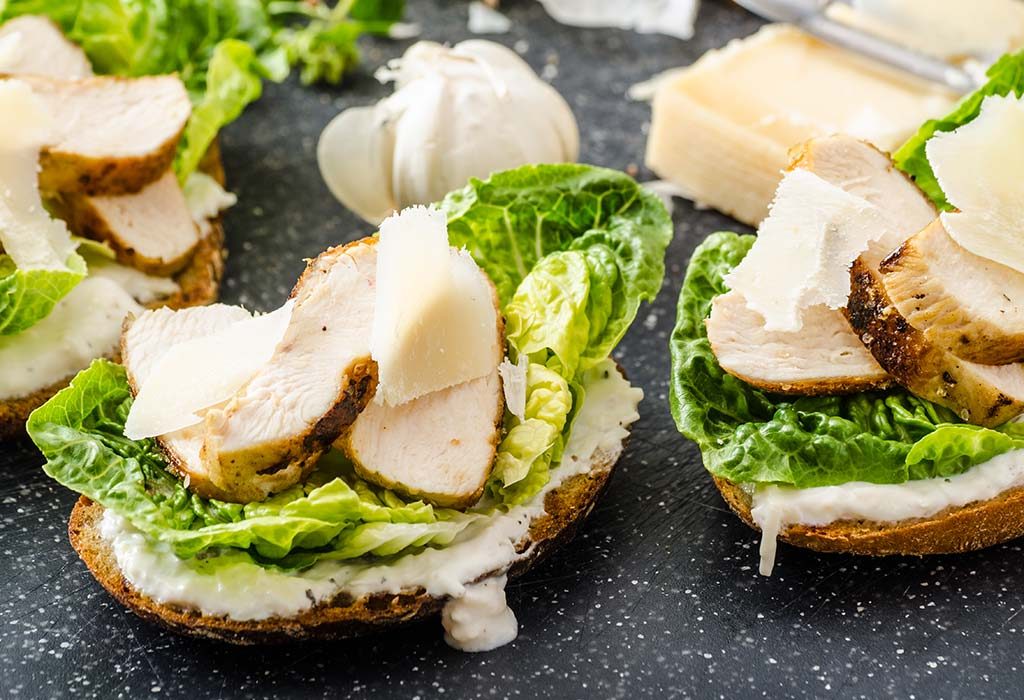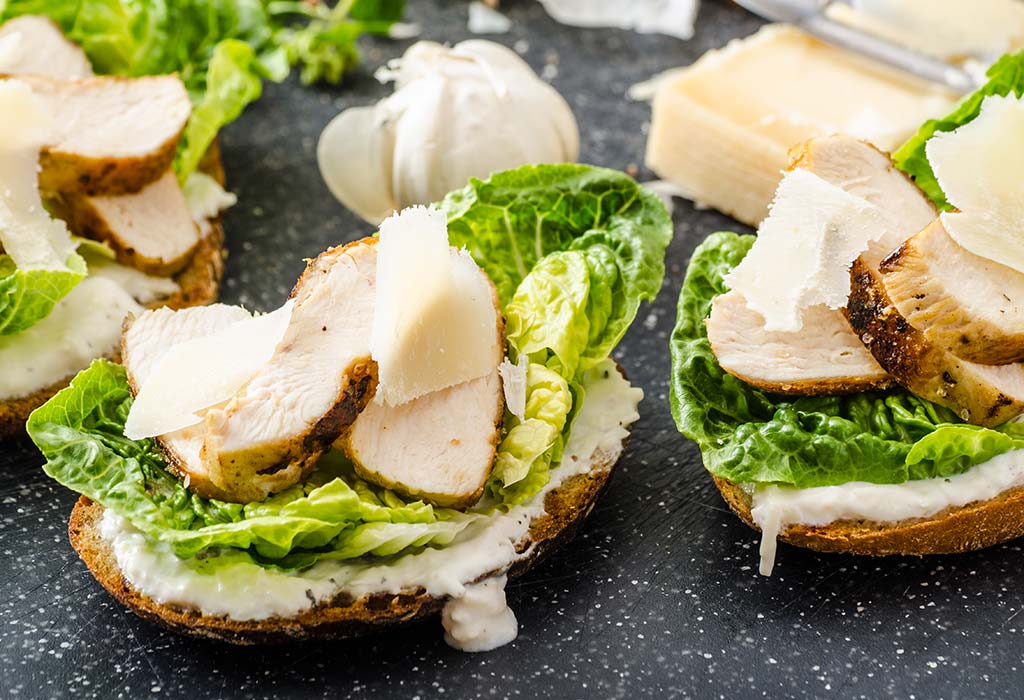 6. Banana and Almond Porridge
If you want to try recipes without eggs, then this is the one for you.
Ingredients
¼ cup oats
1 tsp chia seeds
1 cup milk
½ banana (chopped)
1 tbsp dates (chopped)
2 tsp almonds (sliced)
2 tsp cinnamon powder
1 saffron thread
1 tbsp honey
Total Cooking Time: 20 minutes
Servings: 1 person
Method
First, gather all the ingredients. Next, soak the oats in some water for a few minutes. In another bowl, soak the chia seeds for about 10 minutes.
Heat milk in a pan over medium flame and add some bananas, almonds, dates, and cinnamon.
To the milk, add the saffron and after 30 seconds, cook the drained oats with the milk.
After 1 minute, when the oats are cooked and the porridge is ready, remove the pan. Pour the porridge into a serving bowl.
Add some honey and garnish it with chia seeds.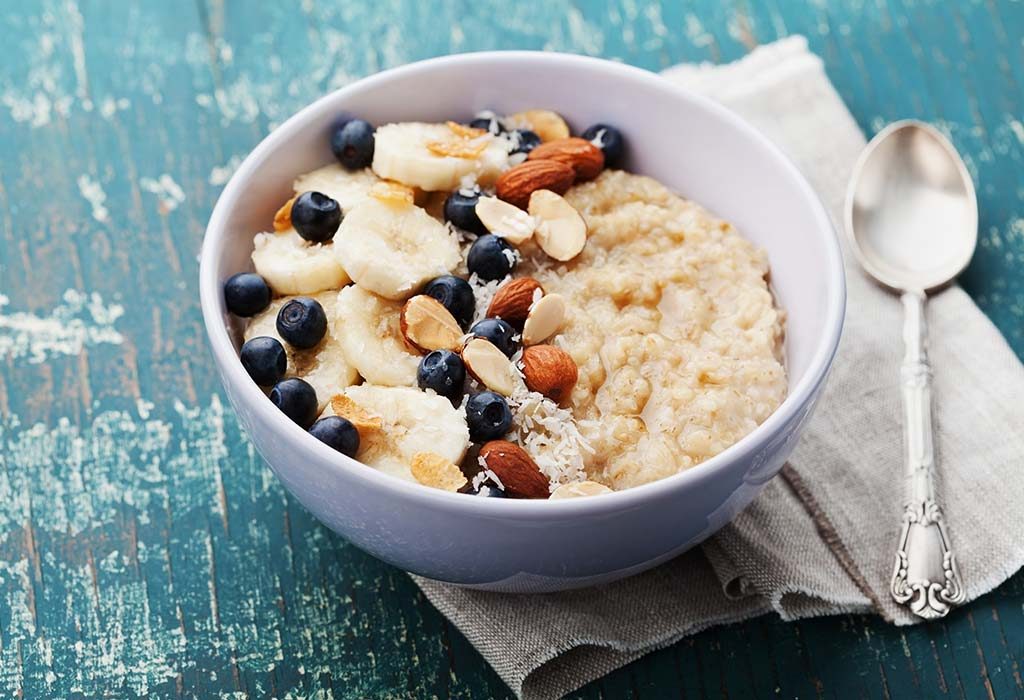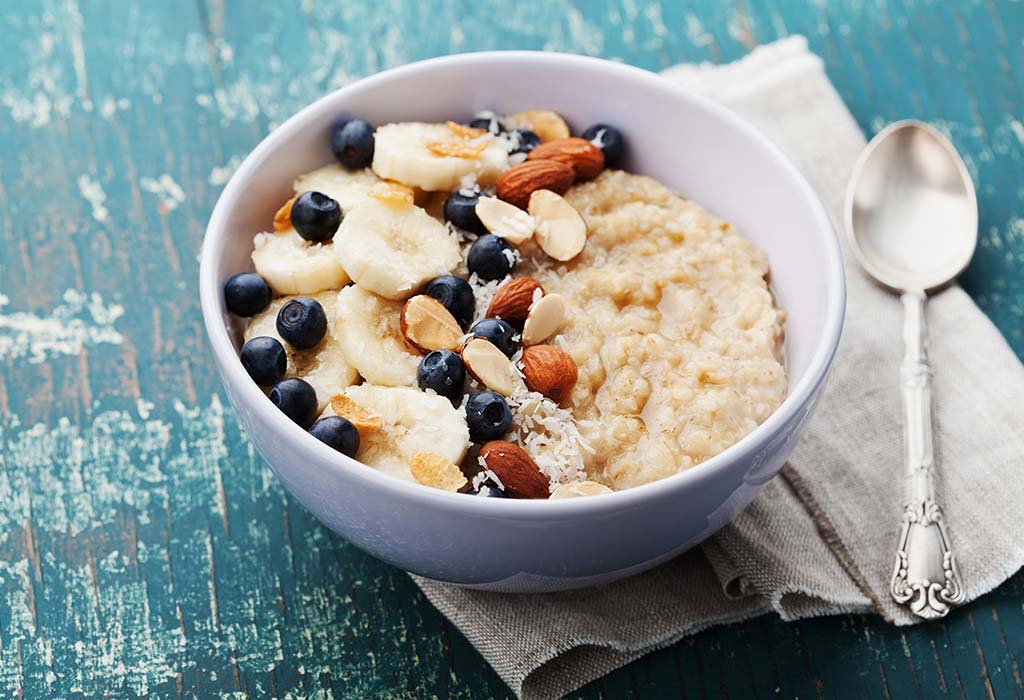 7. Peas and Potato Sandwich
Present between two bread slices is an amazing mix of peas, mashed potatoes, spices, lime, and curry leaves.
Ingredients
1 large bowl of peas (boiled)
3 potatoes (boiled and grated)
2 green chillies (chopped)
½ tsp of madras curry powder
¼ tsp coriander powder
4 kaffir lime leaves (chopped)
¼ tsp red chilli powder
2 tbsp olive oil
6 bread slices
Butter
Salt
Total Cooking Time: 25 minutes
Servings: 2 people
Method
Drizzle the pan with some olive oil and heat it. Flash fry the green chillies and add some potatoes. Sauté the potatoes.
Add some kaffir lime leaves, boiled peas, curry powder, red chilli powder, salt, and coriander powder.
Mash the potatoes and peas together and let them cook for 2-3 minutes.
Once the peas and potatoes are cooked, leave the filling aside so that it cools down.
Butter the filling evenly on the slices of bread.
Spread the filling on 3 bread slices and cover with other slices of bread.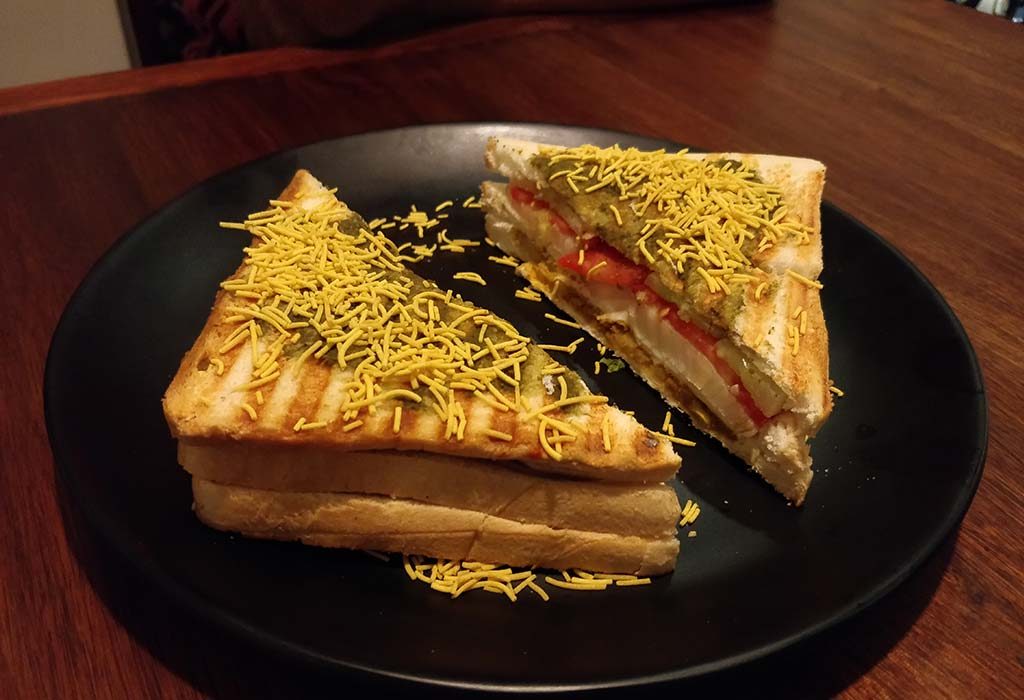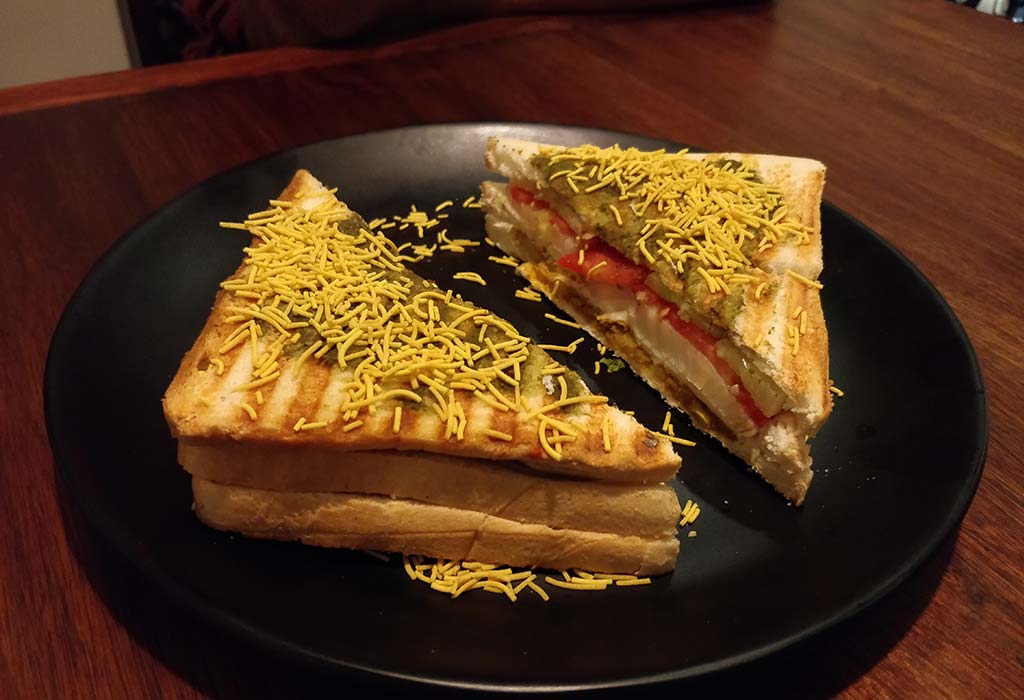 8. Quinoa Lentil Salad
Quinoa lentil salad is a mixture of healthy items like lentils, asparagus, pomegranate, and quinoa.
Ingredients
1 cup quinoa
2-3 baby carrots
Broccoli
Asparagus
Cauliflower
1 cup lentils
1 cup pomegranate
2 spring onions
Coriander
1 mosambi (juiced)
1 tsp mustard
2 tbsp olive oil
Lemongrass
½ green chilli (chopped)
4-6 Basil Leaves
Total Cooking Time: 35 minutes
Servings: 2 people
Method
Add some salt to the boiling water. For about 45 seconds, par-blanch the vegetables.
Now, shift these vegetables in a bowl filled with ice water. To the bowl, add soaked quinoa.
To this, add pomegranate seeds and lentils.
Add chopped spring onions and coriander. Mix the ingredients in the bowl.
Add the blanched vegetables to the quinoa and lentil mix.
To make the dressing, take some fresh mosambi juice and add some lemongrass, mustard, basil leaves, chopped green chilli, and olive oil. Mix this into the salad.
Plate the salad and garnish it with some sunflower sprouts.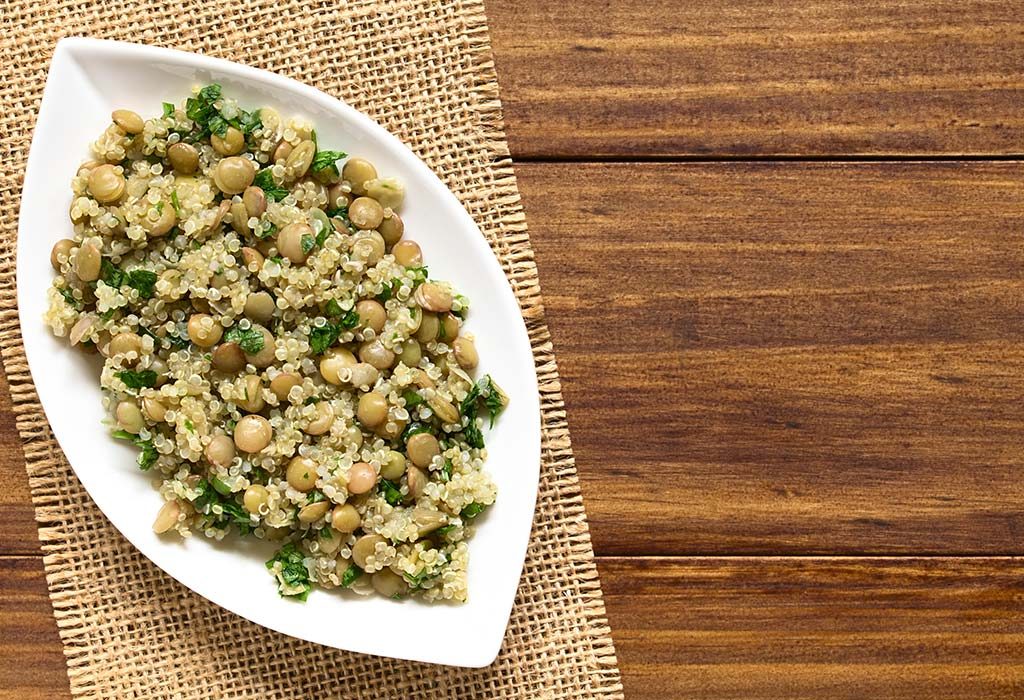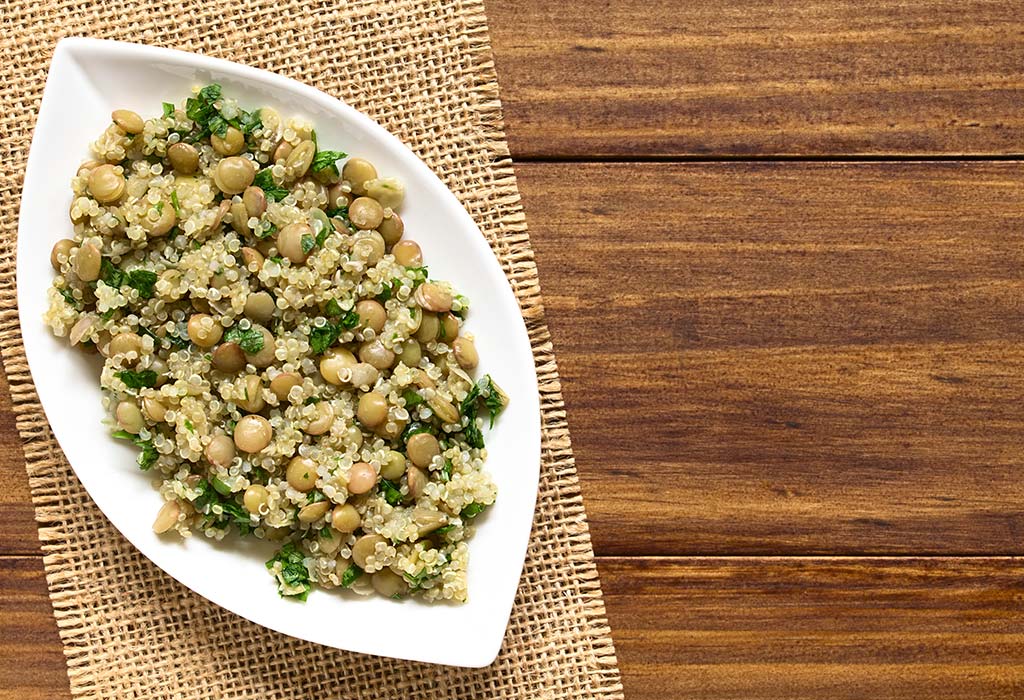 9. Masala Omelet
Check out this spicy combination of onions, eggs, tomatoes, and flavorful spices.
Ingredients
½ onion (chopped)
1 tomato (chopped)
2 green chillies (chopped)
3 tbsp olive oil
3 eggs
Salt
Pepper
2 tbsp butter
A handful of fresh coriander leaves
A handful of spring onions (chopped)
A handful of grated cheese
Burger Buns
Total Cooking Time: 25 minutes
Servings: 2 people
Method
Take olive oil in a pan and heat it. Add some tomato, onion, and green chillies.
Turn down the heat and let the vegetables cook.
Next, break 3 eggs in a bowl and whisk them nicely. Add some pepper and salt to taste.
Mix the vegetables and eggs and sauté them.
Now heat the pan with some butter and pour this mixture in a pan.
Sprinkle fresh spring onions, coriander leaves, and grated cheese on the egg-vegetable mixture.
Make two folds of the omelette and turn off the heat.
Add some butter under the omelette and serve with a toasted bun. Garnish with fresh coriander leaves.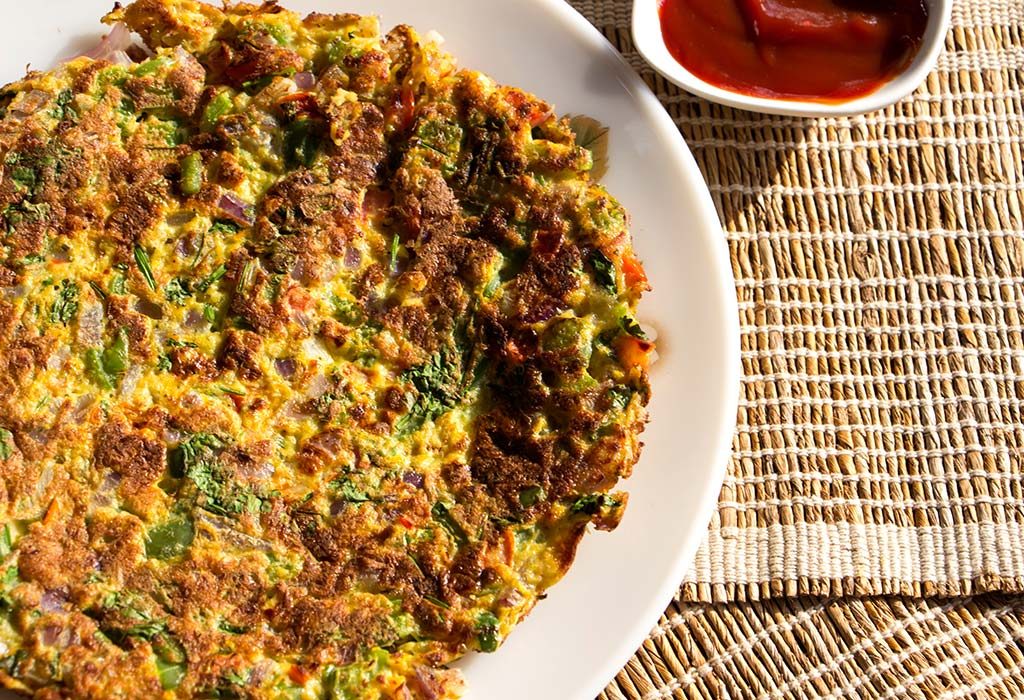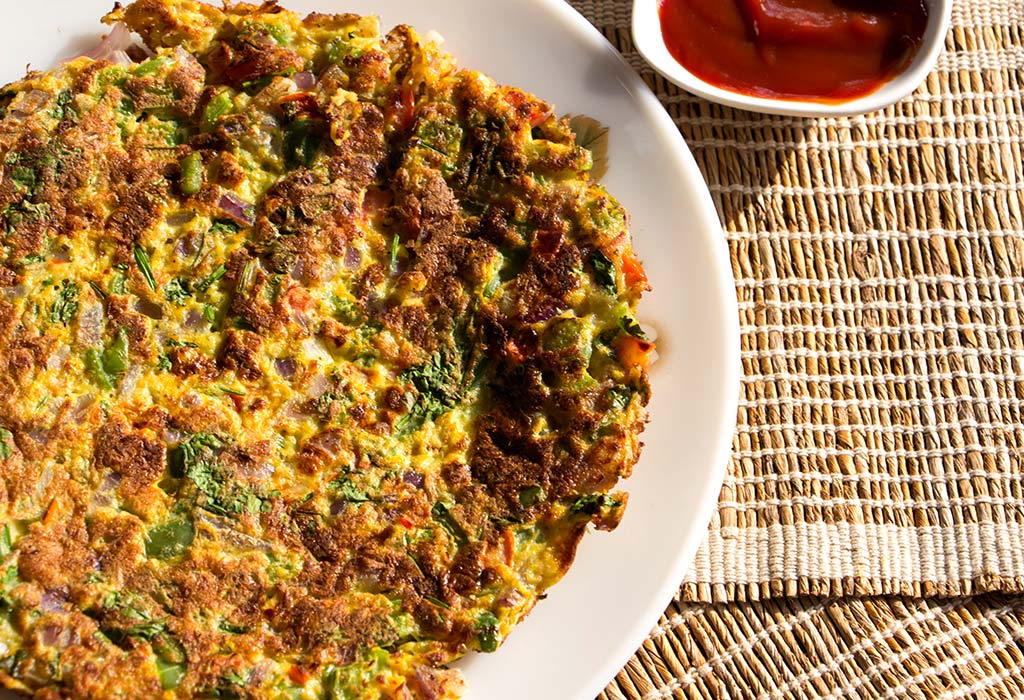 10. Eggless Pancakes
These amazing pancakes recipes without eggs are very sweet and fluffy.
Ingredients
1 cup Maida
1 tsp sugar
½ tsp salt
2 tsp baking powder
1 cup milk
3 tbsp oil
1 tsp vanilla essence
Total Cooking Time: 35 minutes
Servings: 10 people
Method
Mix the flour, salt, sugar, milk, baking powder, oil, enough water, and vanilla essence to form a smooth batter. You can add more water if necessary.
Heat oil in a frying pan and when the oil gets very hot, drain the oil.
Increase the heat and pour the batter. Lower the heat and cover the pan for about 10 seconds.
Uncover and check the edges. If they start lifting, flip it over. The pancake is done!
Just loosen the edges and place the pancakes on the plate.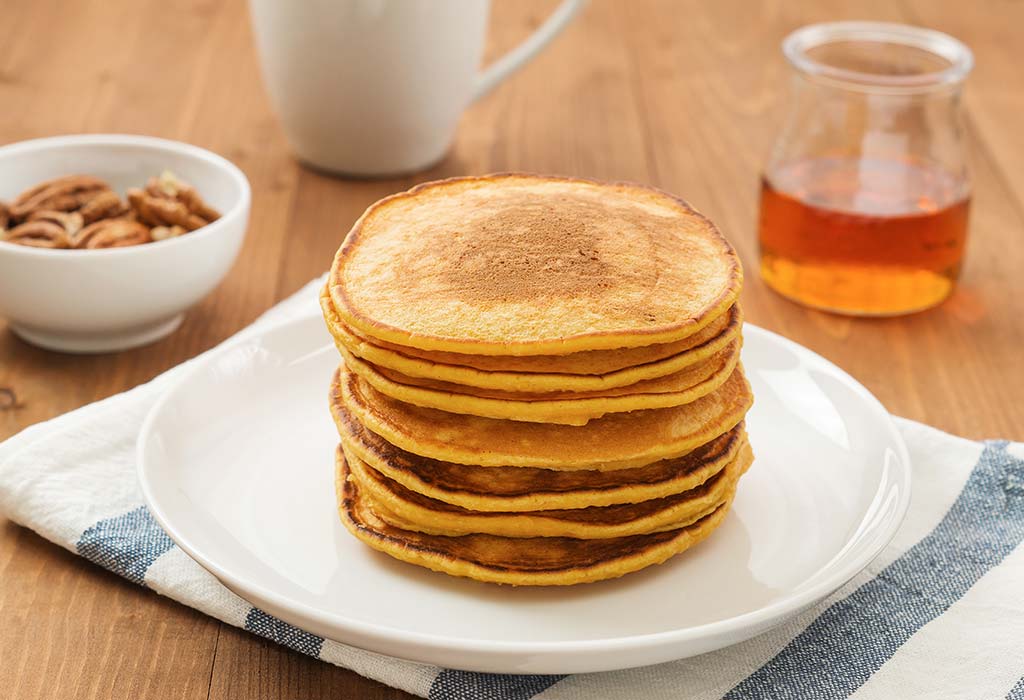 These recipes along with breakfast casserole recipes like French Toast or potatoes and egg casserole will definitely make sure your mornings are happy and healthy.
Also Read:
Simple and Delicious Side Dish Recipes
DIY Energy Bar Recipes for Instant Energy
Barbecue Recipes to Consider for Family Get Together