Puran Poli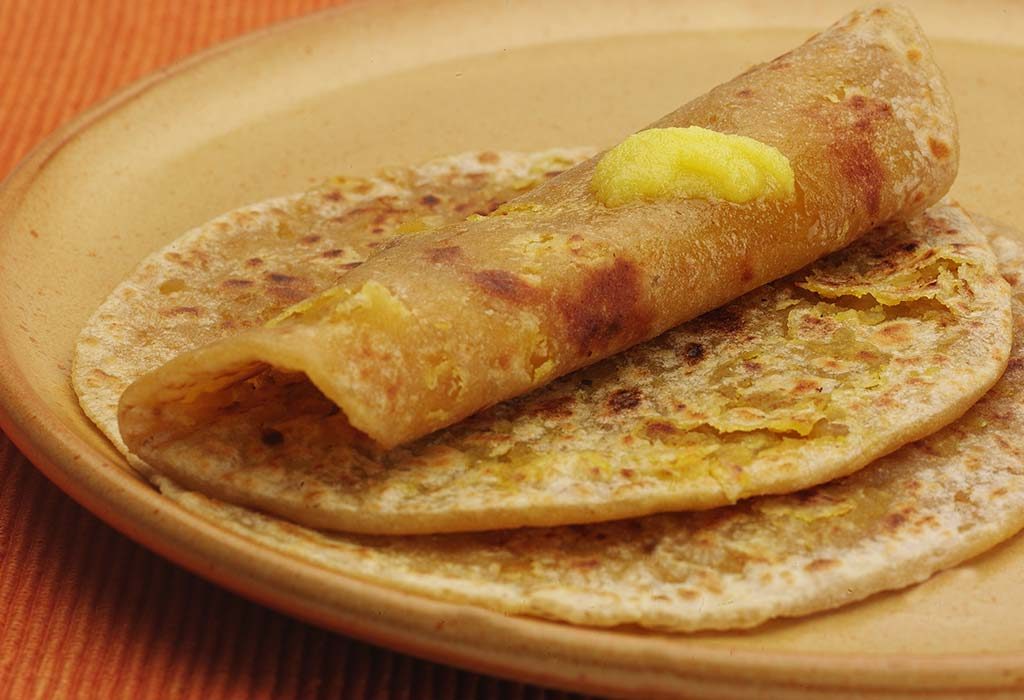 In this Article
Puran Poli is a typical Maharashtrian sweet delicacy prepared mostly on auspicious occasions like Gudi Padwa. This dish holds such high an importance on Gudi Padwa that the festive celebrations are considered incomplete without it. Present a hot piping Puran Poli with generous servings of ghee and watch your family come back for seconds.
| | | |
| --- | --- | --- |
| Serves | Preparation Time | Cooking Time |
| 6 People | 10-15 Minutes | 20-25 Minutes |
Ingredients
200 gm Chana Dal
125 gm Jaggery
2 tbsp Cardamom powder
1 tsp Nutmeg powder
400 g Wheat flour
100 g Maida
1 tbsp Ghee
Method
For The Stuffing (Puran)
Step 1
Wash chana dal and pressure cook it for two whistles.
Step 2
Remove it from the cooker and transfer to a saucepan.
Step 3
Now, add jaggery to the saucepan and keep the saucepan on medium heat. Keep stirring till the jaggery dissolves and the mixture becomes thick.
Step 4
Transfer the jaggery-dal mix to the plate and allow it to cool completely. Now, add cardamom powder and nutmeg powder and mix it well.
Step 5
Pulse the jaggery-dal mix in the mixer, such that it becomes a smooth paste.
For The Outer Cover
Step 1
Knead a soft dough using wheat flour and maida.
Step 2
Allow it to rest for 20 – 30 mins.
Step 3
Divide the dough into 6 equal parts to roll Poli.
Step 4
Roll out a 3 inch poli and place filling on one side of the flour and seal other ends of the Poli, so that the filling does not spill out.
Step 5
Now, gently press all sides of the Poli and roll from the center. Ensure it is equally flat from all sides.
Step 6
Make sure you roll it out to become at least of 7-8 inches in diameter.
Step 7
Take a non stick Tava and allow it to heat. Place puran poli over tava and allow it cook until it becomes golden brown. You can grease puran poli with ghee from both the sides. It will make puran Poli crispy.
Step 8
Repeat the same process for other portions of the dough.
Step 9
Serve it hot with ghee, or Katachi Amti (A traditional Maharashtrian curry made with leftover water from cooking Chana dal, and spices) and a bowl of hot milk.
Nutritional Information
| | |
| --- | --- |
| Calories | 685 Kcal |
| Proteins | 20.1 gm |
| Fats | 5.5 gm |
| Carbohydrates | 135.6 gm |
| Cholesterol – | 5 mg |
| Sodium | 33 mg |
| Potassium | 249 mg |
Tip:
1. You can use sugar instead of jaggery.
2. You can replace chana dal with tur dal.