Pumpkin Muffins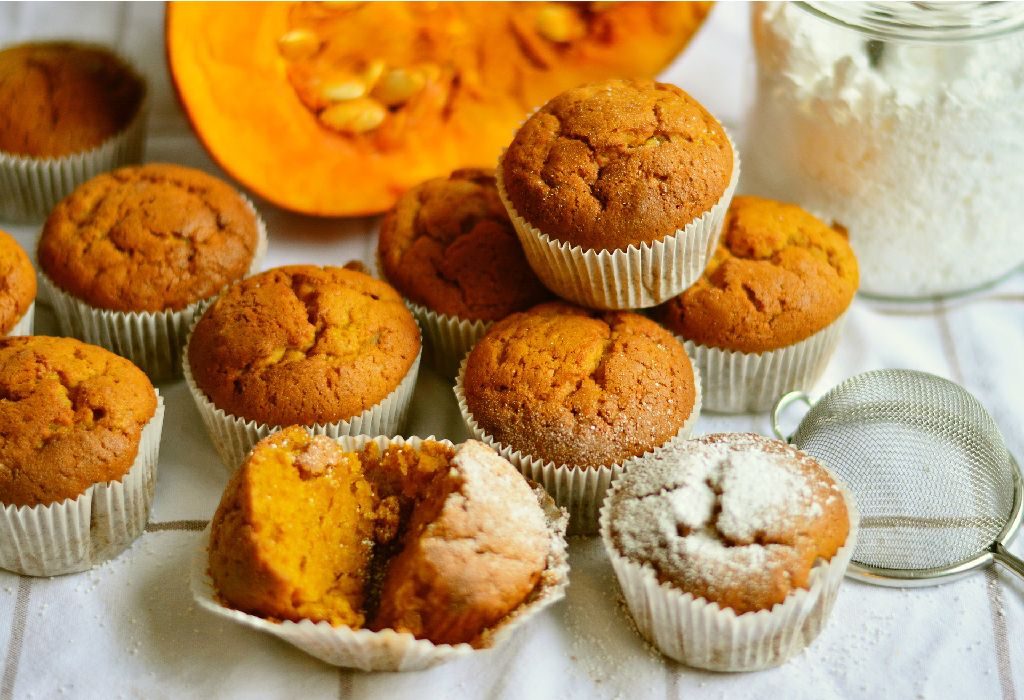 In this Article
The best part about these muffins is that they can be made and kept in the refrigerator for future use. It hardly takes a minute or two to prep them up, when something is needed to satisfy those hunger pangs quickly. This is a great recipe for your teen to take on, since it's quick and easy – just make sure you set some ground rules about clearing up once done! From the nutrition point of view, these muffins are high in vitamin A, while pumpkin adds fiber.
| | | |
| --- | --- | --- |
| Serves | Preparation Time | Cooking Time |
| 6 People | 5-10 Minutes | 25-30 Minutes |
Ingredients
200 g white flour
75 g whole wheat flour
200 g sugar
1 tsp cinnamon
1 tsp baking soda
1 tsp baking powder
1 tsp cloves
1 tsp salt
50 g semi-sweet chocolate chips
50 g dried blueberries
50 g walnuts or pecans, chopped
250 g pumpkin, mashed
125 ml unsweetened applesauce
3 eggs
Method
Step 1
Keep the oven for preheating to 350 degrees. Grease a 12 – cup muffin tin with a little cooking spray, or a bit of butter.
Step 2
Ask your teenager to take a large bowl and combine the first eight dry ingredients, and mix them well with a fork.
Step 3
Take a second bowl and combine pumpkin, applesauce and eggs. Mix them well with a fork.
Step 4
Mix the wet and the dry ingredients, and add the chocolate chips, dried fruit and nuts to the mixture.
Step 5
Let your teen combine all the ingredients thoroughly and spoon the batter into muffin tins.
Step 6
Let this bake for 25 to 30 minutes or until toothpick inserted in a muffin comes out clean.
Step 7
When the muffins are done, remove them from the tins and let them cool on a rack or a plate. Once cool, wrap the muffins singly or in pairs in plastic wrap, then toss the wrapped muffins into a couple of freezer bags and put the bags in the freezer.
Step 8
When you plan to eat the muffins, either take them out the night before and let them thaw on a plate, or, if you don't plan that far ahead, take them out of the freezer, remove the plastic wrap, and heat them in the microwave for a minute or two.
Nutritional Information
| | |
| --- | --- |
| Calories | 444 Kcal |
| Proteins | 10.4 g |
| Total Fat | 9.8 g |
| Total Carbohydrates | 82.1 g |
| Cholesterol | 82 mg |
| Sodium | 662 mg |
| Potassium | 328 mg |