Prawns Stir Fry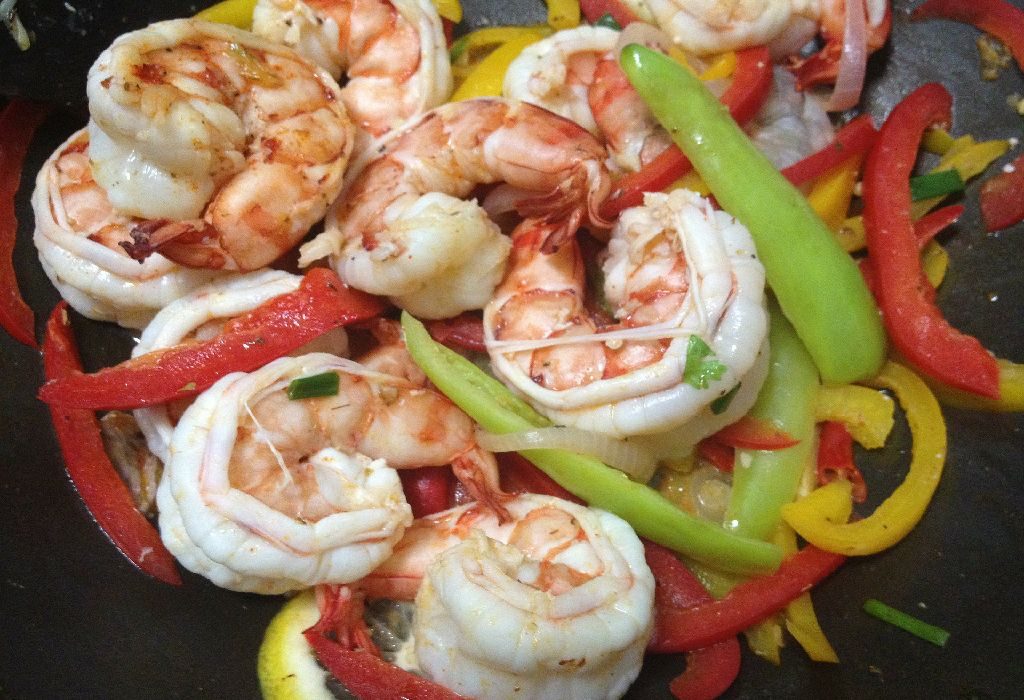 In this Article
Prawns are quick cooking. Taking into consideration this aspect, prawns can become the perfect base for any stir-fry recipe. From chilli prawns to simple Chinese stir fried prawns, the options are numerous. Coming to our version of it, let us tell you that our recipe is easy-peasy, speedy, low-calorie and absolutely delicious.
| | | |
| --- | --- | --- |
| Serves | Preparation Time | Cooking Time |
| 4 People | 20-25 Minutes | 15-20 Minutes |
Ingredients
3 tbsp groundnut or sunflower oil
2 – 3 garlic cloves, sliced thinly
½ red pepper, cored, deseeded and thinly sliced
½ green pepper, cored, deseeded and thinly sliced
200 gm prawns, de-veined and shelled
2 tbsp soy sauce
100 gm baby spinach leaves
Method
Step 1
Heat a wok on medium heat. Once you feel a good heat rising, add 2 tbsp oil.
Step 2
After a minute or so, add the garlic slices and stir-fry until it starts to turn golden.
Step 3
Next, add pepper and stir-fry for about 1 – 2 min.
Step 4
Lastly, toss in the prawns and stir-fry for another 2 – 3 mins. Close the lid of the wok and keep it for 3 – 5 minutes. Add the soy or fish sauce.
Step 5
Finally, just before serving, throw in the spinach and stir-fry until the spinach wilts.
Step 6
Serve immediately with chilli-garlic sauce.
Nutritional Information
| | |
| --- | --- |
| Calories | 318 Kcal |
| Proteins | 31.3 g |
| Fat | 13.5 g |
| Carbohydrates | 29.9 g |
| Cholesterol | 10 mg |
| Sodium | 1045 mg |
| Potassium | 4266 mg |