Popular Winter Desserts From Around The World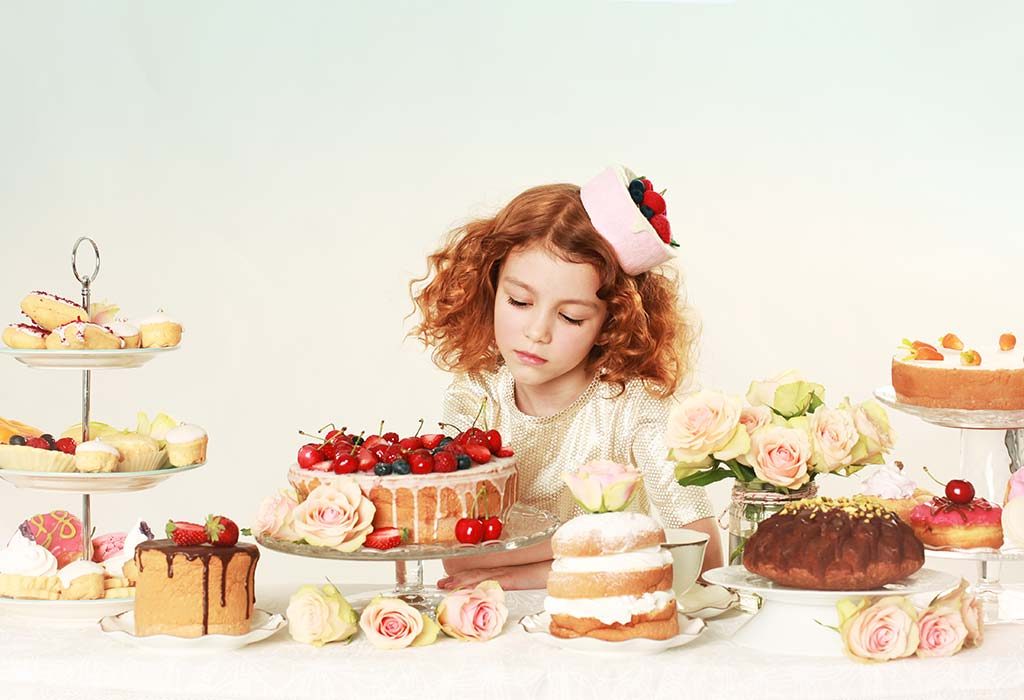 In this Article
Whether or not they finish their vegetables, kids always have plenty of room for desserts. If it were up to them, desserts would be their breakfast, lunch and dinner; but that's not happening. Even so, sweet treats might motivate children to have those unappetising veggies which they utterly despise. Moreover, it's winter and what's better than snuggling into a cosy blanket and having a bowl of warm, delicious, sugary goodness! After all, dessert doesn't go to the stomach, it goes straight to the heart, and we love our children with all our hearts, don't we? Desserts would be the highlight of their day, and we should make it count!
12 Best Desserts for Winter From Around the Globe
Even though ice cream and chocolates will always be your child's first love, there is a plethora of desserts that you can find around the globe which both, you and your kid will love having. Since we don't have the time to travel around the world in 80 days, this article will introduce you to most of the yummy sweet delicacies out there. This year, break out beyond the Indian borders for your winter dessert inspiration. From fluffy sponge cakes to rich figgy pudding, these desserts are going to warm your heart, in a delectably foreign way.
1. Apple Strudel – Austria
[youtube https://www.youtube.com/watch?v=jN95_a6V0TI&w=756&h=425]
Apple strudel is a dessert that originated from the Austro-Hungarian empire and is now enjoyed across the globe. Each country has their improvised versions, but mainly, it's generously buttered puff pastry filled with grated apples, raisins and cherries baked to perfection. If you are a die-hard apple lover, this dessert is perfect for you. Also, it's a great way to introduce fruit into your little one's diet. A plate full of apple strudel with a side of vanilla ice cream; what's not to love?
You'll love this if you like: Apple Pie.
2. Strawberry Cobbler – USA
[youtube https://www.youtube.com/watch?v=s_oGxXsH3ZA&w=756&h=425]
The early settlers of America invented Cobblers. They loved English steamed puddings, but lacked the proper ingredients, so they just used whatever was available. That's how they came up with this deep-dish fruit dessert which has a crisp crust on the outside, and a soft and buttery, warm fruit filling on the inside. You could use whatever berries you want, but since strawberries are in season, it's time to use those fresh, juicy strawberries in your dessert. That golden, crispy top layer, the fluffy underside and the juicy, strawberry filling – this dessert is a piece of heaven. If your child likes fluffy strawberry muffins, he is going to love this strawberry cobbler.
You'll love this if you like: Strawberry Shortcake and Strawberry Muffins.
3. Oliebollen – Netherlands and Belgium
[youtube https://www.youtube.com/watch?v=Q2aveTL9Ix4&w=756&h=425]
Oliebollen is a traditional Dutch delicacy that is made during winter, especially, on New Year's Eve. They are commonly known as Dutch dumplings or dutchies. Oliebollens are deep fried doughnuts stuffed with raisins and dusted with powdered sugar. Some people also use citrus zest or candied cherries as a filling. Next time your kid asks for a glazed doughnut, you could make him a fresh batch of these brown and crispy mini doughnuts.
You'll love this if you like: Glazed Doughnuts.
4. Rasmalai – India
[youtube https://www.youtube.com/watch?v=NVA6tceBry0&w=756&h=425]
Rasmalai, or correctly pronounced, 'Rossomalai', is a dessert which originated from the West Bengal region in the eastern part of the Indian subcontinent. It is a Bengali dessert in which tiny paneer or chenna balls are soaked and immersed in thick, creamy, flavoured milk. The milk is flavoured with saffron and pistachios, and kheer is used as a stuffing. These Rasmalai balls melt as soon as you put them in your mouth. This exotic milk-based Indian dessert is a saviour for all those parents who run behind their kids with a glass of milk.
You'll love this if you like: Kheer and Rasgullas.
5. Melomakarona – Greece
[youtube https://www.youtube.com/watch?v=wUShKkLn8rc&w=756&h=425]
Melomakarona is basically cookies dipped in honey. This Greek dessert is specially made during the winter season to celebrate Christmas.
These cookies are oval so that they can retain their soft texture. The syrup in which the cookies are dipped is infused with flavours of orange, cinnamon and cloves to impart the complete Christmas feel. Between their sweet and sticky honey glaze and the dusted walnut pieces on top, these cookies will have you lick your fingers in no time. These aromatic, soft, chewy cookies will be a great evening snack for your kids.
You'll love this if you like: Oatmeal Honey Cookies.
6. Figgy Pudding – UK
[youtube https://www.youtube.com/watch?v=gSpdqKMW93s&w=756&h=425]
This dessert might be already really familiar to you because of the famous Christmas song 'We Wish You a Merry Christmas'. Figgy pudding is a traditional British dessert made to celebrate the Christmas holidays. It is more of a cake than a pudding, and it is the perfect blend of figs, dates, dark chocolate and all the winter spices. Some versions do contain plums, but they are not mandatory. As we all know, figs are a great source of fibre, vitamins, and minerals; so this dessert won't just make your child happy, but it will also help strengthen his immunity during the winter season.
You'll love this if you like: Rich Fruit Cakes
7. Basbousa – Egypt
[youtube https://www.youtube.com/watch?v=3yYsLlprC-E&w=756&h=425]
Basbousa is a traditional Middle Eastern dessert that originated in Egypt. It is basically a sweet, moist cake made of semolina, butter, eggs and coconut, and is dipped in sweet syrup to give it a juicy and moist texture. Some recipes also include rose water or orange blossom flavouring in the syrup. You could say, it is very similar to the Indian dish 'suji halwa'. The only difference is that it's in the form of a cake and it contains coconut. This dessert will be a very nutritious and filling dish for your child and can be given as breakfast before school. You can have dessert for breakfast after all!
You'll love this if you like: Suji ka Halwa.
8. Creme Brulee – France
[youtube https://www.youtube.com/watch?v=ZPz7FP15OCs&w=756&h=425]
Creme brulee is a rich French custard topped with caramelised sugar. The beauty of this dessert is the contrast between the decadent custard which serves as the base and the hard, crispy caramelised sugar which serves as the top layer. With the help of five ingredients that you can easily find in your kitchen – eggs, cream, salt, sugar and vanilla, you can make an exquisitely rich and elegant dessert for your spouse and kid. We assure you, breaking through the creme brulee's crispy caramelised top into the thick creamy custard base is going to be pure bliss.
You'll love this if you like: Caramel Custard.
9. Milk Tart – South Africa
[youtube https://www.youtube.com/watch?v=gI8NeNnOB5w&w=756&h=425]
Milk tart, also known as 'Melktert', is a delicate but decadent dessert which originated in South Africa. It is believed that the Dutch invented this delicacy when they settled at the Cape of Good Hope in South Africa. This milky, custard tart is made of milk, sugar, flour and eggs. The creamy, luxurious dessert can be served after dinner or as an evening snack for your kid when he comes back home after playtime.
You'll love this if you like: Vanilla Custard and Tarts.
10. Lamingtons – Australia
[youtube https://www.youtube.com/watch?v=jb2D2VZJzfg&w=756&h=425]
Lamingtons are basically cubes of vanilla sponge cake dipped in chocolate sauce and rolled in desiccated coconut. A layer of jam is also added between two layers of sponge cake. Lamingtons were named after Lord Lamington who was the Governor of Queensland in 1980. It is believed that Lord Lamington had some unexpected guests, so his chef dipped leftover vanilla sponge cake in chocolate and coconut before serving it to the guests. The best recipes are, indeed, created by accident! Lamingtons will surely become your kid's new favourite jam treat after jam biscuits.
You'll love this if you like: Coconut cakes or Coconut and Chocolate Barfis
11. Castella – Japan
[youtube https://www.youtube.com/watch?v=gogPOP1rjx8&w=756&h=425]
Castella, also known as 'Kasutera' is a Japanese sweet treat that was brought to Nagasaki by the Portuguese in the 16th century. Castella is made up of only four ingredients – eggs, flour, sugar and honey. This sponge cake is devoid of butter and relies solely on egg foam to rise. The beautiful dark brown top and bottom crust and the contrasting light yellow spongy middle makes the cake look divine. This dessert is different from other sponge cakes as you don't need to add any frosting or cream to it; it is a perfect tea-time cake. Now you know there are other tea time cake options too, apart from Madeira cake and mawa cake.
You'll love this if you like: Tea Cakes
12. Risalamande – Denmark
[youtube https://www.youtube.com/watch?v=HGH3UtMMWao&w=756&h=425]
Risalamande is one of the most famous Danish desserts which is made exclusively on Christmas Eve to have after the celebratory dinner. It's basically 'rice pudding with cream and almonds'. Sounds pretty much like kheer, doesn't it? But the difference is that the base layer (which is the rice pudding) is topped with a separate second layer of chopped almonds and is folded with whipped cream. To top it all off, a generous amount of cherry sauce is drizzled over the pudding and is garnished with glazed cherries. Fancy, right? Now you can add a twist to your good ol' kheer when you make it for your kid's birthday.
You'll love this if you like: Kheer with Dry fruits.
These winter desserts are going to be the go-to fix for those with sugar addictions. From caramel-y and smooth French custards to deep-fried Dutch doughnuts, these international sweets will have you plotting your next culinary escapade!
Also Read:
Tasty Homemade Energy Bar Recipes for You
Warm Dessert Perfect for Cold Winter Days
Mouthwatering Chritmas Cakes Recipes You Must Try