Pomegranate Juice for Male and Female Fertility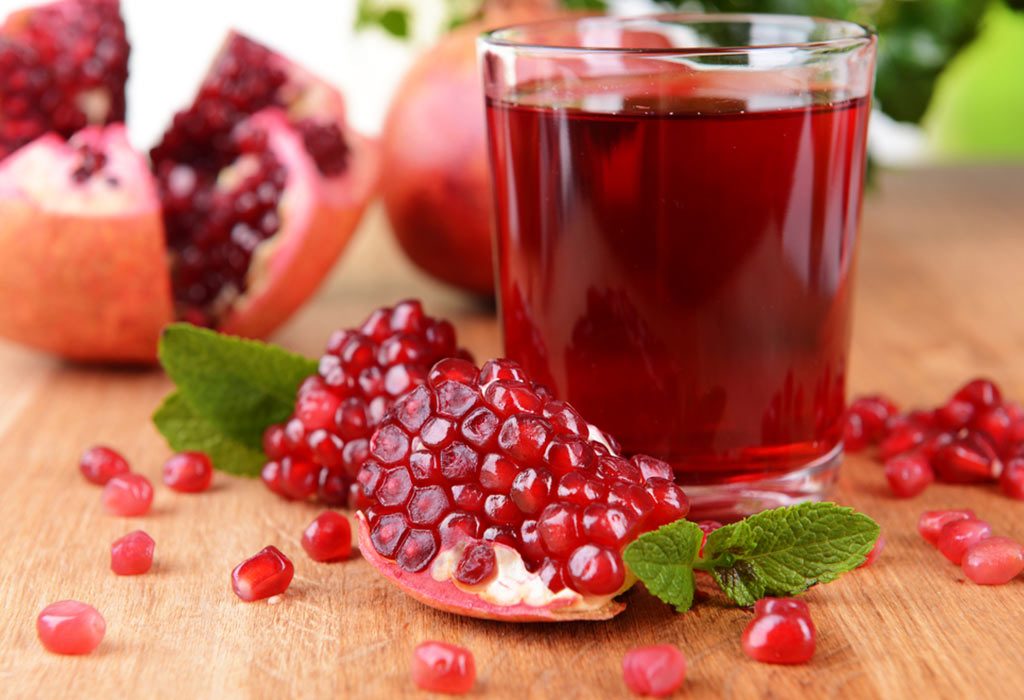 Are you thinking about expanding the family? You may want to consider trying a superfood like a pomegranate that can boost fertility in both men and women. The pomegranate is considered a symbol of fertility in many cultures. It contains several nutrients that improve reproductive health and fertility in both men and women.
Pomegranates are an excellent source of carbohydrates, dietary fibre, folate, vitamins C, E, K, B1, B2, B3, B5, and B6, and essential minerals like calcium, iron, magnesium, manganese, phosphorous, potassium, and zinc. They also contain phytochemicals like polyphenols like punicalagins which boost immunity and prevent cancer.
How Does Pomegranate Improve Fertility in Women?
The pomegranate juice – female fertility connection is well known as the juice of the pomegranate contains folic acid, and antioxidants that boost blood flow to the uterus, help in conception and prevent birth defects in the foetus. Here are how pomegranates boost fertility in women and improve reproductive health:
1. Contains Phytoestrogens
Pomegranate seeds contain plant estrogens that can prevent diseases of the reproductive system, such as uterine fibroids, endometriosis, and cancers of the uterus, ovaries, and breasts. Thus, pomegranates improve the overall reproductive health of women.
2. Contains Folic Acid
Folic acid is an important B vitamin that is necessary for conception and prevention of congenital disabilities in the foetus. Pomegranates are an excellent source of folic acid.
3. Keeps Uterus Healthy
Pomegranate increases blood flow to the uterus, thus helping to keep the uterine lining healthy. A healthy uterine lining is necessary for the embryo to implant itself successfully in the uterus. Thus, pomegranate also helps increase the chances of conception.
4. Contains Flavonoids and Antioxidants
Flavonoids and antioxidants in pomegranate boost immunity and prevent infection and disease. They also help prevent tissue damage and cancer. This helps the reproductive system remain healthy and fertile.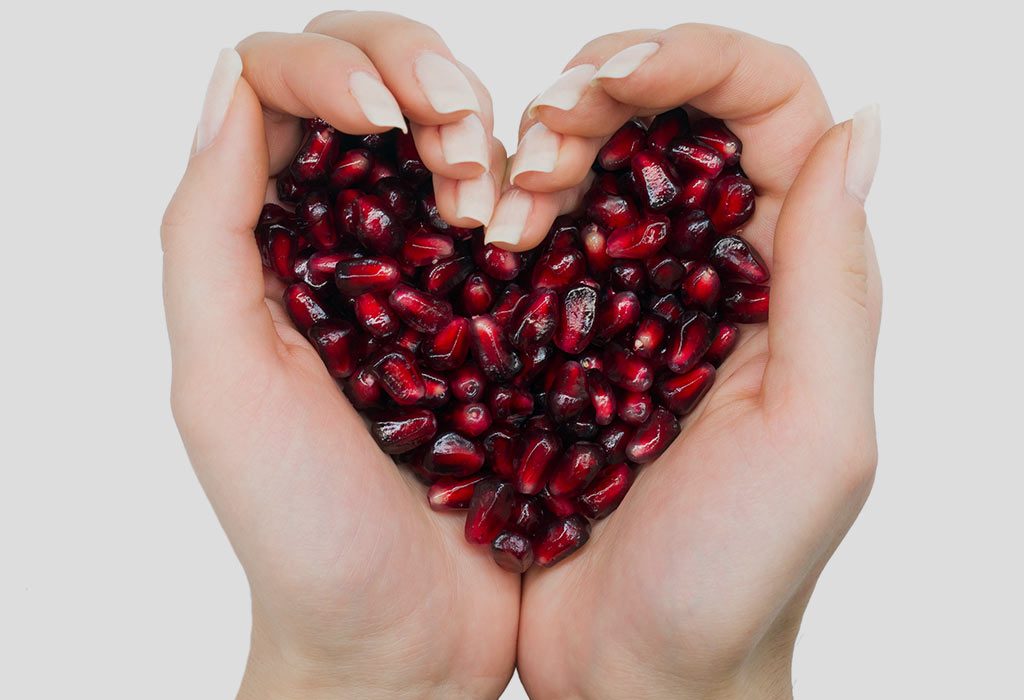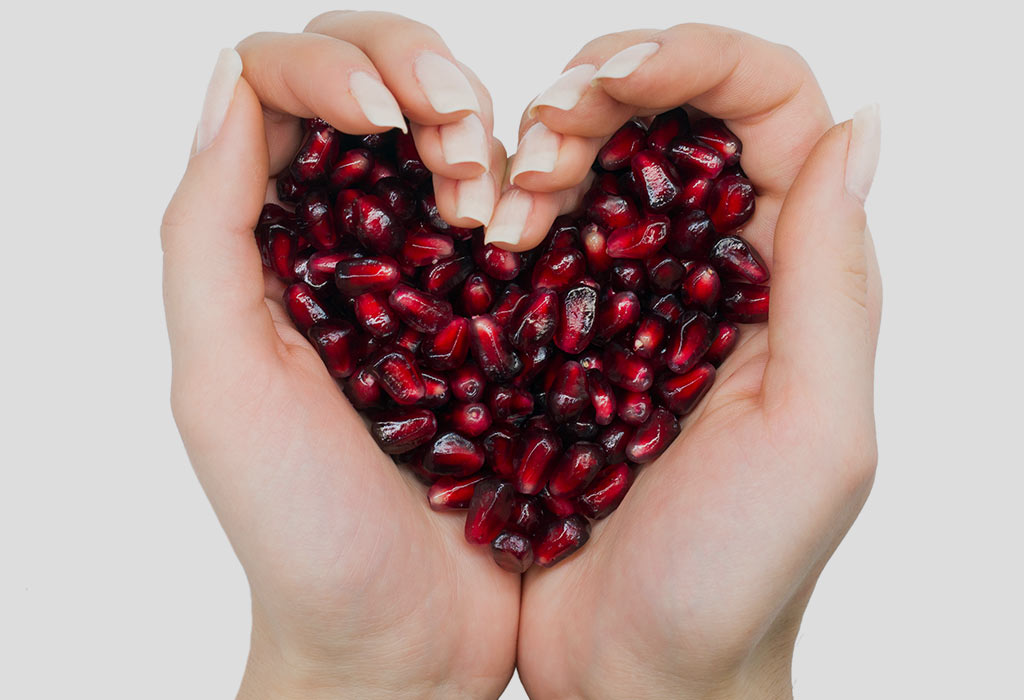 How Does Pomegranate Boost Fertility in Men?
Pomegranate and male fertility are interlinked as regular consumption of pomegranates have been found to improve fertility in men. Here are how pomegranates boost fertility in men:
1. Improve Sperm Count Quality
Pomegranates contain nutrients like zinc that improve sperm count, quality, and mobility. Zinc also is important for improving the body's immune response. All this helps in increasing the chances of conception.
2. Reduces Erectile Dysfunction
Pomegranate juice has been found to improve sexual performance and reduce erectile dysfunction in men. The juice stimulates the walls of the blood vessels to relax and widen, thus increasing blood flow. This helps men maintain an erection for a longer duration, thus improving sexual performance and reducing erectile dysfunction.
3. Promotes Prostate Health
Pomegranate contains natural anti-inflammatory compounds that prevent inflammation that causes an enlarged prostate. The prostate gland is important for reproductive health as it produces a fluid that nourishes and protects sperm. The polyphenols in pomegranate also reduce the risk of prostate cancer, thus improving reproductive health in men.
Healthy Pomegranate Recipes to Try While Trying to Conceive
Pomegranate juice fertility benefits are well known. Regularly consuming pomegranate seeds or juice has been found to improve fertility in both men and women. To include pomegranate in your daily diet, here are some recipes that you can try:
1. Pomegranate Lassi
Pomegranate Lassi is an Indian recipe which is both nutritious and tasty.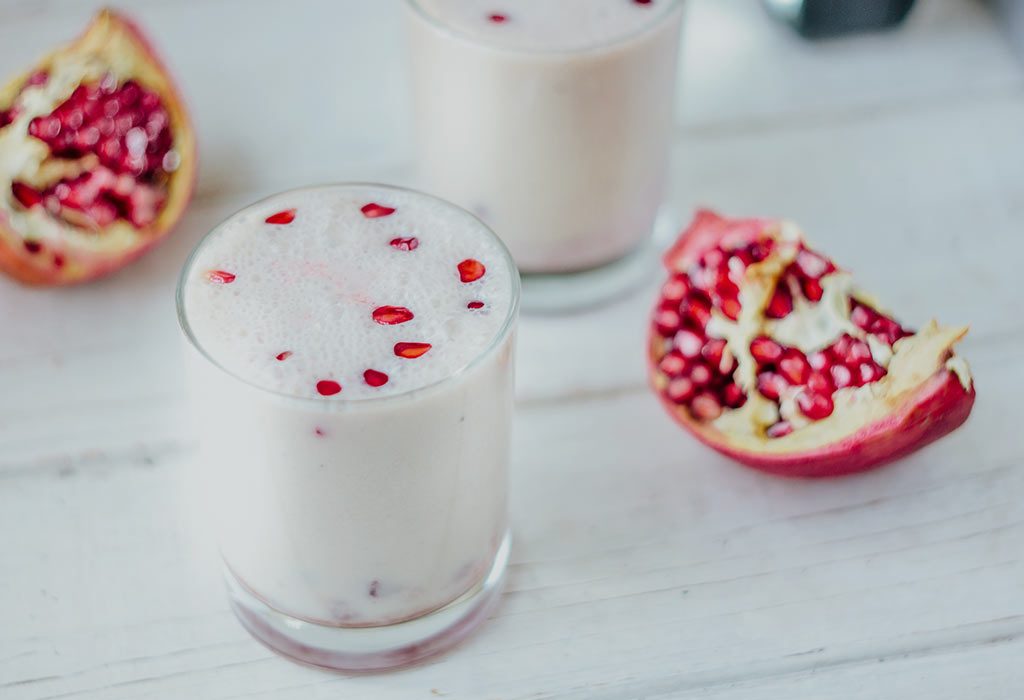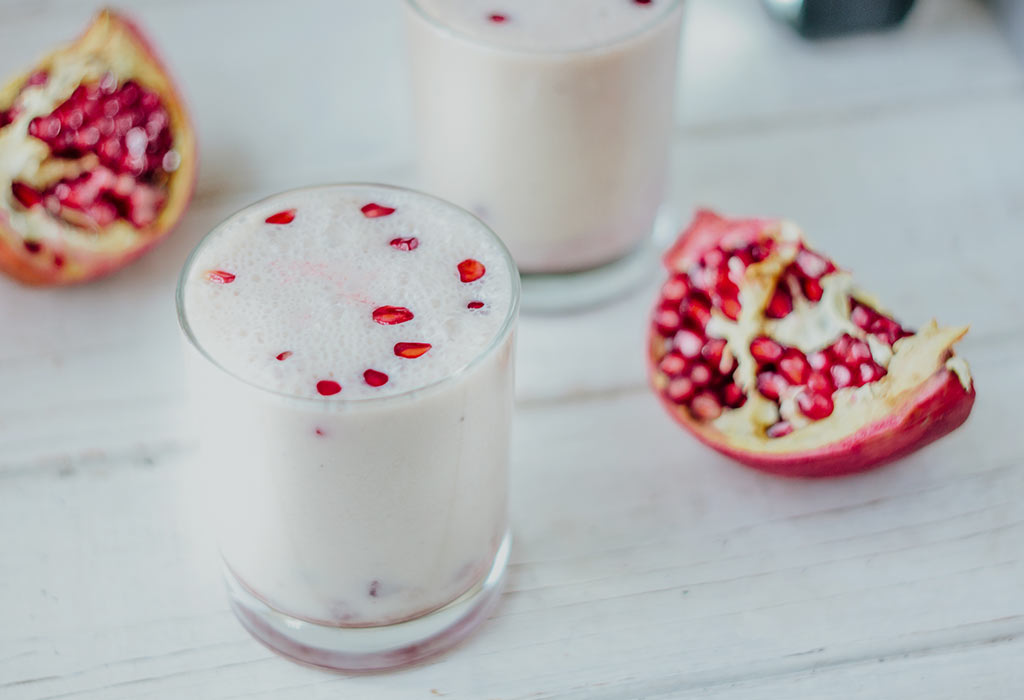 Ingredients
Half a cup of pomegranate seeds
A pinch of cardamom powder
A cup of thick yoghurt
Two tablespoons of honey
A pinch of salt
Half teaspoon rose water
A few pistachios and pomegranate seeds for garnishing
How to Prepare
Grind the pomegranate seeds in a mixer and sieve the juice to remove the crushed seeds.
Put the pomegranate juice, yoghurt, cardamom powder, rose water, and honey in a bowl and blend them with a hand blender or whisk, until froth forms on top.
Pour this into glasses and garnish with a few pistachios and pomegranate seeds sprinkled on top.
Serve chilled.
2. Pomegranate and Chickpea Curry
This is a healthy and nutritious recipe that can be eaten as a snack or a side-dish.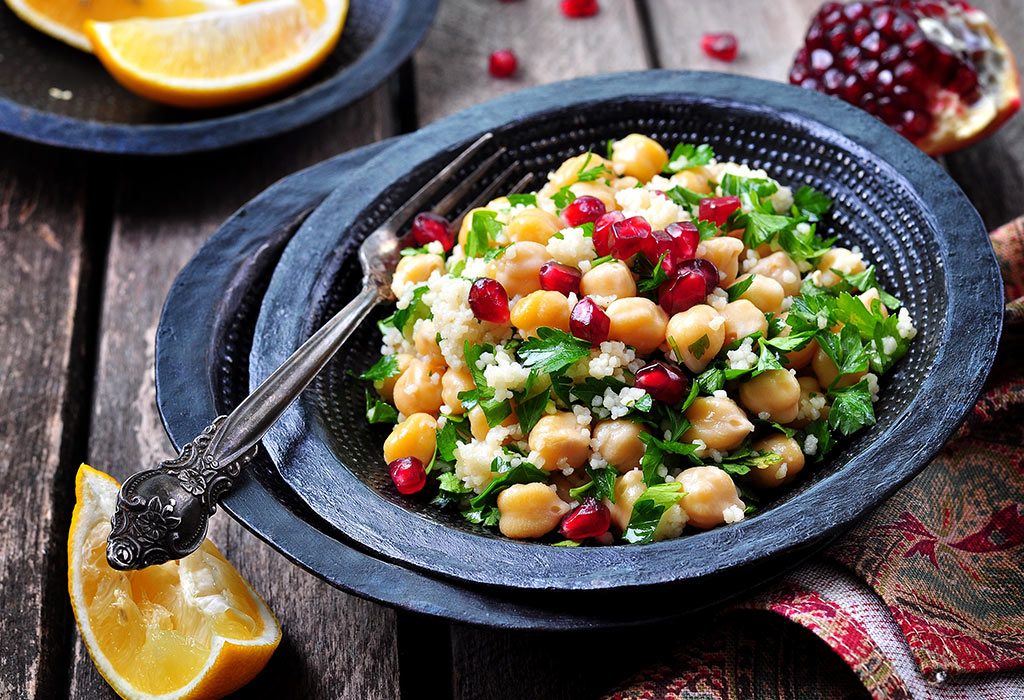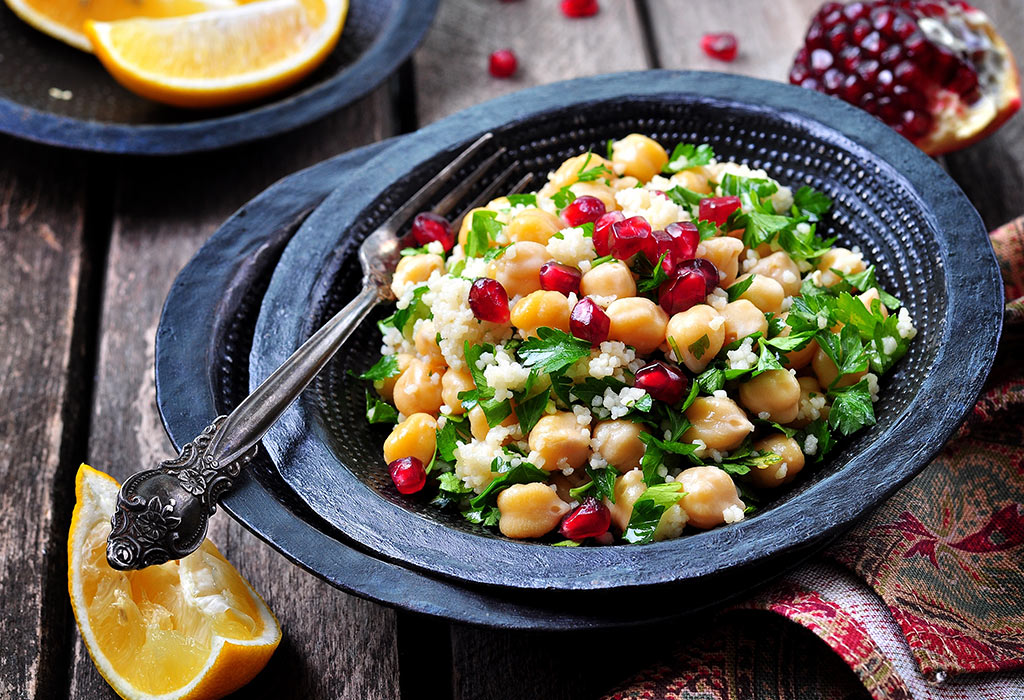 Ingredients
200 g dried chickpeas soaked overnight
100 g chana dal soaked overnight
2 chopped onions
2 tablespoons sunflower oil
Quarter-inch grated ginger
2 crushed black cardamom
1 cinnamon stick
3 cloves
1 teaspoon garam masala
½ teaspoon cumin seeds
1 chopped green chilli
1 teaspoon salt
2 tablespoons crushed pomegranate powder
50 g pomegranate seeds
A handful of chopped coriander
How to Prepare
Cover the chickpeas with water in a saucepan and bring to boil. Cook until they are tender. Drain and keep aside.
Heat oil in a heavy pan.
Add cumin seeds, onions, ginger, spices, garam masala, pomegranate powder, chilli, and salt. Cook for a few minutes.
Cook the chana dal in water until it is tender, drain and keep aside.
Add this to the pan along with the chickpeas and cook for a few more minutes until the ingredients are heated through and thoroughly mixed.
Once cooked, garnish with pomegranate seeds and coriander.
Pomegranate is a nutritious superfood that is known to improve the reproductive health and fertility of both men and women. Including pomegranate in your regular diet has vast health benefits. It can fight cancer and ageing, improve fertility and immunity, and regulate blood pressure.
Also Read: Home Remedies to Increase Fertility
?>