Plum and Pear Crumble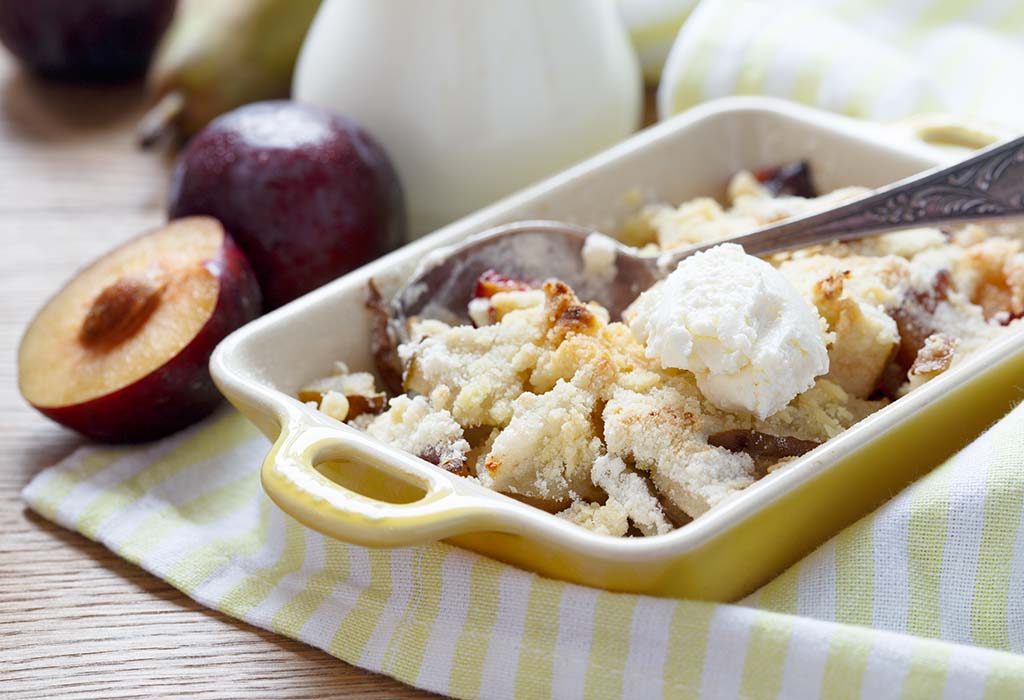 In this Article
A perfect comfort food for the frosty weather, this plum and pear crumble is deceptively guilt-free as it packs a whopping fruity punch in it. The versatality of this recipe permits you to have different fruit combinations everytime, depending on the seasonal availability of the fruit. Use combinations like apple and cranberry or strawberry and peach, but don't alter the rest of the ingredients. Serve it as is or with whipped cream or ice-cream for added piquancy.
| | | |
| --- | --- | --- |
| Serves | Preparation Time | Cooking Time |
| 6 People | 25-30 Minutes | 25-30 Minutes (chilling) |
Ingredients
For the topping
200g jumbo rolled oats
2 tbsp runny honey
pinch salt
2 tsp sunflower oil
½ tsp ground cinnamon
For the filling
500g ripe plums, halved and stoned
500g ripe pears, halved and stoned
50g caster sugar
1 medium orange, zest and juice
Method
Step 1
Keep the oven for preheating to 200C/400F.
Step 2
Ina large bowl, mix all the ingredients meant for topping and spread in an even layer over a non-stick baking sheet.
Step 3
Keep it for baking for 15-20 minutes, till it becomes crisp and golden-brown. Keep shaking and stirring the mixture occasionally to ensure even cooking. Remove from the oven and let it cool.
Step 4
Meanwhile, combine the filling ingredients in a heavy bottom pan with a lid. Cook over high heat for 3-4 minutes until the sugar gets dissolved completely.
Step 5
Reduce the flame to a minimum heat, and let the contents of the pan simmer for 5-6 minutes, or until the plums and pears get softened, but still retain their shape.
Step 6
Pour out the plum and pear mixture into serving bowls, and spoon the granola topping. Mix thoroughly.
Step 7
Top with vanilla icecream and serve.
Nutritional Information
| | |
| --- | --- |
| Calories | 281 K cal |
| Proteins | 5.4 g |
| Total Fat | 4.0 g |
| Total Carbohydrates | 59.5 g |
| Cholesterol | 0 mg |
| Sodium | 3 mg |
| Potassium | 363 mg |
?>