Penne Pasta in Red Sauce with Fish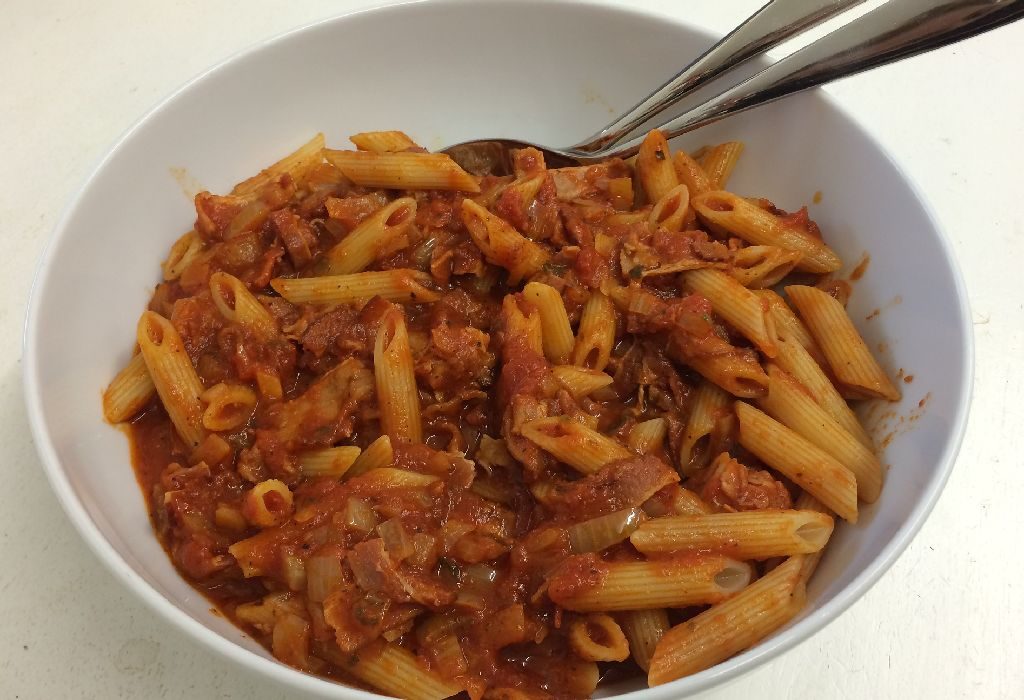 In this Article
Pasta is a very versatile dish – its always about the ingredients that go into it that make the difference. We feel that the beauty of pasta is in keeping it simple, with a few, good ingredients added in such a way that they absolutely sing when rounded up together. We thought of adding a twist to the regular pasta by adding fish to the dish. Conjure it up this weekend and bring some Italian flavours to the dinner table.
| | | |
| --- | --- | --- |
| Serves | Preparation Time | Cooking Time |
| 4 People | 20-25 Minutes | 15-20 Minutes |
Ingredients
400 g penne pasta
1 tbsp olive oil
1 onion, finely chopped
3 – 4 garlic clove, crushed
400 gm pasta sauce
1/2 cup cream
50 gm olives, pitted
1/2 cup parsley leaves, chopped
200 gm mackerel, cut into pieces
Method
Step 1
Take water in a large saucepan and keep it for boiling. Cook pasta in water for 4-5 min or until al-dente. Drain pasta and reserve 1/3 cup water.
Step 2
In a frying pan, heat oil over medium heat. Add onion and garlic and sauté for 3 – 4 minutes. Add pasta sauce and cook for 2 – 3 mins while stirring continuously until almost boiling.
Step 3
Reduce heat to low and stir in cream, olives, half the parsley and salt and pepper.
Step 4
Cover and let it cook for another 5 minutes. Gently slide in the fish pieces and simmer for 4 – 5 min.
Step 5
Put in pasta and the reserved water to the pan. Add the remaining parsley and give it a nice toss to combine.
Step 6
Serve hot.
Nutritional Information
| | |
| --- | --- |
| Calories | 798 Kcal |
| Proteins | 24.1 g |
| Fat | 47.7 g |
| Carbohydrates | 72 g |
| Cholesterol | 116 mg |
| Sodium | 1520 mg |
| Potassium | 481 mg |