Peanut Salad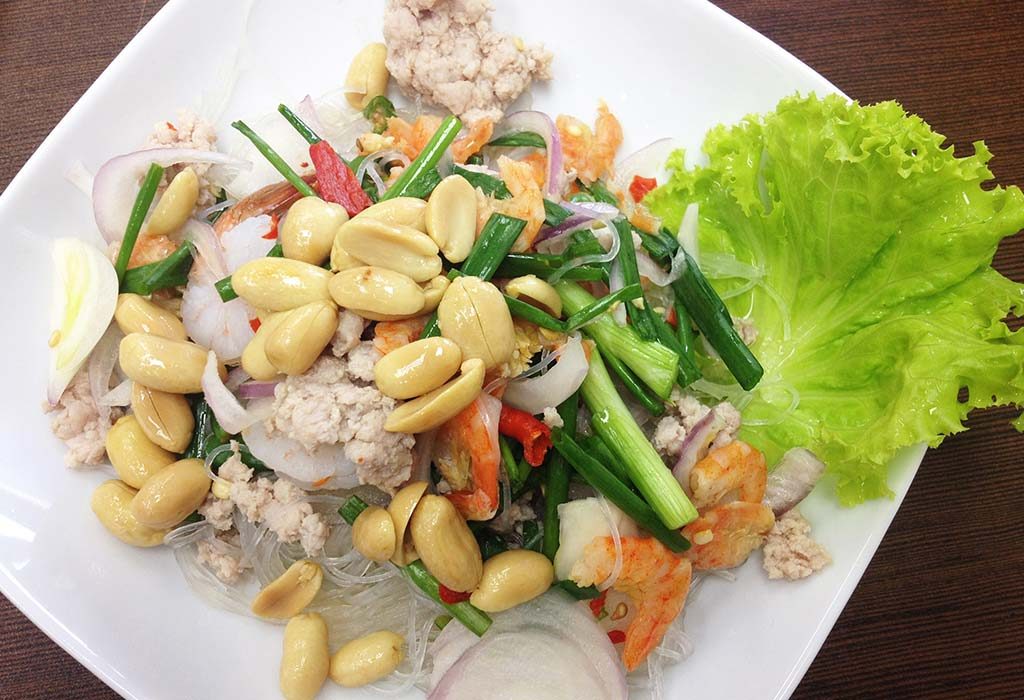 In this Article
This yummy salad packs in a powerful punch of nutrition and tastes really good. It's an easy to prepare recipe where you just have to throw in the ingredients and you're done. Eat it directly from the mixing bowl or have it at a sit-down-dinner, it's versatile enough for both!
| | | |
| --- | --- | --- |
| Serves | Preparation Time | Cooking Time |
| 2 People | 10-15 Minutes | 5-10 Minutes |
Ingredients
1/2 cup peanuts
10-12 almonds soaked in water
1 teaspoon olive oil
1/4 teaspoon cumin seeds
1/4 teaspoon mustard seeds
1 teaspoon chopped green chilies
1/4 cup chopped spring onion
5 black dates chopped
2 tbsps chicken pieces, cooked and shredded
2 tablespoon chopped fresh coriander leaves
1/2 teaspoon lemon juice
1 teaspoon roasted cumin seed powder
1/2 teaspoon salt
Method
Step 1
Soak the peanuts in water for 2-3 hours and then boil them for 5 minutes and strain the extra water.
Step 2
Peel the almonds and slice them.
Step 3
Heat the oil, add cumin seeds and mustard seeds./li>
Step 4
Now add chopped green chilies and saute this for a few seconds.
Step 5
Pour this over the boiled peanuts and combine sliced almonds, shredded chicken pieces and the remaining ingredients.
Step 6
Mix well, cover and chill for at least two hours.
Step 7
Garnish with coriander leaves and serve.
Nutritional Information
| | |
| --- | --- |
| Calories | 200 K cal |
| Proteins | 5.7 g |
| Total Fat | 11.8 g |
| Total Carbohydrates | 20.8 g |
| Cholesterol | 0 mg |
| Sodium | 4 mg |
| Potassium | 237 mg |