Pasta Nest with Roasted Vegetables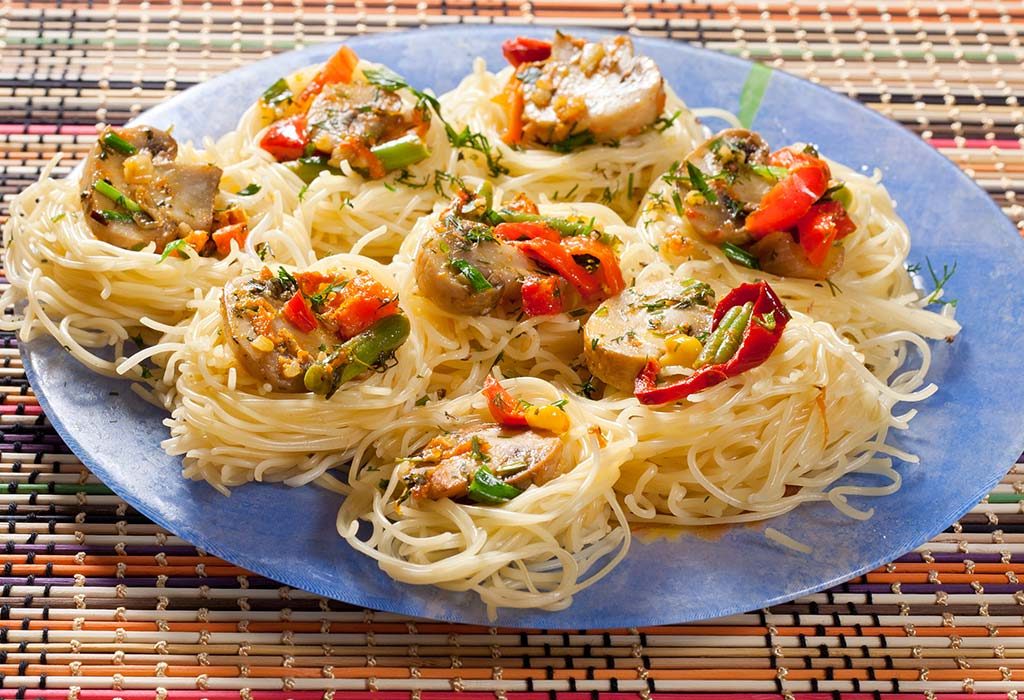 In this Article
Craving for pasta? Give a twist to your regular pasta recipe this time. Load it with veggies of your choice and make it healthy and interesting as well. This dish can go as a side dish as well as an amazing evening snack in its own right. An ideal dish for pleasing a crowd, believe us when we say that it will leave your guests dazed by the taste.
| | | |
| --- | --- | --- |
| Serves | Preparation Time | Cooking Time |
| 4 People | 15 – 20 Minutes | 10 – 15 Minutes |
Ingredients
1 eggplant, chopped
2 zucchini
1 onion, chopped
8 button mushrooms, sliced
1 carrot, sliced
3 tbsp olive oil
1 tsp dried oregano
1 tsp dried basil
1 tsp dried thyme
1/2 tsp sea salt
1/2 tsp black pepper, freshly ground
200 gm spaghetti
50 gm sweet corn (optional)
Basil leaves for garnishing (optional)
Red and yellow bell pepper (optional)
Method
Step 1
In a pan, take spaghetti and add water, salt and drizzle some oil. Put the pan on medium heat and let spaghetti cook until it gets soft. Turn off the heat and drain excess water.
Step 2
Take a wok and place it on medium heat. Add oil, and chopped onions, and saute till the onions turn translucent. Next, add sliced button mushrooms, eggplant, carrot and red bell pepper. Saute till they become soft. Now sprinkle black pepper powder, salt, dried oregano, thyme and stir it. Remove it from the heat.
Step 3
On a plate, arrange the spaghetti like a bird's nest.
Step 4
Arrange roasted vegetables (as shown in the image) over spaghetti and serve hot.
Nutritional Information
| | |
| --- | --- |
| Calories | 156 K cal |
| Proteins | 3.1 gm |
| Fats | 11.0 gm |
| Carbohydrates | 15.0 gm |
| Cholesterol | 0 mg |
| Sodium | 250 mg |
| Potassium | 507 mg |