Pasta and Bean Soup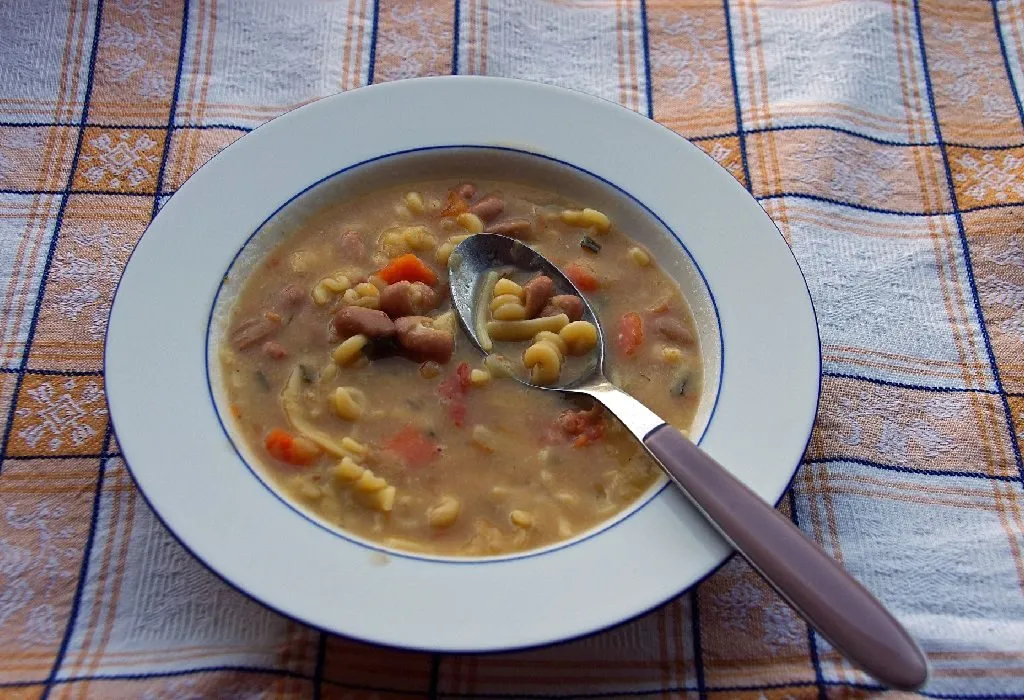 In this Article
This dish has its origins from the Mediterranean realm. It is a type of pot meal dish that can become the perfect go-to option on a chilly winter evening. This wholesome soup goes well with simple bread or garlic bread and a little bit of cheese. It is also ideal for people who are on the lookout for low fat recipes that are quick to conjure. Also, its as kid-approved as it can get.
| | | |
| --- | --- | --- |
| Serves | Preparation Time | Cooking Time |
| 6 People | 10-15 Minutes | 20-25 Minutes |
Ingredients
2 tbsp olive oil
2 cups onions, chopped
2/3 cup carrot, chopped
2/3 cup celery, chopped
4 cups water
2 cups white beans, cooked (3/4 cup cooking liquid should be reserved)
1 large tomato, seeded, finely chopped
1 cup small pasta (such as farfalline or macaroni)
1/3 cup spring onions, chopped
Method
Step 1
Add about 2 tbsps of olive oil in heavy-bottomed pot over medium heat.
Step 2
Add the chopped onions, carrot, and celery and sauté for 10-12 minutes or until all vegetables are soft.
Step 3
Add 4 of cups water, cooked beans with the reserved cooking liquid and tomato. Bring to a simmer over low heat.
Step 4
Reduce flame to low and let the soup simmer for 20 – 25 mins to let the flavours blend. Keep stirring occasionally.
Step 5
Mix in pasta and bring it to a boil. Cook until pasta becomes just tender but still firm to bite.
Step 6
Add more water to the soup, if you feel that the soup turns out to be a little thick. Ideally, this soup should have a runny consistency.
Step 7
Keep the soup for about 10 – 15 min and lastly season with salt and pepper.
Step 8
Pour soup into bowls and sprinkle chopped onion greens.
Step 9
Serve hot with toasted bread pieces.
Nutritional Information
| | |
| --- | --- |
| Calories | 330 Kcal |
| Proteins | 18.1 g |
| Fat | 5.6 g |
| Carbohydrates | 54.4 g |
| Cholesterol | 10 mg |
| Sodium | 37 mg |
| Potassium | 1432 mg |