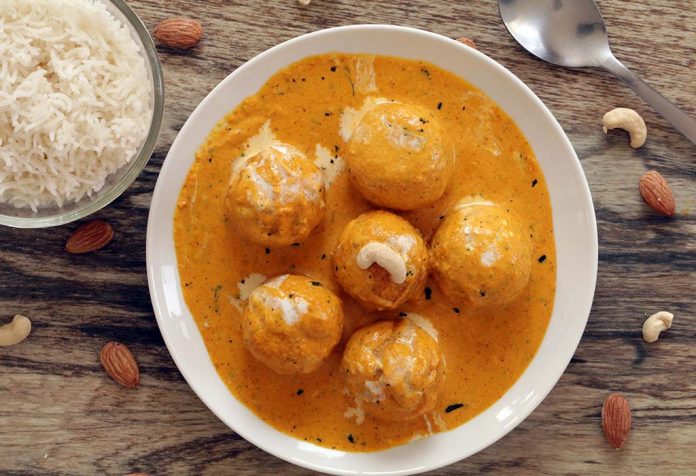 Last Updated on
Our recipe is not just any other version of the classic Punjabi recipe of the North Indian cuisine. This one has succulent koftas, made of creamy mashed potatoes mixed with aromatic coriander and pungent chillies, dipped in a mildly-spiced tomato-based gravy. Whether you are looking for a recipe to serve as a snack or as a curry for a sumptuous meal, this easy recipe will not fail to satisfy your needs and excite your palate at the same time.
| | | |
| --- | --- | --- |
| Serves | Preparation Time | Cooking Time |
| 4 People | 20 – 25 Minutes | 30 – 35 Minutes |
Ingredients
For the Koftas
1 cup paneer, crushed
3 potatoes, boiled and smashed
2 tbsp coriander, finely chopped
1 tbsp green chillies, finely chopped
Salt to taste
1/2 tsp jeera powder
4 tbsp cornflour
Oil for deep-frying
For The Curry
2 cups tomatoes, roughly chopped
1 tbsp ghee
1/4 cup milk
2 tbsp fresh cream
1/2 tsp sugar
1/2 tsp haldi
1/2 tsp garam masala
Salt to taste
Masala Paste (for the Curry)
3/4 cup roughly chopped onions
4 garlic cloves
2 tsp coriander seeds
1 tsp cumin seeds
1/2 cup cashew nuts
1piece ginger
4 whole dry kashmiri red chillies, soaked in water
1 tbsp coriander, chopped
1/4 tsp turmeric powder
Method
For The Koftas
Step 1
Combine crushed paneer, green chillies, coriander and salt in a bowl and mix well.
Step 2
In another bowl, mix boiled and smashed potato, salt and jeera powder and mix well.
Step 3
Now fill in the paneer mixture in potato covering and make small round koftas. Roll in corn flour and make a coating.
Step 4
Heat oil in a kadhai and deep fry these koftas. Drain on absorbent paper and keep aside.
For The Curry
Step 1
Boil tomatoes till the tomato skin cracks.
Step 2
Remove from the flame and allow it to cool completely. Once cooled, peel the skin and blend in a mixer to a smooth pulp. Strain the pulp and keep aside.
Step 3
Heat ghee in a non-stick kadhai, add the masala paste. Sauté on medium flame for 2 to 3 minutes. Add haldi powder and garam masala and again sauté for 2 min.
Step 4
Add the tomato pulp and milk, mix well and cook on a medium flame for 2 to 3 minutes, while stirring occasionally.
Step 5
Add cream, sugar and salt and cook on a medium flame for 1 to 2 minutes, while stirring occasionally.
Step 6
Just before serving, add koftas, mix gently and cook on a medium flame for 1 to 2 minutes.
Step 7
Garnish with coriander and cream.
Step 8
Serve immediately with parathas and steamed rice.
Nutritional Information
| | |
| --- | --- |
| Calories | 276 K cal |
| Protein | 4.5 g |
| Fats | 16.7 g |
| Carbohydrates | 28.8 g |
| Cholesterol | 42 mg |
| Sodium | 196 mg |
| Potassium | 166 mg |