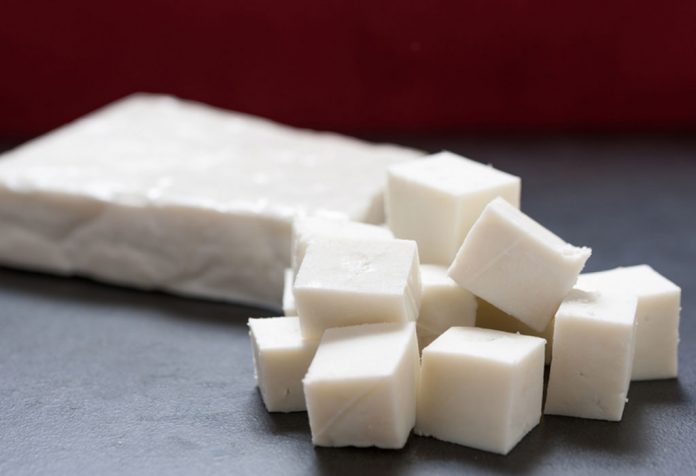 Last Updated on
Paneer has been a favourite among most people since the first time they've tasted it. Introducing your baby to paneer, however, needs to be done properly, since their body will be tasting and digesting this for the very first time.
When to Introduce Paneer in Your Baby's Diet?
Many doctors and experts suggest to keep away any dairy products or any other milk from the baby until he is at least a year old or so. Until then, the only milk a baby should have is mother's breastmilk or formula milk.
When your baby is close to 8 or 9 months old, you can gently introduce them to a small bite of paneer and gauge their reaction to it. A few months later, you can start increasing the quantity of paneer to around 2 cubes, four times in a week.
Nutritional Value of Paneer
A 100gm block of paneer generally contains:
72 calories
13g proteins
93.5 water
4mg cholesterol
3.4g carbohydrates
131mg fibre
3.3g sugar
1.4g fat
21mcg vitamin B1
181mcg vitamin B2
143mcg vitamin B3
71mcg vitamin B6
0.7mcg vitamin B12
19.2mcg vitamin A
0.9mg vitamin C
13mcg vitamin E
0.7mcg vitamin K
20mg choline
Benefits of Including Paneer in an Infant's Diet
Paneer has a lot of benefits. Some of them include.
1. Bone Development
Having paneer in the baby's diet helps contribute directly to the bones of the baby.
2. Strengthening Immune System
Paneer contains a lot of vitamins in varying quantities. These play an important role in giving the baby a strong immune system.
3. Better Bone Cartilages
Vitamin B plays a key role in the formation of bone cartilages. Since it is present in paneer in a pretty good quantity, it supports the formation function within the baby's body.
4. Excellent Growth
The amount of protein and fat present in the paneer is in judicious quantities. This helps give all the crucial nourishment a baby requires in the years of growth and development.
5. Low Amount of Lactose
Since the content of lactose in paneer is quite low, the chances of it reacting with lactose intolerant babies are minimal.
6. Rich in Minerals
Paneer contains a large number of minerals like calcium, potassium, magnesium and proteins as well, making it extremely nutritious.
7. Improved Biological Functions
While providing all the health benefits, it also directly affects the various bodily processes and body functions that help the child grow properly.
8. Healthy Hair and Skin
Since paneer contains a lot of vitamin B, fatty acids (Omega 3 and Omega 6), as well as antioxidants, these in a combination keep the skin soft and the hair healthy, maintaining their texture and beauty.
How Much Paneer Can Be Given to a Baby?
Initially, it is best to give only a couple of small cubes to your baby. Once you see whether they like it and the body seems to respond well to it, you can gradually increase the quantity of paneer to a normal one.
How to Make Paneer at Home?
You can make paneer right at home, if you don't want the store bought one, with the following steps.
Ingredients
1 litre of full cream milk
A half cup of curd or 2 small spoons of lemon juice
Method
Take a bowl and pour the fresh milk into it.
Place the bowl on low heat and let it sit there for a few minutes.
Right when the milk is going to boil, add the curd or lemon juice to it, and keep stirring constantly.
Soon, the milk will begin curdling.
At this point, turn off the heat and strain the paneer into the mixture.
Tie this paneer in a muslin cloth and hang it above a sink. The excess water inside it will begin to drain.
Once the water is fully drained, remove the paneer from it. Let it set on a large plate. You can also add salt if you desire. After about 30 minutes, you can either use it for consumption or refrigerate it.
This paneer can be given to the baby as well. To be used the next day, it is best to keep it refrigerated.

Quick and Easy Paneer Recipes for Babies
Here are some simple paneer recipes for your little one.
1. Spinach and Paneer Rice
Ingredients
Chopped spinach
Rice
Chopped paneer
Salt
How to Cook
Take a pan and add a small amount of ghee to it. Follow it up with cooked rice and allow the entire thing to cook for a minute.
Add paneer pieces, sprinkle some salt, some water, and let it all cool for 3-5 minutes.
Once the rice reaches an edible temperature, turn off the heat and serve.
2. Blueberry Delight
Ingredients
Chopped blueberries
Mashed banana
Cooked brown rice
Paneer
Vanilla
Cinnamon
How to Cook
Put all the mixtures together in the blender.
Blend it all together to a consistency that is good enough for your baby.
Pour it out and serve it to your baby.
3. Apple Paneer
Ingredients
Diced apple
Ground flax
Paneer
Cinnamon powder
How to Cook
Take a pan and place the apple pieces in it, with some water.
Heat it gently for a few minutes without letting the apple break.
Put the apple pieces on the crumbled paneer and sprinkle it with cinnamon powder. Mash it together if your baby is too young to chew his food.
Finish it with a few ground flax and the dish is ready to serve.
4. Fruit Paneer
Ingredients
How to Cook
Put all ingredients together in a bowl and mash them well till they are properly mixed.
Collect it out in a small container and serve it to your baby.
5. Paneer Rice Puree
Ingredients
Steamed fresh peas
Paneer
Cooked rice
Black pepper
Onion powder
How to Cook
Take the peas and steam them. Keep them aside for ten to fifteen minutes.
Later, add the peas, some onion powder, cooked rice, and pepper in a blender and blend it together to make a puree.
Add paneer to the puree and mix it with a spoon or a fork.
6. Peach, Pear, Paneer
Ingredients
Paneer
Mashed peaches
Mashed pear
How to Cook
Take a bowl and put all ingredients in it. Mix it really well.
For a thinner consistency, pour the mixture into a blender and blend it till it is thin enough.
7. Cauliflower and Paneer
Ingredients
How to Cook
Remove the stems of the cauliflower and put them away.
Place the cauliflower in a steamer and allow it to steam for ten to fifteen minutes so that it gets really soft.
Once soft, stop steaming and allow it to be for a few more minutes.
Take a shallow dish and put the cauliflower with the paneer. Mash them both together till it gets a gravy-like consistency.
Add some salt or pepper for flavour and serve.
There are tons of recipes you can make using paneer that is really healthy for your baby and quite delicious, too. By taking account of your baby's age and introducing them gently to paneer, you can rest assured that your baby will grow up into a healthy child and be a fan of paneer-based dishes, just like you are.
Also Read: Cow's Milk for Babies