Pancake Monkey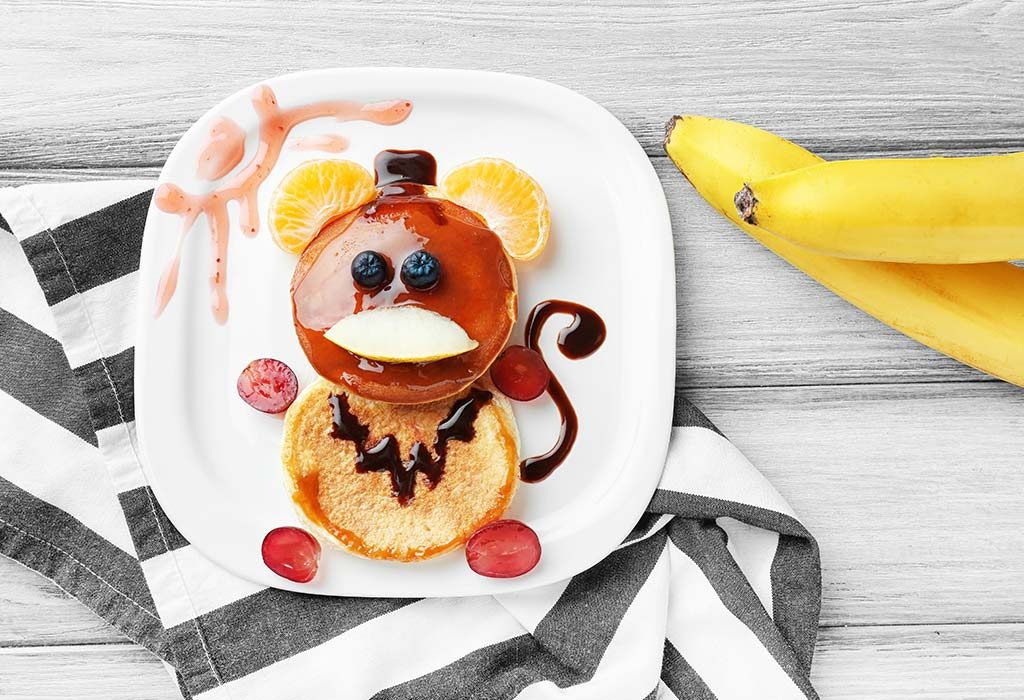 In this Article
Just give your regular pancake a run-around in terms of shape and turn them into your kid's all-time favourite. And with our foolproof recipe you'll get the pancakes just right – fluffy, light and delicious. We assure that you'll have your kids desperately coming back for second helpings. Moreover, given that it takes less than 15 minutes to fabricate, you'll keep wondering why you didn't try making a pancake before. So to say – you 'batter' try it now!
| | | |
| --- | --- | --- |
| Serves | Preparation Time | Cooking Time |
| 4 People | 15-20 Minutes | 10-15 Minutes |
Ingredients
2 cups all-purpose flour
1 tbsp sugar
15 g baking powder
2-3 vanilla essence
1/2 teaspoon baking soda
salt, a pinch
1 large egg
1/4 cup butter, melted
1 cup apple cider
1 tbsp ground cinnamon
1 tsp ground nutmeg
1 tbsp sugar
Method
Step 1
In a bowl, combine all the dry ingredients i.e. flour, sugar, baking powder, baking soda, salt, cinnamon, nutmeg, sugar and salt. Mix them well with a spoon.
Step 2
Next, add the egg, melted butter and apple cider. Mix the complete thing thoroughly.
Step 3
Keep a flat-bottomed griddle on medium low heat, and a tsp of butter.
Step 4
As the butter begins to sizzle, pour the pancake mix on the griddle. Let it stay for a minute or until bubbles begin to show on the top surface.
Step 5
Turn over the pancake and let the other side get browned. This will take 2-3 minutes.
Step 6
For different shapes, you need to pour the batter in that shape and be careful that it should not break while turning it over.
Step 7
For example, for the monkey shown in the above image, pour out one big round pancake and then 2 smaller ones for the ears.
Step 8
You can serve the pancakes warm with hot coffee or bournvita milk. Decorate the kid's plate with a few banana pieces as shown in the image.
Step 9
For the eyes and mouth, use chocolate syrup.
Nutritional Information
| | |
| --- | --- |
| Calories | 409 K cal |
| Proteins | 8.3 g |
| Total Fat | 13.7 g |
| Total Carbohydrates | 64.4 g |
| Cholesterol | 77 mg |
| Sodium | 265 mg |
| Potassium | 549 mg |