Pancake Fruit Kebabs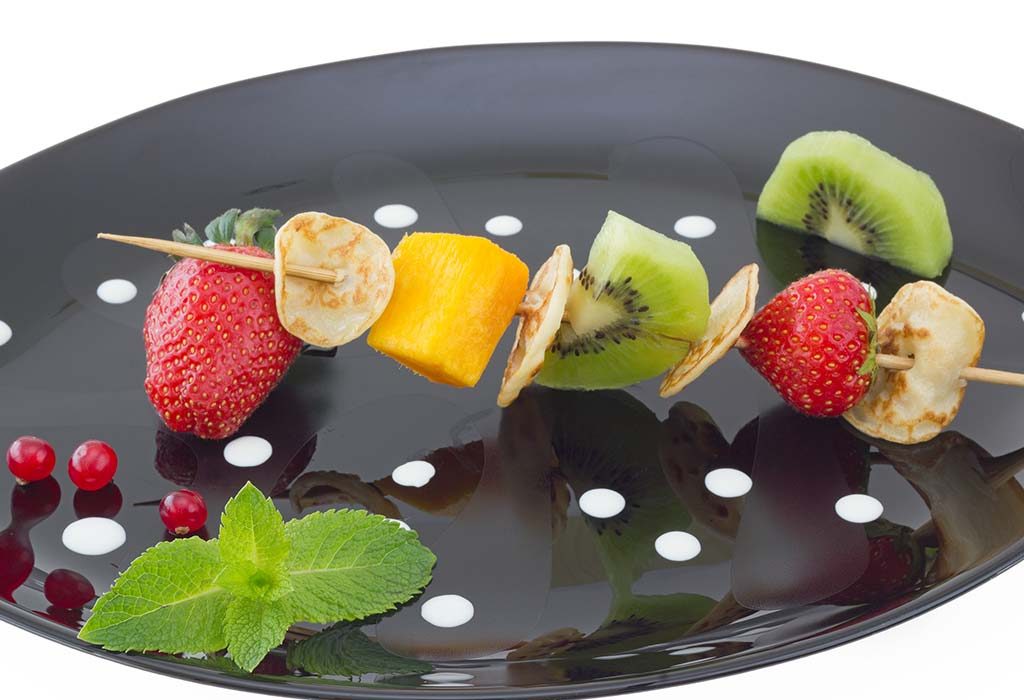 In this Article
Pancakes are one of the most loved breakfast dish for kids. So, we have gone the extra mile to make it more healthy, innovative, and colorful. The pancakes in this recipe are made with whole wheat flour and are served with the deliciousness of Nutella and the goodness of fruits like banana, kiwi and strawberries. Make this for your kids for breakfast and see them devour it in no time!
| | | |
| --- | --- | --- |
| Serves | Preparation Time | Cooking Time |
| 2 People | 10-15 Minutes | 10-15 Minutes |
Ingredients
½ cup whole wheat flour
150 ml low fat milk
1 tbsp sugar
A pinch of salt
2 tsp oil
1 ½ tsp baking power
3-4 tbsp Nutella
Fruits as required
Sliced Strawberries
Sliced Kiwis
Sliced Bananas
Wooden skewers
Method
Step 1
In a medium bowl, add flour, baking powder, salt and sugar. Make a hole in the center and add oil. Add milk little by little and whisk continuously. The batter must be of dropping consistency – not too thick and not too runny. Set aside for 10 minutes.
Step 2
After 10 minutes, give the batter a quick whisk.
Step 3
Heat a non-stick pan. Once it is hot turn the heat to medium. Grease the pan with a little oil and pour a small spoonful of batter. Do not spread. You need mini pancakes with about 2 inch diameter. At a time you can make about 4-5 mini pancakes depending upon the size of your pan.
Step 4
In a few seconds you will see bubbles pop over the pancakes. When they look a bit cooked, flip them carefully. Cook the other side for a few seconds and transfer to a plate.
Step 5
Repeat the step for the rest of the batter. Alternatively, you can also make 4-5 large pancakes with the batter and cut mini pancakes with a cookie cutter.
Step 6
Once all the mini pancakes are done, smear Nutella on one side of the pancake and cover it with another pancake. Do the same with the rest of the pancakes.
Step 7
On a skewer, thread the pancake sandwich followed by the sliced fruits as shown in the picture.
Step 8
Serve immediately. Enjoy!
Nutritional Information
| | |
| --- | --- |
| Calories | 227 K cal |
| Proteins | 5.5 g |
| Total Fat | 10.0 g |
| Total Carbohydrates | 42.4 g |
| Cholesterol | 3 mg |
| Sodium | 82 mg |
| Potassium | 274 mg |
Tip: Replace half of the whole wheat flour with oats flour for a healthier version of this recipe.