Orange Chocolate Truffle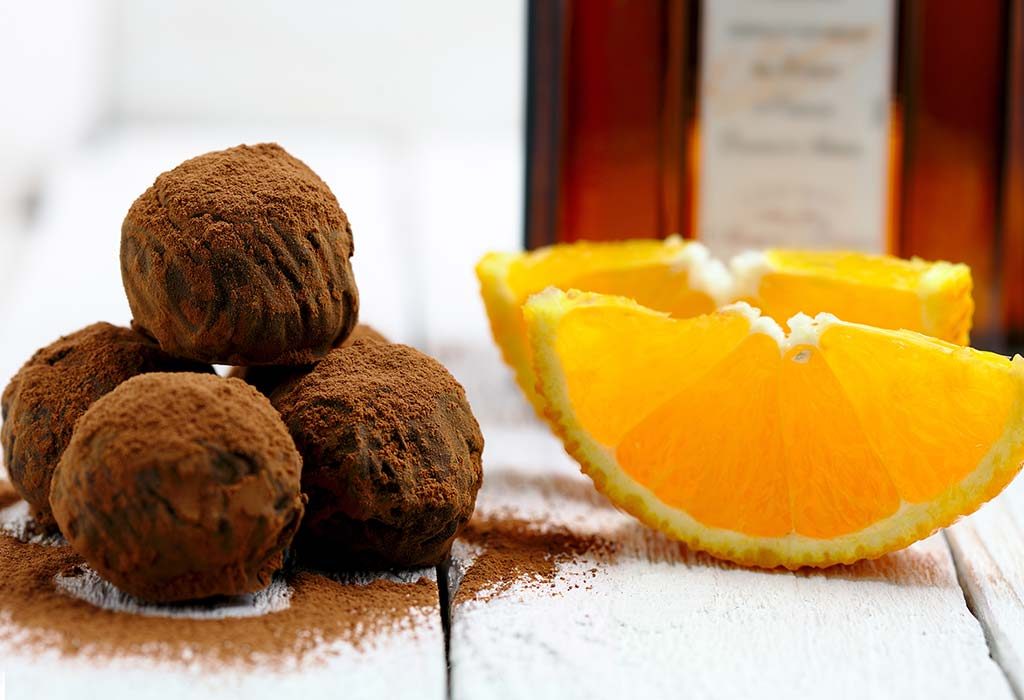 In this Article
Add a little dark chocolate to the oh-so-luscious match of caramel and orange, and you have the perfect recipe for indulgence this Christmas. What's more, you don't need to be a wiz in the kitchen or spend an entire day to prepare these delicious tidbits. Simply hand over the recipe to your teen, and relax as you await one really fancy truffle. Also, be ready to watch a few disappear while they are being made.
| | | |
| --- | --- | --- |
| Serves | Preparation Time | Cooking Time |
| 8 People | 40-45 Minutes | 2-3 Hours (chilling) |
Ingredients
50 g powdered sugar
¾ cup freshly pressed juice of oranges
250 g dark chocolate, finely chopped
70 g heavy cream
2 teaspoons brown sugar
Pinch of salt
2 tablespoons candied orange peel, finely chopped
Cocoa powder, drinking chocolate powder for dusting
Method
Step 1
In a saucepan, combine powdered sugar and add 2-3 teaspoons water.
Step 2
Keep the pan over low to medium heat so that the sugar dissolves.
Step 3
As this comes to a boil and the syrup starts converting into an amber-colored caramel, keep swirling the pan constantly so that the caramel gets cooked evenly. This will not take long; a couple of minutes at best.
Step 4
Remove the pan from the heat and add the orange juice slowly. Be careful while doing this because it will splatter and hiss as the juice hits the hot caramel.
Step 5
Keep the pan back on medium heat, and keep stirring until the caramel re-melts into the juice.
Step 6
Let the syrup cook over medium heat until it reduces by half. You should continue the process until you have 1/2 cup syrup remaining.
Step 7
Remove from the pan from heat and keep aside.
Step 8
Next, heat the heavy cream and brown sugar in another pan until it just starts boiling and the sugar gets melted. Turn off the heat and add grated chocolate in this cream-sugar mixture and mix quickly.
Step 9
Add a small pinch of salt, and keep stirring until the chocolate has melted into the cream.
Step 10
Add the warm caramel orange juice, you had prepared before and the candied orange peel. Stir to combine.
Step 11
Pour this mixture into a pan lined with parchment paper, and level with a spatula.
Step 12
Leave to cool and then cover and chill for 30 minutes or until just slightly firm but still malleable.
Step 13
Remove from the refrigerator and cut into equal sized squares. Grease your hands with very little oil.
Step 14
Now pull out single squares and roll it between your palms to form a ball. Continue this process until the mixture gets exhausted. Place individual truffle balls on truffle wrappers.
Step 15
Place in the fridge again and remove after 2 hours or until completely firm.
Step 16
Before serving, dust the top of the truffle mixture with a light coating of cocoa powder mixed with a little drinking chocolate powder.
Nutritional Information
| | |
| --- | --- |
| Calories | 237 K cal |
| Proteins | 2.8 g |
| Total Fat | 12.6 g |
| Total Carbohydrates | 28.6 g |
| Cholesterol | 19 mg |
| Sodium | 48 mg |
| Potassium | 174 mg |
Tip: Instead of rolling the dough into balls, you can keep the truffles in square shape. For this, at step 11, you need to keep the mix in the fridge for 2 hours and then cut into squares.