Oats for Weight Loss – An Effective Way to Shed Calories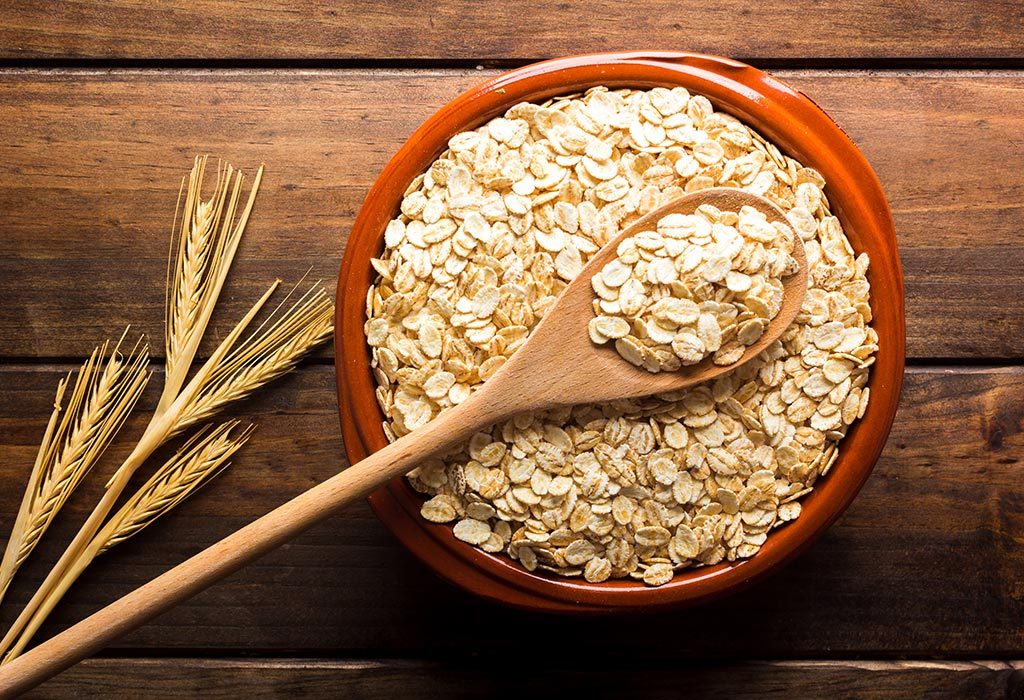 When we want to lose weight, a common mistake most of us make is exercising too much without paying attention to what we eat. A balanced diet is a major contribution to achieving weight loss. There are many functional foods which can help with weight loss and oats is one of them. They are whole grains which are healthy for weight loss and vital in fighting against obesity. Of course, weight loss is a slow process that requires patience and dedication. But eating foods such as oats can significantly improve the process. Let's see how we can incorporate oats into our daily diet and the health benefits it comes along with.
How Do Oats Help in Losing Weight?
Oats play a significant role in helping you lose weight. Some of its benefits are:
It reduces the level of LDL cholesterol (the 'bad' cholesterol) in your body. The fibre in oats is soluble and helps reduce the cholesterol absorption into your bloodstream.
The healthy fibre and beta-glucans that are present in oats can improve your cardiovascular health.
Whole-grain oats, specifically those which are minimally processed or steel-cut, can enhance metabolism in your body. This happens because the body has to work harder to break down these complex carbohydrates down and hence, your metabolism is increased, helping you feel fuller for hours.
Eating oats can help your blood sugar levels be stable, your energy levels up and can reduce any food cravings. This is because your body digests oats slowly, helping you feel satisfied for a long time and resist the temptation to snack in between.
Oats contain healthy nutrients such as complex carbohydrates, proteins and some mono- and polyunsaturated fats. Oatmeal recipes also contain fewer calories.
The fibre in oats can bind with the fats in your intestine, making it harder for your body to absorb fats.
Oatmeal prevents glucose levels in your blood from rising and hence is great for blood sugar management.
Different Ways to Cook Oats
It is essential to know the different ways to cook oats so as to retain their nutrition and still eat a healthy, balanced meal. Below are the three basic ways to cook oats:
1. Rolled Oats
In a saucepan, mix one cup of rolled oats and 2 cups of water. Bring to a boil. Change to low heat. Simmer for 5 minutes while covered. Remove the pan from the stove and let it stand for two minutes before you serve the oats.
2. Steel-Cut Oats
In a big saucepan, mix one cup steel cut oats and 3 cups water. Bring to a boil. Simmer for about 20-25 minutes while covered until the oats are soft and the liquid is almost all gone. Remove the pan from your stove and let it stand for 5 minutes while covered before serving.
3. Quick Cook Oats or Instant Oats
In a large pan, mix 2 cups water and 1 cup instant oats. Bring to boil while stirring. Lower the heat and stir for one minute while uncovered. Take the pan off from your stove and let it stand for about 20 seconds before you serve.
Tasty Indian Oats Recipes for Weight Loss
If you want to follow a low-calorie oats diet for weight loss, then here are a few tasty Indian recipes using oats that you can eat anytime, for breakfast, lunch or dinner!
1. Oats Khichdi Recipe
This is a healthy twist on the popular Indian khichdi recipe which is savoury and filling.
Ingredients
1/3 cup instant oats
1/3 cup moong dal
½ tsp cumin seeds
¼ tsp turmeric powder
1 small onion, chopped finely
1 medium tomato, chopped finely
¼ tbsp. red chilli powder
45g green peas
1 small carrot chopped finely
½ tsp green chillies, chopped
¾ tsp ginger, chopped finely
2.5 cups water
salt to taste
½ tbsp. olive oil
½ tbsp. coriander leaves (for garnishing)
Method
Heat oil in a pressure cooker and add cumin seeds. Once the seeds crackle, add the onion and cook till they are translucent. Add the ginger and green chillies and sauté. Add turmeric powder, red chilli powder, and tomatoes. Cook till they are soft. Add the vegetables, rinsed dal and oats. Sauté for some seconds. Add the water and salt to taste. Pressure cook this for around 8 minutes. Let it cool and serve garnished with coriander and accompanied by yoghurt.
2. Oats Chilla Recipe for Weight Loss
This is a healthy, quick and delicious oats dish that you can whip up in less than 20 minutes.
Ingredients
1 cup instant or rolled oats
¼ cup besan or chickpea flour
11/4 cup water
1 tsp cumin seeds
1/8 tsp turmeric powder
½ cup grated carrot
2 tbsp chopped onion
1-2 chopped green chillies
salt to taste
2 tsp ghee
2 tbsp chopped coriander to garnish
Method
Powder the oats in a blender and put it in a bowl. Add all the other ingredients to the bowl except the oil. Pour water in the bowl and mix to make a medium consistency batter. Heat a saucepan and grease it. Pour a single ladle of batter in the pan. Spread it like a pancake and add oil to the edges. Cook, flip and do the same with the other side. Cook the chillas until brown spots are seen. Serve them warm with a garnishing of coriander on top.
3. Chocolate Oats Smoothie Recipe
A thick and rich smoothie which will keep your stomach full and satisfied for the entire day.
Ingredients
½ cup rolled oats
1 tbsp almond butter
2 tbsp cocoa powder
1 tbsp maple syrup
1 cup almond milk
½ tsp vanilla extract
Method
Put all the ingredients in a bowl and mix them. Freeze the mixture for a few hours in your fridge. Take it out and blend it in a blender till you get your desired smoothie consistency. Serve with some chocolate nibs sprinkled on top to make it extra special.
4. Oats Soup Recipe
This dish makes for a light dinner or a quick breakfast. It is delicious, filling and creamy.
Ingredients
¼ cup rolled oats
1 ½ cup vegetables (carrot, peas, beans etc.) chopped
1 tbsp butter
1 tsp ginger, finely chopped
¼ tsp red chilli flakes
2 cups water
Salt to taste
Lemon juice (optional)
1 tsp garlic, finely chopped
¼ to ½ crushed pepper
Method
Add butter to a heated pan and sauté garlic in it. Add the oats and cook for 1-2 minutes. Add the vegetables and sauté for 2 minutes. Add the water and cook till the vegetables are tender. Add more water if needed and sprinkle the pepper and herbs. Add salt and remove from heat. Serve the oats soup hot with a dash of lemon juice and some red chilli flakes on top.
5. Masala Oats Recipes
As Indian as it can get, this recipe is perfect for a healthy quick fix dinner.
Ingredients
¾ cup vegetables (carrots, peas, beans etc.)
2 medium size tomatoes, chopped
1 onion, thinly sliced
¾ cup water
1 cup oats
salt to taste
1 pinch turmeric powder
½ tsp cumin
½ tsp ginger garlic paste
½ tsp garam masala powder
¼ tsp red chilli powder
Oil
1-2 green chillies
Method
Roast the oats in a pan until golden and set aside. Heat a pan with oil and sauté cumin till it crackles. Add the ginger garlic paste and sauté till the raw smell goes away. Fry the onions till they become translucent and add the vegetables. Sauté for 2-3 minutes and add the tomatoes along with salt and turmeric. Cook until the tomatoes are soft. Add the chilli powder and garam masala powder. Cook for 2- 3 minutes. Pour water and bring to a boil. Add the oats and cook covered for a few minutes. Add more water if needed. Serve hot, garnished with coriander leaves alongside chutney or raita.
6. Oats Idli Recipe
For those people who are health conscious, the oats version of idli for breakfast is a perfect mix of health and taste.
Ingredients
For oats powder: 2 cup oats
1 tbsp oil
1 tsp mustard seeds
1 tsp chana dal
1 tsp urad dal
½ tsp turmeric powder
1 green chilli
1 cup carrot, chopped finely
½ cup coriander leaves, chopped
salt to taste
For idli batter: ½ tsp salt, 2 cups yoghurt
Method
For Oats Powder – Dry roast oats in a pan until golden and grind them to make a powder. Set it aside.
For Fried Mixture – In another pan, heat oil over a medium flame. Add the mustard seeds and wait until they crackle and splutter. Add the urad and chana dal, the turmeric powder and green chillies. Sauté and mix until they are light brown. Add coriander leaves and chopped carrots. Add salt and cook the mixture for 2 minutes. Let it cool down.
For Idli Batter – Place the oats powder in a big bowl. Add salt and the fried mixture into this and mix well. Add the yoghurt and stir continuously in one direction. Once you get a batter of medium consistency, let it stand covered for a few minutes. Brush the idli moulds with ghee or oil and pour the batter into each mould. Put them into the idli steamer and steam covered for about 15 minutes over medium flame.
Once the idlis are properly cooked, you can serve them hot with coconut chutney.
Are There Any Side Effects of Oatmeal Diet?
As with any diet, there are a few side effects that accompany the oatmeal diet. They:
Can irritate the perineum
Can cause distension of the bowel
Can reduce the absorption of any medicines
Can cause weakness in some cases
FAQs
Below are a few FAQs along with their answers regarding the oatmeal diet:
1. Which Foods Go Well with Oats and Which Ones Don't?
Foods like broccoli, spinach, fish, turkey, chicken breast, low-fat yoghurt, tea, lettuce, berries, beetroot, carrots, radish, celery, sweet potato, beans, lentils, mushrooms, honey, maple syrup, lime, lemon, and fruits go well with oats. Artificial sweeteners, aerated drinks, alcohol, flavoured yoghurt, foods high in sodium, packaged fruit juices, cornbread and doughnuts do not go well with oats and will not help you to lose weight.
2. Can You Have Oatmeal following Another Weight-Loss Diet Plan?
Yes. You can have oats even when you are following another diet. Oatmeal is high in fibre, which helps prevent fat deposition and also helps if you are suffering from constipation.
3. Should Breastfeeding Moms Follow the Oatmeal Diet?
If you are breastfeeding post-pregnancy, just wait for some time before going on an oatmeal diet to lose that pregnancy weight. Consult a doctor on this before starting any kind of diet on your own.
4. How Much Weight Can I Lose by following Oatmeal Diet?
If you are following the different phases of the oatmeal diet very strictly and make your oats dishes without any sugar or artificial sweeteners, you can lose up to 10 kilograms within 6 weeks. This will be further accelerated if you add regular workout routines alongside your oatmeal diet.
Oatmeal is a food which is good for your health regardless of whether you have a serious weight loss goal or not. It is an extremely nutritious food which can boost your metabolism, keep your blood sugar levels stable and reduce those pesky food cravings. So start incorporating more oats into your diet as soon as possible!
Also Read:
Tips for Losing Weight Using Water Therapy
Psychological Tips That Help in Weight Loss
Health Benefits of Drinking Hot Water to Lose Weight