8 Awesome Bath and Body Essentials to Have This Summer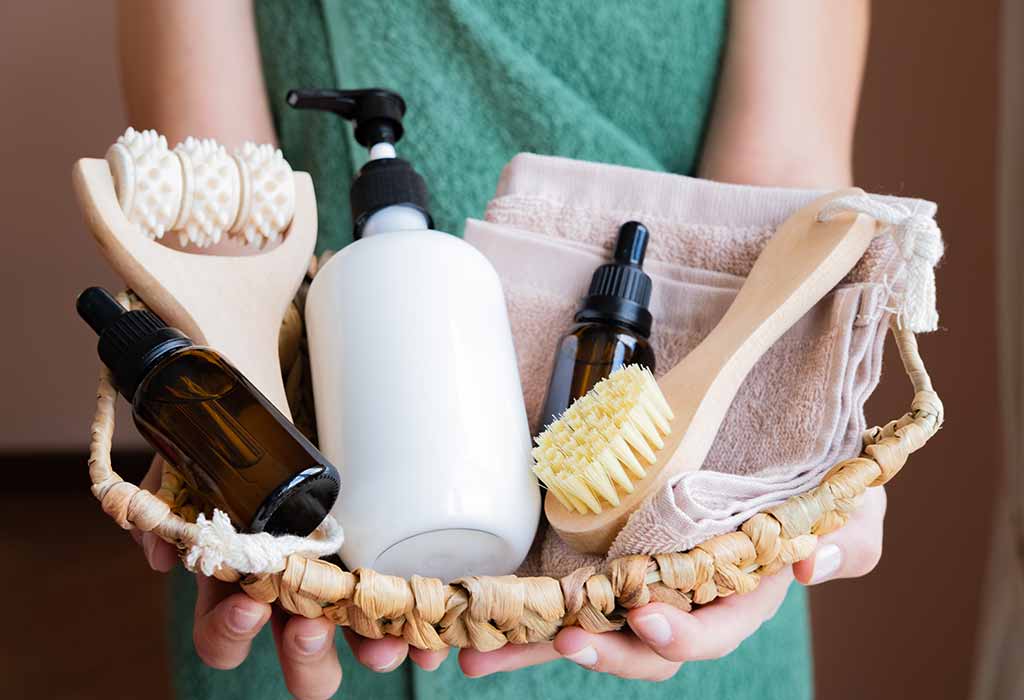 In this Article
In search of finding the best face serum to picking out the best hydrating hair mask, many of us women miss out on keeping our bath and body essentials in check. Our bodies experience significant changes as we age and have kids, such as stretch marks, breakouts, dry and flaky skin, etc. But hold on. All of these problems can be tackled with deep nourishment and a little care.
From body scrubs to moisturising bathing soaps, ahead are eight body essentials for women that can take your skincare game up a few notches!
8 Bath & Body Essentials Every Mother Should Stock Up
With kids in tow, body care may seem like an impossible task. Worry no more. These eight body essentials are just what you need to take care of your skin and make you confident from within. Plus, they don't break the bank.
1. Body Wash and Bathing Soaps

One way to de-stress? Have a good shower. And it actually works! But finding time to have a long shower as a mother can be next to impossible. So, picking out the right body wash or bathing soap becomes important, so that your little shower time can get you long-lasting freshness. While body washes are liquid in pretty bottles, bathing soaps are a staple bathroom item in every home. Unlike before, new age bathing soaps and shower gels come with effective grime-removing properties as well as moisturising benefits.
So, when choosing bathing soaps or shower gels, make sure they are not too chemical-focused or strip away moisture after use. For best results, we simply adore the range of body washes and bathing soaps from Fiamma that come with rejuvenating ingredients, conditioning properties, and amazing fragrances to make you feel lively.
2. Body Lotion

Skin needs moisture all year round. Second to probably only cleansing, moisturiser is arguably the most important element of body care.
Body lotion/moisturiser after a bath locks in the body moisture and keeps the skin hydrated, soft, and glowing. Many experts suggest applying body lotion within five minutes of getting out of the shower or bath to retain moisture. You can take your pick from lightweight emollient, heavy cream, rich balmy, or all-skin-suitable body lotion as per your skin type.
3. Hand Cream

Children can be messy, and caring for them requires germ-proof hands, so you must frequently wash your hands. Frequent handwashing and sanitising, especially if going out, can strip away moisture from your hands, leaving them dry and flaky. To make your hands soft like before, you need intense moisturisation, and hand creams are just perfect for it. A good hand cream restores the skin's moisture barrier by providing long-lasting hydration, combats wrinkles and pigmentation, and softens the roughest, driest skin.
When buying a hand cream, look for nourishing ingredients, like shea butter, coconut butter, vitamin E, calendula, etc., known to provide intense care and nourishment. We have got our eyes on Organic Harvest's beautiful range of hand creams that come in different formulations and fantastic fragrances.
4. Stretch Mark Creams & Oils

During pregnancy, your body stretches to accommodate the baby growing inside you. No wonder our body has some self-repairing skills, but there are stubborn remnants that don't easily go away. We're looking at you, stretch marks!
Stretch marks are the glossy lines on the skin that occur due to weight gain and loss. They usually occur on the belly, thighs, hips, breasts, etc. Thanks to advancements in cosmetics, there are several stretch mark creams and oils available that can make them less pronounced by smoothening the skin and improving skin elasticity.
When choosing a cream or oil for stretch marks, look for ingredients, such as vitamin A and E, nut butter, hyaluronic acid, rosehip oil, argan oil, peptides, etc., for effective results. There is a reason so many women love Bio Oil's Skincare Oil range that improves the appearance of scars, uneven skin tone, and stretch marks.
5. Body Scrub

With consistent exposure to sun, dust, and pollution, our body forms a layer of dead skin cells. Dead skin dulls our overall appearance and also becomes a hotspot for body acne, rashes and other irritations. Just like the face, our body, too, needs exfoliation to get rid of dead skin, and body scrubs are the best goods for shedding dull skin. Body scrubs unclog the pores, smoothen out the skin, prevent ingrown hair, and help moisturisation effectively.
6. Foot Cream

At the end of the day, it's a miracle if you don't get yourself into bed once you get the kids down. Endless walking and completing chores can take a toll on our feet, making them dry and cracked. A good foot salve is one of the top body essentials mothers must have in their drawer to tackle cracked feet. Just before going to bed, apply a good amount of foot cream to your cleaned and scrubbed feet for them to heal overnight.
7. Intimate Wash
When picking out bath and body products, most of us focus only on skin and hair products. Personal hygiene, just like skin and hair, also includes intimate areas that are highly sensitive. The vaginal area is highly susceptible to pH imbalance, dryness, irritation, and itching. To combat all these, intimate washes can be used. An ideal intimate wash must be hypoallergenic and soap-free with no harmful irritants.
8. Vaseline

To treat anything dry, cracked, and chaffed, nothing works better than Vaseline. Dab on a layer of this healing ointment over cracked cuticles, chapped lips, and dry patches like eyelids to lock in the moisture and give you glowing skin.
You don't need much fancy and over the top items to keep your skin dewy and fresh out of the shower. Just stock up on these above-mentioned bath and body essentials, and you are ready to enjoy life's simple pleasures!
You May Also Like:
Best Baby Sunscreens
Best Baby Soaps for Newborn Babies and Toddlers
Also Read:
Baby Care Tips in Summer
Effective Tips for Dressing Up Your Baby in Summer
Summer Fashion Essentials for Your Little Sunshine!