Mutabbaq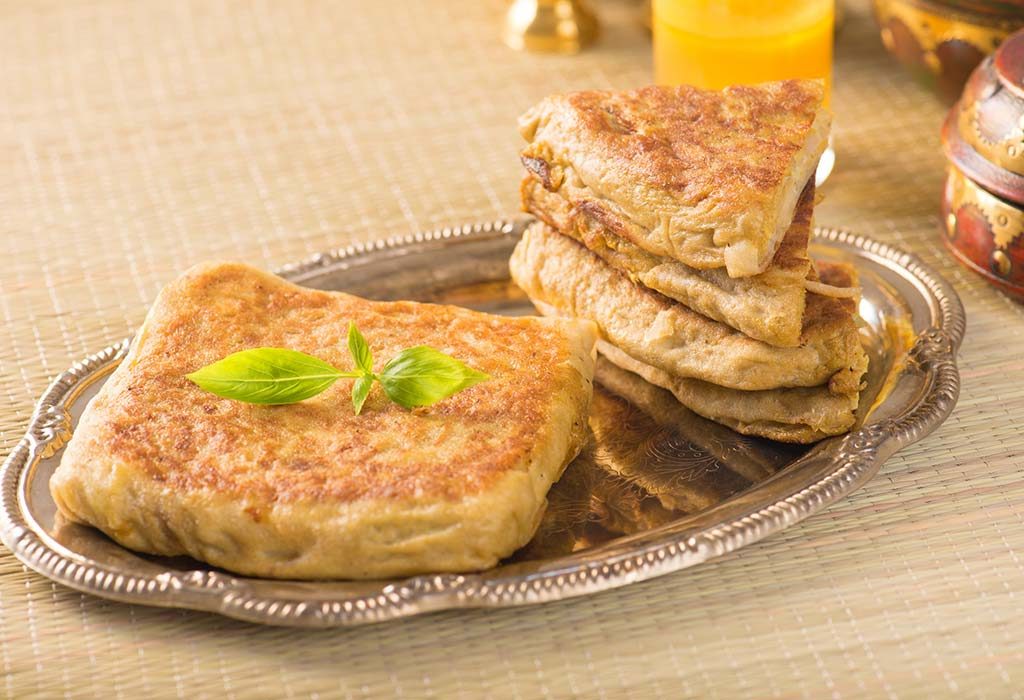 In this Article
Mutabbaq is a traditional Arabian snack which can be prepared without much effort and can be a classic tiffin box recipe. This spicy snack is made with a yummy meat filling, covered in a juicy pastry. It can be a perfect weekend snack for your little tot.
| | | |
| --- | --- | --- |
| Serves | Preparation Time | Cooking Time |
| 4 People | 15-20 Minutes | 35-40 Minutes |
Ingredients
For dough
3 cups maida
1/2 cup ghee
1 onion (finely chopped)
1 egg for each sheet (beaten)
2 tbsp coriander leaves (finely chopped)
1/2 cup water Salt to taste
For filling
1/2 cup meat (minced)
1 onion (finely chopped)
1 tbsp ginger (finely chopped)
2 tsp red chilli powder
2 tsp coriander powder
2 tsp turmeric powder
2 tsp green chilli (finely chopped)
1 tsp coriander leaves (finely chopped)
2 tbsp lemon juice
2 tbsp oil
Salt to taste
Method
Step 1
Sieve the flour into a bowl and add salt as per taste.
Step 2
Add ghee and water little by little and knead it into a smooth dough.
Step 3
Keep the dough aside for 2 – 3 hours.
Step 4
Heat a heavy bottom pan and pour oil.
Step 5
Add chopped onion, ginger and salt. Saute for about 2 to 3 minutes.
Step 6
Add red chilli powder, coriander powder and turmeric powder. Mix well and add minced meat. Cover and cook until the meat is cooked thoroughly.
Step 7
Add lemon juice, coriander leaves and green chilli. Combine well and remove from the flame.
Step 8
Now, take the dough and divide it into small equal portions.
Step 9
Apply some oil to your palm. Take each ball, place it on the work top and flatten it with your palm initially.
Step 10
Sprinkle some maida over it and further flatten it with a rolling pin into a thin sheet.
Step 11
Grease this sheet with ghee and fold the edges to give a square shape to it.
Step 12
Again sprinkle some maida over it and roll it into thin rectangular shaped sheet.
Step 13
Meanwhile, heat a pan with little oil.
Step 14
Spread evenly one beaten egg over the entire sheet. Sprinkle some onion and coriander leaves in the centre of the sheet. Take about 2 tbsp of meat filling and place it evenly over the sheet.
Step 15
Now, fold the edges of the sheet to give it a square shape. Take this sheet and place it over the pan immediately. Cook it for about 2 – 3 minutes while pouring some hot oil along the sides.
Step 16
Flip the mutabbaq on the other side and cook until it turns brown. Now, cut the mutabbaq into desired shape and serve it with sauce.
Nutritional Information
| | |
| --- | --- |
| Calories | 757 K cal |
| Proteins | 21.0 g |
| Fat | 38.6 g |
| Carbohydrates | 78.3 g |
| Cholesterol | 245 mg |
| Sodium | 166 mg |
| Potassium | 272 mg |