Movies Releasing in 2019 You Need to See With Your Kid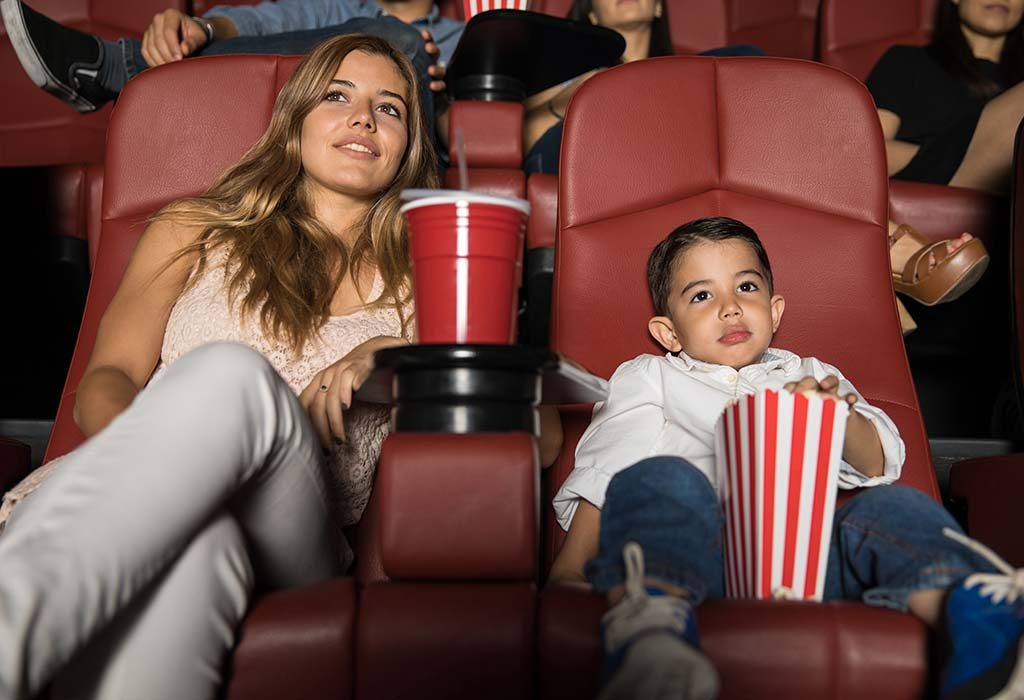 A movie night with your family is essential and plays a crucial role in strengthening your bond with your child. Don't you have the fond memory of watching Aladdin and Home Alone while munching on your favourite popcorn and candies? Of course, you do, and you miss it! We are sure you want your child to have the same special memories as well.
Movies You Should Definitely Watch in the Theatres With Your Little One
When the weekend rolls in and your child starts yelling 'Sunday Funday' at the top of his lungs, you won't have to think twice about what to plan for your family outing. Whether your kid likes animated movies or live-action features, this list has it all.
This year, you'll not only make new memories, but you can also share your old memories with your kid. Disney is coming up with remakes of some of the early 90s classics. Marvellous isn't it?! Now you can have the perfect Sunday outing with your little one, and you won't just have to sit in the park and see your child ride the swing. You can enjoy and relive your childhood with your little munchkin too! Keep your tub of popcorn ready and scroll down the list.
NOTE: All release dates are subject to change. Check schedules before making plans!
1. Kim Possible – 1st January, 2019
[youtube https://www.youtube.com/watch?v=TNRQT9ODqDI&w=756&h=425]
This live-action comedy film is based on the television series which used to air on the Disney Channel back in 2002. If you eagerly waited every evening to watch the latest episode on how Kim saves the day, this movie is going to be a treat for you.
You can make this fun for the family by wearing black tees and cargo pants just like Kim Possible.
2. Mary Poppins Returns – 4th January, 2019
[youtube https://www.youtube.com/watch?v=gZgUW88D15w&w=812&h=338]
This movie is a sequel to the 1964 version of the film. If you loved the former, you'd definitely like the latter as well. Mary Poppins Returns is an American musical fantasy film, and Emily Blunt plays the lead. If your child is into music and choirs, this movie is cut out for you. To top it off, this is a Disney feature, so rest assured, it will be magical.
3. A Dog's Way Home – 11th January, 2019
[youtube https://www.youtube.com/watch?v=1pKdCHvH310&w=756&h=425]
If you are a dog lover and you cried while watching Hachiko and Marley & Me, then this movie is perfect for you. This year the makers of A Dog's Purpose are coming with another heart-wrenching tale about a dog called Bella, who travels 400 miles in search of her owner. Watch how Bella reunites with her long-lost friend and share precious moments with your kid.
4. The Lego Movie 2: The Second Part – 8th February, 2019
[youtube https://www.youtube.com/watch?v=rNVyAw1hrrM&w=756&h=425]
Just playing with Lego is old news. Why just play with them when you can watch them talk and fight full-on Ninja style? This movie is the sequel to The Lego Movie which came out in 2014. If you love sci-fi and animation, this is a brilliant mash-up of both. Watch how Emmet saves his town from the monster invaders.
5. The Queen's Corgi – 15th February, 2019
[youtube https://www.youtube.com/watch?v=riIPhs80ARk&w=756&h=425]
This animated family feature film will give you a major 'Garfield: A Tale of Two Kitties' vibe. This movie tells the story of a spoilt corgi pup named Rex, who is the Queen's favourite pet. He loses his way back home and comes in contact with a clan of dogs who give him a hard time. This movie is about how Rex discovers his real strength and turns into a Boss Dog.
6. How to Train Your Dragon 3: The Hidden World – 1st March, 2019
[youtube https://www.youtube.com/watch?v=naW9U8MiUY0&w=756&h=425]
This DreamWorks Animation movie is based on the famous book series by the same name written by Cassidy Crowell. It will be the concluding film of this fantasy action trilogy. Hiccup has grown up to be a handsome young man, and Toothless is not so alone, after all, as he meets his mate in this movie. Discover the hidden, mythical world with Hiccup and Toothless when they set out on a quest to fight their way back home to Berk.
7. Wonder Park – 15th March, 2019
[youtube https://www.youtube.com/watch?v=VML6rQWssSk&w=756&h=425]
Have you ever imagined of having your amusement park which has magical rides and animals that can talk? That's exactly what June dreamt of as a kid. She designed her park with her mother and named it Wonderland. As she grew up, she lost the vivid imagination and stopped believing in magic until one day she bumped into an old rickety car which takes her to Wonderland. Her dream had come alive! But now she will have to save her world from the Chimpanzombies. Watch to find out if she does. Can she save her dream world?
8. Dumbo – 29th March, 2019
[youtube https://www.youtube.com/watch?v=McsWXoXg6Xk&w=788&h=425]
Relive the 1941 classic fantasy adventure, through this live-action Disney feature film produced by Tim Burton. The cute little elephant with big floppy ears from your storybook comes alive this year. Dumbo is made fun of because of his huge ears until they discover that those ears can make him fly.
Get that tissue box ready; this one's going to get emotional!
9. Avengers: End Game – 26th April, 2019
[youtube https://www.youtube.com/watch?v=hA6hldpSTF8&w=756&h=425]
This movie is for all the Marvel fans out there. It's very likely that your kid will drag you to the theatres for this movie. We all have been eagerly waiting to find out to what happens to all our favourite superheroes who vanished. Will the remaining superheroes be able to undo Thanos' destruction?
10. Ugly Dolls – 3rd May, 2019
[youtube https://www.youtube.com/watch?v=qqlEGYo0xCA&w=756&h=425]
This movie is not just any just any fantasy animated feature film. Sure it does have hilariously cute dolls, but it does have a moral message too. This film is going to be something that everyone can identify with. It will teach your kid to be one with himself and will educate him about the stigma of being perfect. This movie is about a town called 'Uglyville' where all the ugly dolls live, and the follow a strict routine of eating only cakes and cookies. They are happy with themselves until they enter the town of 'Perfection' where dolls are trained to be perfect so that they can be worthy for humans. Will the dolls of Uglyville give up on themselves and follow their ways too? Isn't that our real-life scenario too?
11. Detective Pikachu – 19th May, 2019
[youtube https://www.youtube.com/watch?v=1roy4o4tqQM&w=756&h=425]
Remember the sheer delight you felt when you saw those cute little chipmunks singing in Alvin and The Chipmunks? Well, this is exactly what you're going to feel in this action comedy mystery film as well. This year your favourite Pokemon Character is going to come alive in the theatres. This time he'll have more to say than just 'Pika Pika'!
12. Aladdin – 24th May, 2019
[youtube https://www.youtube.com/watch?v=9g5knnlF7Zo&w=812&h=337]
Aladdin is one of the most awaited films for 2019. This is a live-action remake of the 1992 Disney Movie, and this time it is musical. You will be taken into a whole new magical world, and your Cartoon Network memories will be refreshed. Last but not least, we cannot wait to see Will Smith as Genie and Naomi Scott as the mesmerising Jasmine.
13. The Secret Life of Pets 2 – 7th June, 2019
[youtube https://www.youtube.com/watch?v=ZnP_lPFA_ag&w=756&h=425]
Ever wondered what your pets do after you leave for school or work? Well, they party and solve mysteries! The Secret Life of Pets 2 is a sequel of the 2016 3D animated comedy film. We cannot wait to find out what Max is up to and why is he being taken to the behavioural therapist?
14. Toy Story 4 – 20th June, 2019
[youtube https://www.youtube.com/watch?v=LDXYRzerjzU&w=812&h=340]
Did you think that Toy Story 3 had come to its end when Andy went off to college? We all did! But we're so ecstatic that the story isn't over. Disney Pixar is back with Toy Story 4, another animated adventure from the Toy Story series. This time, Buzz Lightyear and Woody are going to have a new member in the gang called Spork, and a road trip adventure is in store as well.
15. Lion King – 19th July, 2019
[youtube https://www.youtube.com/watch?v=4CbLXeGSDxg&w=806&h=425]
Just as we loved the remake of The Jungle Book last year, we bet we are going to love the remake of another classic Walt Disney creation. The Lion King is going to be a live-action remake of the 1994 movie with the same name. We cannot wait to hear the famous voices of Beyonce, Seth Rogen and Donald Glover in the film.
16. Playmobil: The Movie – 16th August, 2019
[youtube https://www.youtube.com/watch?v=eG6tSBF7oV4&w=756&h=425]
Have you ever imagined that you might accidentally enter your video game and turn into Mario? Well, that's exactly what happens here. In search of her brother, Charlie, Marla disappears into the vast and beautiful animated world of Playmobil.
17. Frozen 2 – 27th November, 2019
[youtube https://www.youtube.com/watch?v=ccfKkuYvD5o&w=756&h=425]
We've all been missing Elsa and Olaf for a pretty long time. But this year Disney is back with a sequel of our favourite 'Let It Go' movie. We are all excited about the new mesmerising songs we are going to hear, and rumours say that Olaf might just have his own love story this time. Family traditions inspire this movie, so it's a perfect family watch.
Now that you've scrolled through the entire list, we're sure that you cannot contain the excitement to watch all these fantastic stories come alive on the movie screen. Till then, rewatch all your favourite animated movies with your little one and be sure to grab a tub of your favourite flavoured popcorn. Happy Watching!
Also Read:
Choosing The Best Movies for Kids
Best Educational Movies That Kids Will Enjoy
Best Animal Movies for Kids
Best Family & Kids Movies on Netflix