Montessori-Inspired Toys for Babies, Toddlers, and Preschoolers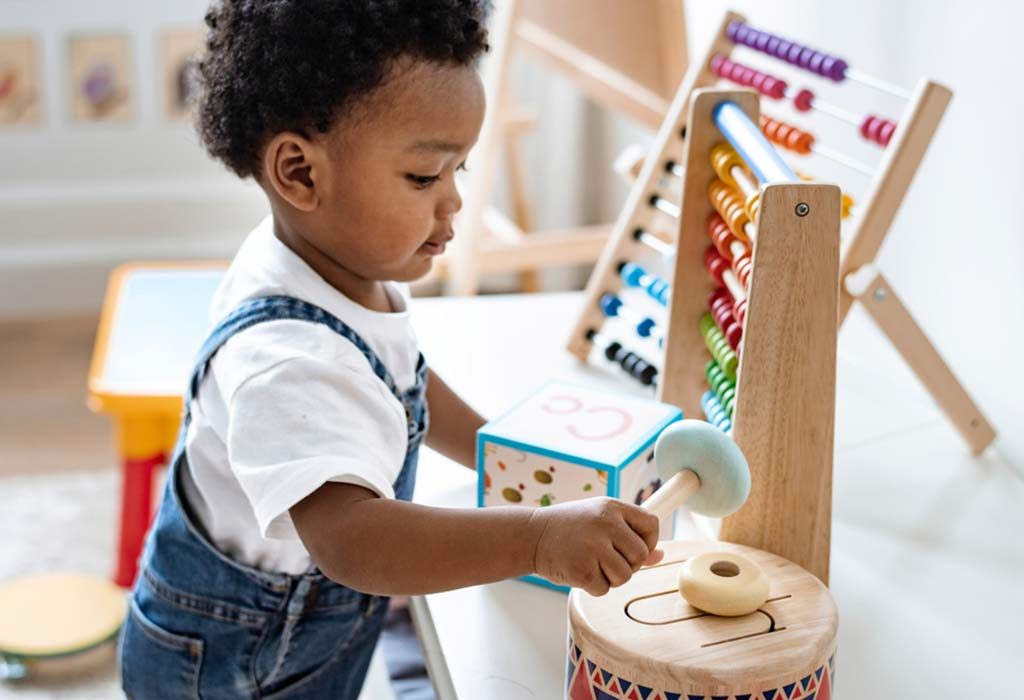 Playing with toys holds great significance and importance for babies and young kids. These unstructured play options not only help children's mental development, but are also great for their physical development, as toys help young minds become more aware of the world around them. When it comes to choosing the right kinds of toys, Montessori-inspired toys, which are based on a century-old approach of educating young minds, are growing more and more in popularity. To know more about what kind of toys qualify as Montessori-inspired toys, and why you should be stocking your kiddo's room with age-appropriate Montessori toys, we recommend reading the following post!
What Qualifies As a Montessori Toy?
Here are some of the characteristics of Montessori toys, and what kind of toys actually fall in this category:
1. Focus On One Skill
These kinds of toys are designed to fine-tune a single skillset in kids. These toys help a child with concept building, and in laying a foundation for learning advanced concepts. For instance, a rattle toy with a bell is a single-skill toy that can help a child in learning and developing more sophisticated concepts as the kid grows.
2. Use Of Natural Material
One of the many benefits of Montessori toys is that they are made with natural material. It is believed that the use of natural material helps a child to get a better feel and knowledge of the world around him. These toys are usually made up of metal, cotton, wool, wood, rock, and other such kinds of natural materials.
3. Simple Toys That Are Free Of Any Distraction
In other words, these toys are not battery-operated toys. Such toys can assist a child in more imaginative and open-minded play.
4. Purpose-Driven and Realistic
The propagator of the concept, Dr. Maria Montessori, believed that children should be given realistic toys, rather than giving them something to play with that actually does not exist. Picking up realistic toys, such as an elephant over a unicorn, will help your child understand the world around him, and also make a distinction between what is real and fake.
5. No Artificial Sounds
Montessori toys are designed for the kids to manipulate and use to make passive sounds, rather than toys that are designed to make active sounds. The idea is to let children discover and explore things on their own.
Best Montessori Toy Ideas for Children
Here are some age-appropriate Montessori toys for babies, toddlers, and kids:
For Babies
Infants and young babies may not indulge much of their time playing with toys. However, it is important for babies to play with toys, as it helps in their optimum development. Here are some Montessori toys for babies:
Baby Gym: A traditional baby gym can be utterly noisy, bright, and busy. However, a Montessori-inspired baby gym can help in stimulating a baby's hand-eye coordination and other senses but without overwhelming him.
Skwish Toys: This kind of toy comes with lightweight, thin, and smooth wooden dowels and elasticated cords, and is great for building motor skills in young babies. Your baby will love to slide the beads, listen to mellow rattling sounds, pop, smoosh, and do other such things with it.
Teethers: When your baby goes through the phase of itchy gums and growing teeth, this kind of teether will act as a savior. These kinds of Montessori infant toys are usually made with wood and other food-grade material for the baby to chew and hold it comfortably.
Board Books: Babies observe patterns, colors, and shapes from a very young age, and thus introducing them to the world of books at an early age proves to be fruitful. Make sure you pick up realistic, age-appropriate books for your baby, and as you read out the words to him, let your baby observe and touch the book.
Musical Toys: These kinds of toys require your baby to use his own skills to create some music, unlike the usual battery-operated toys.
Stacking Toys: The main aim of this concept toy is to have some kind of purpose, and stacking toys offer many. These kinds of toys are great for getting a baby acquainted with the concept of size, shape, color, sorting, etc.
For Toddlers
This section shares some Montessori inspired toys for toddlers:
Shape Puzzles: Great for tuning fine motor skills, teaching the concept of shape, color, and size, various kinds of shape puzzles are great for young minds.
Figurines: There are endless playing possibilities when it comes to playing with figurines. From farm animals to little people, there are a number of options that you can choose from. These are great for vocabulary and language development in toddlers, and also for inspiring pretend play and imagination of young children.
Tool Sets: Whether a garden tool set or carpenter tool set, there are a number of options that you can pick and choose from. These kinds of toys give first-hand information on various kinds of hand trades, and also benefit the child in developing fine motor skills.
Climbing Arch: Apart from making a valuable addition to your child's room, this kind of toy helps toddlers to develop better gross motor skills and explore different kinds of movements.
Car Racing Ramps: These kinds of toys thrill young kids, as they love to see colorful cars slide down the tracks. Such toys are very beneficial for developing fine motor skills and building attention span in kids. Kids can play solo, with a sibling, or with friends.
Mirror Blocks: Taking the usual or traditional blocks to the next level are these mirror blocks, which can be considered one of the best Montessori toy options for kids. These kinds of toys not only teach cause and effect, they encourage open-ended play and help in improving fine motor skills and imagination in young children.
For Preschoolers
If you are looking for some Montessori toys for 4-year-old kids or your preschooler, here are some options that you can consider:
An Art Easel: Unleash the inner artist in your child with this option that helps in flourishing your kiddo's creative streak. These kinds of easels usually come with adjustable stands that can be adjusted as per your child's height.
A Contemporary Dollhouse: This kind of toy inspires imagination and helps children indulge in pretend-play. Children can also rearrange walls and furniture to have the layout as per their preference and liking. The simple yet real-life settings help kids in getting a better hang of the world around them.
Wooden Blocks: One of the toy options that gives umpteen possibilities to play with is wooden blocks! Apart from keeping a child constructively and fruitfully occupied for long hours, these blocks are great for teaching various developmental concepts to a child.
Science Kits: A great learning and playing option for preschoolers, science kits are great for introducing various basic science concepts to kids. These kinds of kits come with step-by-step detailed instructions that can help young kids as old as 4 years old to conduct experiments of their own.
Modeling Kits: Yet another Montessori-inspired option that encourages creativity in young kids is modeling kits. These kits usually contain colorful pieces (made with bio-degradable material like corn starch, etc.), which can be stuck together to make various shapes and models of various living and non-living objects.
Multiplication Boards: This is a great learning and playing option for kids where they can easily understand the concept of multiplication. Usually, every block comes with two numbers written on the top side and kids can flip the block side to see the correct answer.
DIY Montessori Toys
There are umpteen options in Montessori toys by age that can be easily bought from any toy store. However, if you are looking to make some of these toys for your kids, here are some easy ways to so:
1. Insert the Disc
This is a fairly simple toy to make, and your kiddo will enjoy inserting the wooden discs into the box. This is a great toy for improving motor skills in toddlers and preschoolers.
How to Make
Take a cardboard box that has a hinged lid.
Make a small slit on top of the lid for the discs to slip inside.
Taking another cardboard, cut small circles (10-12) in a size that can easily slip through the lid.
You can color the discs in bright colors.
If you wish to make different sizes and shapes in the disc, you can do that too.
2. Velcro Hearts on a Box
Another fun and exciting toy that can be made with just a handful of materials that is easily available at home!
How to Make
Take a wooden box (preferably in a size that your child can easily hold).
Get a few (7-8) pieces of a heart carved out of wood (you can get this done from your local carpenter).
Cut Velcro circles in the same numbers as the wooden hearts.
Stick one side of Velcro to the wooden heart, and the other randomly on the wooden box using a hot glue gun. Repeat this with all the wooden hearts and Velcro circles.
Let the Velcro dry completely before your kiddo can start playing with this fun toy!
You can use bright popping colors for the hearts.
Introduce your kiddo to the world of Montessori-inspired toys, and open new horizons of imagination and creative learning. We hope we helped you get a clearer idea about these kinds of toys, so that you can get them for your kids! Happy toy shopping!
Also Read:
Outdoor Toys For Toddlers & Children
Easy Homemade Toys for Children
Do Too Many Toys Harm Your Child's Development?
?>