Mom Who Went From 104 to 44 Kgs Reveals 8 Ways She Made It Possible!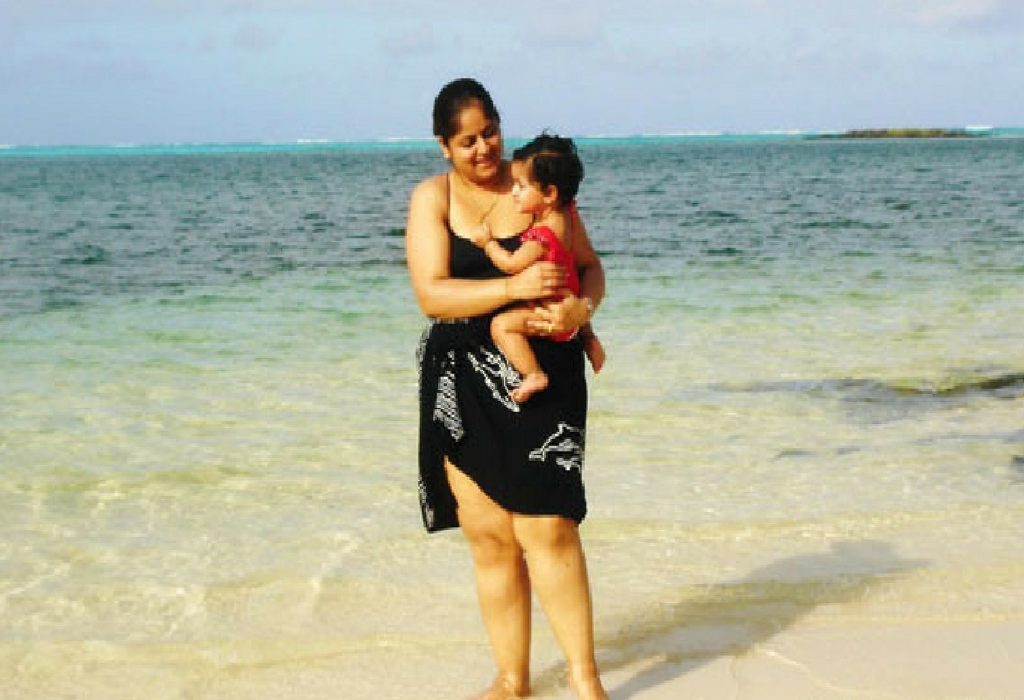 Losing weight is never easy – but as moms we know, losing weight after pregnancy is perhaps the hardest! During the course of pregnancy and in the postpartum phase, women tend to put on a lot of weight. Losing this weight, especially around the belly region, can seem almost impossible. But Chan Vekaria, mom to a five-year old daughter, and her unbelievable weight loss from 104 Kgs to 44 Kgs prove that everything is possible if a mother so wishes!
Chan had always been on the overweight side. Before her wedding, she had an incentive to lose weight so she could look good for the big day. However, whatever weight she managed to lose came right back after the wedding. And then she became a mother to a baby girl. It only got harder and more and more impossible.
"Every time I went out to try and buy new clothes, it was a complete nightmare. I'd return home with nothing, as nothing in the popular high street stores fit me. I ended up ordering clothes online from stores, which specialised in plus sized clothing. I'd cut the labels out as soon as the clothes arrived so I didn't have to face looking at the size 24 tags."
How Chan Got Motivated to Lose Weight
Like many of us, Chan too had probably resigned herself to her post-baby body. And then, one day, something happened that changed Chan's life. It was the summer of 2009 and her daughter was five years old. She had taken her to the local park with her sister. And even though she was hot, she kept her jacket on.
"It was such a hot day, but I refused to take off my jacket. I waited by a bench sweating while the two of them had a great time. I remember my daughter kept looking over at me and calling me over, but I refused to go. The look of disappointment on her face will stay with me forever.
I felt like a failure as a mother. I was missing out on doing the fun things she wanted me to do with her because I was too lazy to do something about my weight…"
Chan's Weight Loss Secrets Revealed
That day in the park, she decided enough was enough. She couldn't bear to not be part of her daughter's activities and enjoyment, just because she had a weight problem. Starting that day, she decided to get serious about losing weight. From then till now, she has gone from her highest weight of 104.7 kg to 43.9 kg, and looks amazingly fit!
Here Are The Weight Loss Secrets That Have Helped Her Achieve This Stupendous Goal
1. Make A Healthy Roti
Yes, even the regular roti we eat for lunch or dinner can become a weight loss companion. You just need to make it healthier. Chan shares a tip to make a healthy roti that's packed with fibre and goodness and makes your metabolism speed up.
"At the weekends I make healthy roti by adding oats, flax seeds, and spinach into the dough. I have that with eggs or curry made from vegetables, soya or quorn. My family enjoy soya and quorn products so I try to add this in with any vegetable I am using that day to make a curry."
2. Have Oats for Breakfast
Yes, oats really do live up to all that hype about weight loss! They are fibre-rich and contain no saturated fats which make you feel full but in a healthy way. This mom used to have oats for breakfast most of the time, with either fruit or nuts. She also had overnight oats made with almond milk, chia seeds, honey and berries.
3. Eat Steamed Vegetables
As Indians, we love to saute, shallow fry and deep fry our veggies. However, one little change can be a great change to boost weight loss: steaming! When you steam veggies, you are reducing the amount of fat intake because there will be minimal use of oil. However, all the nutrients of the vegetable will be intact. Chan ate a lot of steamed vegetables, especially broccoli and spinach. Here's how she did this:
"I prepare a big batch of steamed vegetables and have that with either quinoa, couscous, eggs or a baked sweet potato. I also have some form of protein so either cottage cheese, or a yogurt."
4. Cut Back On Carbs At Night
We are often told that dinners should be light. However, in hectic lives where dinner is the one meal that the family has together, this can be difficult. But there's one thing that you can do: reduce the amount of carbs you have at night (e.g. rice, roti, bread) and instead eat the curries or salads. To try to eliminate carbs in the evening, this mom has a curry with cauliflower rice or salad. Cauliflower, she says, is her favourite vegetable right now and she has used it to make pizza bases, hash browns, Frittata and patties.
5. Make Everyday Foods Healthier
The one big problem many of us have with eating healthy is the challenge of routine. With so much to do every day and so many meals to be made for the family, where is the time to create something especially healthy? Well, this mom has found a unique solution. All you have to do is to adapt your favourite foods so you can still enjoy them but with lower fat ingredients. Her favourite and easiest recipe for this is baked oats with berries, nuts and honey. But you can also do this with good old Indian food. For instance, if you're a non-vegetarian, opt for fish rather than chicken or mutton as they have higher fats and are also tougher to digest. Check out more of these easy Indian food swaps to lose weight here.
6. Do a Mix of Exercise
Well, there's no escaping this one – some exercise is essential to losing weight and keeping it from returning! However, it doesn't have to be daunting. As moms, we already get a lot of exercise – think of all the walking, running, going up and down the stairs, mopping, washing…Apart from all this, try and see if you can get on a basic exercise schedule. Leave some days when you will not do any exercise, so as to remain motivated. Chan says, "I enjoy all forms of exercise so I incorporate a mixture. My training schedule is broken down so I get at least two days break before working for the same muscle group again. I have 1 rest day a week where I do not exercise at all."
7. Make Snacks and Desserts Healthy too
With all that focus on healthy eating, it is important to not deprive your body of all its cravings. So, if you have a sweet tooth, it is okay to indulge once in a while. However, this mommy suggests that we stick to healthy snacks that are delicious but also low on far. Chan's favourite snack is homemade banana ice cream or energy bars. She makes the bars herself using dates and dry fruits to sweeten them up. You can also make your own fruit and nut bars using this simple recipe.

8. Pick Exercises That Don't Feel Like Punishment
One reason many of us get scared of exercise is that they seem so daunting and strenuous. However, Chan says that there are many exercises we can choose from and they do not have to feel like punishment. She says, "Exercise for me is a reward for my body, not a punishment for what I ate. It's important to find exercises that you enjoy so that you are likely to keep doing them."
So, how do you find an exercise that seems doable? To start out, we recommend these 17 exercises that need only 5 minutes. Trust us, they are really simple and even fun to do.
After finding out about this mommy's journey, we can only say one thing – wow! She proves that if we only set our heart to something, and determine to reach a goal, we women can do anything we want. The best part is that her mantras are fairly easy to implement and can be done on a daily basis.
One Inspiration that Chan leaves us with – "Success is the sum of small efforts repeated day in, day out"
She says, "This is a quote I continue to live by today and will continue to promote to women all over the world. Success can be achieved by each and every one us. Be the woman that never gave up and decided to go for it."
Time to get started on our own health and fitness journey, moms, not just to lose weight but to feel happier, more confident, and teach our kids the importance of good health as well.