Mom Juhi Parmar Reveals 5 Tips for Post-Pregnancy Weight Loss. They Helped Her Lose 17 Kgs!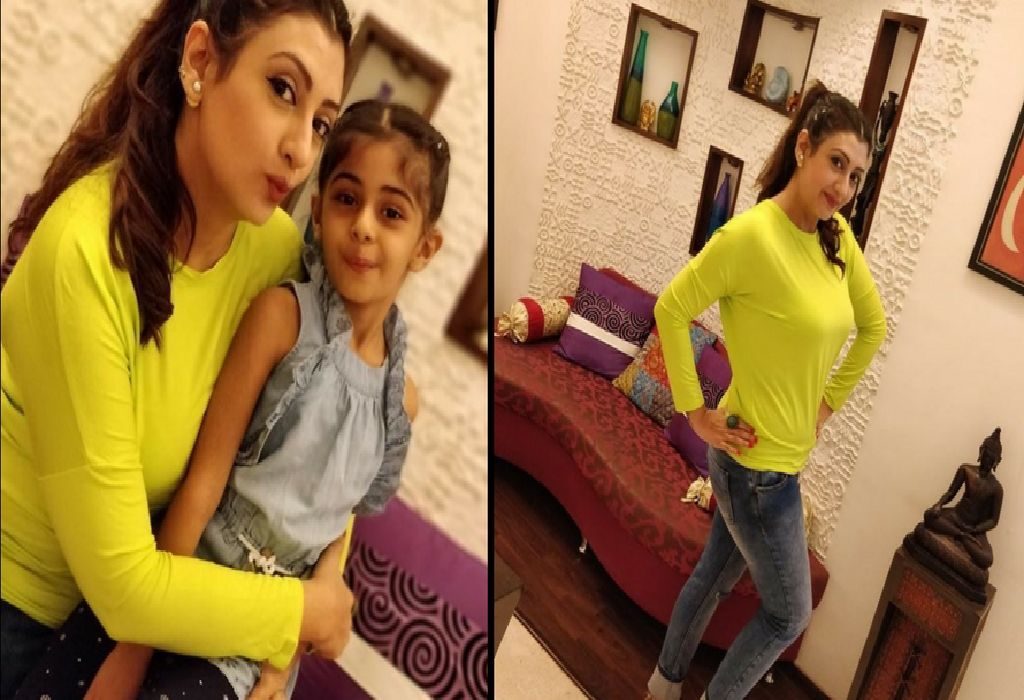 We've seen her in the popular TV Soap Kumkum and on Big Boss as well – yep, we're talking about Juhi Parmar. The beautiful actress has been missing in action since her baby's birth and only appeared every now and then on social media and public events. After her delivery, Juhi decided to focus completely on her baby for a few years. However, we've noticed she is very much back on the circuit, looking fabulous as ever, and we wanted to know how she did it!
Juhi Parmar, famous for her role in the popular TV series Kumkum, took a break from acting when she became a mommy.
Although she has always been a very dedicated actor and definitely missed acting, she knew that she wanted to channel all that dedication into being a mother first. The strong mommy said in an interview, "My daughter is small and needs me. Work can wait but not my child. I was offered several shows, but being a hands-on mother, I wanted my child to grow up enough to understand that she has a working mom. I was always dedicated to my work, but the need of the hour was to show the same dedication towards my daughter."
https://www.instagram.com/p/BVJ8NaJB8f8/?utm_source=ig_embed
But now that her little daughter Samaira is all of three years old and has started to go to school, Juhi has decided to venture back to her passion, i.e. her acting career! The cherry on the cake is that she has put her health back into focus too and lost a whopping 17 kgs of mommy-weight! Juhi's newest pictures show the small screen actress looking slim and trim and more gorgeous than ever. This loved bahu from Indian television has her fans swooning all over her new avatar.
The Struggle along the Way
Losing weight after pregnancy is never easy, as all of us mothers know only too well! For Juhi too, it was tough to lose all that weight. But her journey was even tougher since she was diagnosed with hypothyroidism – a condition in which the metabolism is slower, making it difficult to lose weight. In fact, Juhi says this condition is what made her put on weight in the first place! Had it not been for this hypothyroidism, the telly star is sure she would have lost more weight in less time.
"Had I not been suffering from hypothyroidism, I would have lost more in less time. It was this health issue that made me put on weight in the first place, and I struggled with it for four years.
I have never aspired for a size zero. I am happy the way I look now." Juhi claims.
Well, she does look great! So we probed further for the real reason so that all of us mums can also begin to shed post-partum weight. What is Juhi's secret?
How Juhi Parmar Lost Her Post-Pregnancy Weight and How You Can Too
It is a tough task to lose weight no matter how old you are, but post-pregnancy, your body goes through extreme changes that are even harder to reverse. We took a leaf out of the gorgeous actress' book and compiled some effective ways for new-moms to lose weight.
1. Eat 5-6 Small-sized Meals
To keep your body burning calories non-stop, it must be fuelled often too. Experts say that moms should eat nutritious meals every two hours. Of course, you need to control portion sizes for this to take effect and also keep meals balanced. Juhi kept a strict tab on her diet but never once did she starve herself! One of the things she stuck to was to eat at regular intervals every day and work out six days a week.
2. Fresh Fruits and Veggies are Your Best Friends
This one is very important not just for weight loss but also for long-term health. Go natural with your food. Avoid preserved and packages foods as these are your weight loss enemies! Include tons of fresh seasonal fruits in your diet and lots of veggies too. Remember, if it comes from a packet, ditch it! Your body will reward you.
A breakfast of oatmeal can keep you full for hours, so it is good to include it into your meal plan. You can read these 21 oatmeal recipes for some fun variations that you can use almost all month long!
3. Change your Lifestyle
The way you live has a direct impact on your weight loss goals. We know getting adequate sleep as a new mom is a struggle, but try and rest as much as you can. Juhi makes sure she spends fun times with her daughter – playing on the beach, snuggling in bed, relaxing when she can. It is important to balance work and play in order for the body to function properly.
https://www.instagram.com/p/BRIbmFbhqUo/?utm_source=ig_embed
4. No Crash Diet
Juhi is strictly against crash dieting of any sort. It is not only ineffective for long-term fitness but can also be harmful for the baby's nutrition! New moms must follow these dietary precautions to ensure their little one is healthy. It is best to steer clear of any extreme diet and instead let your body lose weight organically.
Juhi says, "I had put on a lot of weight during my pregnancy, which was inevitable. I was completely focused on my baby and her nutrition for which I had to eat properly. Once she was of a certain age, I started concentrating on my health. I did not want to go on a crash diet but wanted to lose weight organically."
5. Manage Your Stress Levels
Stress is another weight-piler! You've just had life come out of you and you need to love your body for what it has done. Stress will only make you hate yourself and perhaps take you down an unhealthy road of bingeing or exertion – both of which are definitely harmful for you and your baby!
Juhi recommends moms to relax, eat well, and workout when possible to shed the unwanted weight and work towards being the best possible version of you. She also advises against keeping "thinness" as the ultimate goal. She says, "The pressure was never to become thin, but just to lose the extra flabs."

So, now we know Juhi's weight loss mantra, and just look at her – doesn't she look fabulous? She's all set to return to TV with Shani – a mythological show. We wish her all the best and look forward to seeing her back on television!