Mix sprout coriander dosa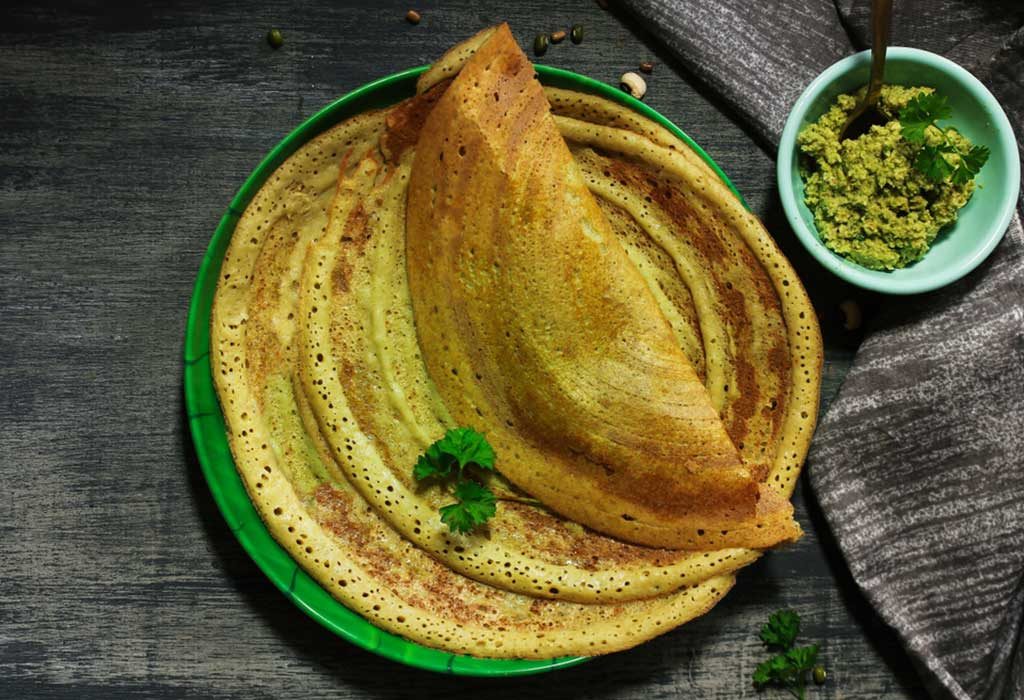 In this Article
This one's a tasty variety of dosa especially created to add protein and fiber to the dosa and make it more wholesome. Sprouts are super foods and eating raw sprouts is the best way to benefit from them, but very few like to eat them raw, so recipes like this are useful. This recipe uses sprouted whole green gram (moong), whole black gram (udad) and white chickpeas (Kabuli channa), all powerful foods packed in one.
| | | |
| --- | --- | --- |
| Serves | Preparation Time | Cooking Time |
| 4 People | 30 Minutes | 10 Minutes |
Ingredients
For Soaking
3 cups idli rice(a special rice available in the Indian stores for making idli and dosas)
1 cup whole white urad dal(split black gram)
2 tsp (teaspoon) fenugreek seeds
Water for soaking
For Sprouting
1/3 cup whole green gram
1/3 cup whole black gram(urad)
1/3 cup white chick peas(chole)
Water for soaking
For Grinding
1 cup mixed sprouts
3 cups idli rice
1 cup whole white urad dal
1 tsp cumin seeds
1 garlic pod, peeled or unpeeled
½ an inch ginger piece
2 to 3 green chilies
Salt to taste
For coriander mixed sprout dosa:
1 cup coriander, finely chopped
4 tsp oil, For the seasoning
1 small onion, finely chopped
½ tsp cumin seeds
1 green chill, finely chopped
1 tbsp (tablespoon) coriander, finely chopped
Method
To Make Idli Dosa Batter
Step 1
Soak idli rice in water. Let the water completely immerse the rice. Allow it to soak for about 6 hours.
Step 2
Simultaneously, soak the urad dal and fenugreek in water in a similar fashion, so that the dal immerses completely in water. Let it also soak for about 6 hours.
Step 3
Grind the urad dal into a fine smooth batter. While grinding, use the water used for soaking to make it into a smooth and fluffy batter.
Step 4
Pour this batter into a large container(Large enough to allow the batter to ferment and increase in its volume)
Step 5
Grind the rice into a smooth paste, adding just the required amount of water to grind into a almost smooth batter. Do not add too much batter else it will become too watery. You can grind the rice in batches for better smoothness.
Step 6
Combine the urad and rice batter, add salt to taste and set aside for overnight or at least 12 hours until the batter ferments. Once fermented, the batter will rise in volume.
For Sprouting
Step 1
Sort the whole grams to remove stones.
Step 2
Wash and then soak in water for 6-8 hours or overnight.
Step 3
After soaking, wash the moong again and drain the Water.
Step 4
Then, hang the soaked moong in a moist cloth for 10-12 hours (depending on the climate).
Step 5
Allow the sprouts to come out of the muslin cloth. Sprinkle water frequently if the cloth becomes dry.
Step 6
If you see short shoots coming out, your sprouts are ready to use.
To make mix sprouts coriander dosa
Step 1
First grind sprouts along with idli-dosa batter, cumin seeds, garlic, ginger and green chilies, coriander along with a little water. Don't add too much water to prevent it from becoming runny.
Step 2
Pour it into a mixing bowl, add salt and mix.(Remember, your idli-dosa batter already has some salt added to it, add accordingly)
Step 3
Place a griddle / non-stick tawa on medium heat.
Step 4
When it is hot enough, pour a ladle of batter and swirl in a circular motion to spread it out like a dosa. Drizzle a little oil around the dosa.
Step 5
Spread some of the seasonings on the top. The wet surface will help it to stick. If required add a little oil over the onions.
Step 6
When the bottom of the dosa lifts off the pan easily, flip over to other side and cook for a minute.
Step 7
Turn it again, fold in half and turn off the heat.
Step 8
Serve hot with a dip or sauce or chutney of your liking.
Step 9
Repeat the process for making the other dosas.
Nutritional Information
Serving Size 50.9g
Calories
145
Calories from Fat
50
Total Fat
5.3g 8%
Saturated Fat
0.1g 0%
Trans Fat
0.0g
Sodium
190mg 8%
Potassium
58mg 2%
Total Carbohydrates
14.0g 5%
Dietary Fiber
0.5g 2%
Sugars
0.9g
Protein
1.8g
Vitamin A
0%
Vitamin C
6%
Calcium
1%
Iron
8%
* Based on a 2000 calorie diet
Nutritional details are an estimate and should only be used as a guide for approximation.
Tip: In winters, the batter takes longer to ferment. Instead, you can place the batter in oven and switch on the light for a few hours. Once the oven is warm, turn off the light and let the batter ferment. In the absence of light, preheat the oven to warm, turn off oven, then keep the batter in the oven to ferment.