Mini Burgers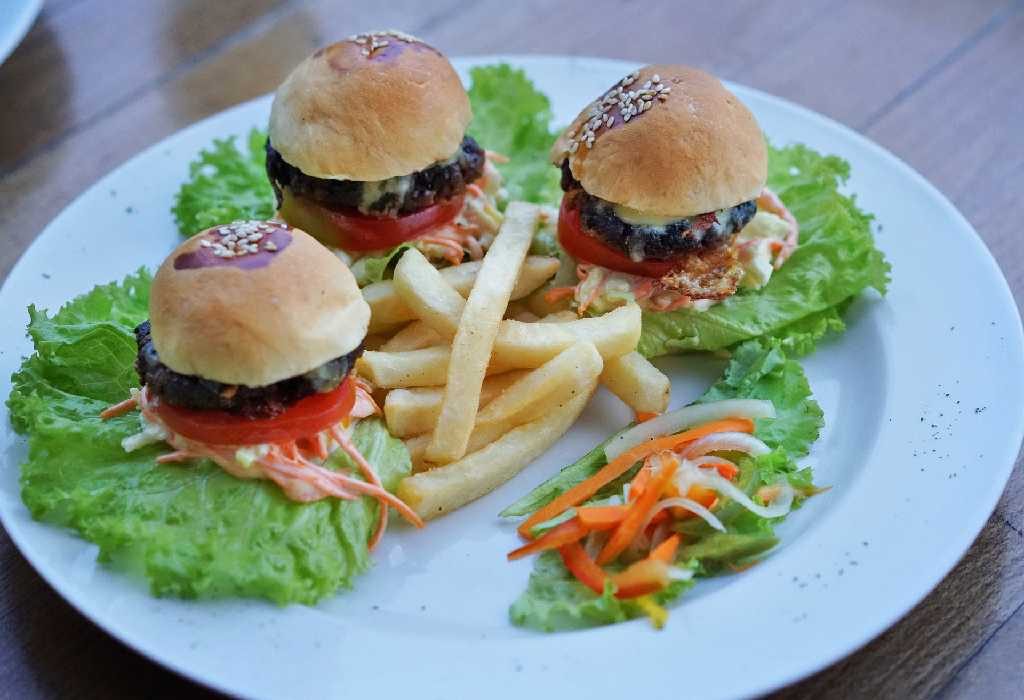 In this Article
Make all your kiddie parties a hit with our recipe of mini burgers. Burgers are always a hit amongst kids and these mini burgers will be especially attractive to kids, thanks to the cuteness! Add veggies and these burgers will be a parents' favourite too!
| | | |
| --- | --- | --- |
| Serves | Preparation Time | Cooking Time |
| 4 People | 10-15 Minutes | NA |
Ingredients
For the patty
600 g minced chicken
1 tbsp ginger garlic paste
Salt to taste
1 cup shredded vegetables of your choice
1/2 cup finely chopped onions
1/2 cup chopped tomatoes
3/4 cup bread crumbs
1/2 cup maida dissolved in 3/4 cup water
2 eggs
1 tsp pepper
1 pack chicken masala
1 tbsp maida
Oil to deep fry
For the burger
Mini buns
Mayonnaise
Tomato Sauce
Celery
Method
For the patty
Step 1
Pressure cook or boil chicken with salt, turmeric powder and chilli powder.
Step 2
Drain the water and shred the chicken finely or grind it in a blender without water.
Step 3
In a bowl, mix the chicken, chicken masala, pepper, salt, shredded vegetables (or finely chopped), onion, tomatoes, ginger-garlic paste and maida well. This should be thick and dry but should also hold well together.
Step 4
Make balls out of this mixture and pat into a flat round patty.
Step 5
Now beat the eggs in a bowl. In another bowl keep the bread crumbs ready and in another bowl keep the maida dissolved in water.
Step 6
Heat oil in a pan for frying the patties and keep ready.
Step 7
Now, pick a patty, dip it in the eggs, followed by maida and then the bread crumbs.
Step 8
Drop it into the oil and fry till the patty becomes a dark golden brown.
For burger
Step 9
Place the patty in between the buns and spread the mayonnaise.
Step 10
Place a slice of tomato, cucumber, onion or veggies of your choice.
Step 11
Poke a toothpick through the burger to hold it in place and serve.
Nutritional Information
| | |
| --- | --- |
| Calories | 637 K cal |
| Proteins | 16.8 g |
| Fats | 20.9 g |
| Carbohydrates | 109.2 g |
| Cholesterol | 140 mg |
| Sodium | 693 mg |
| Potassium | 507 mg |
Tip: *For frying, add approximately 10 grams of fat per serving at 9 Kcal/gm of fat.