Mild Fish Curry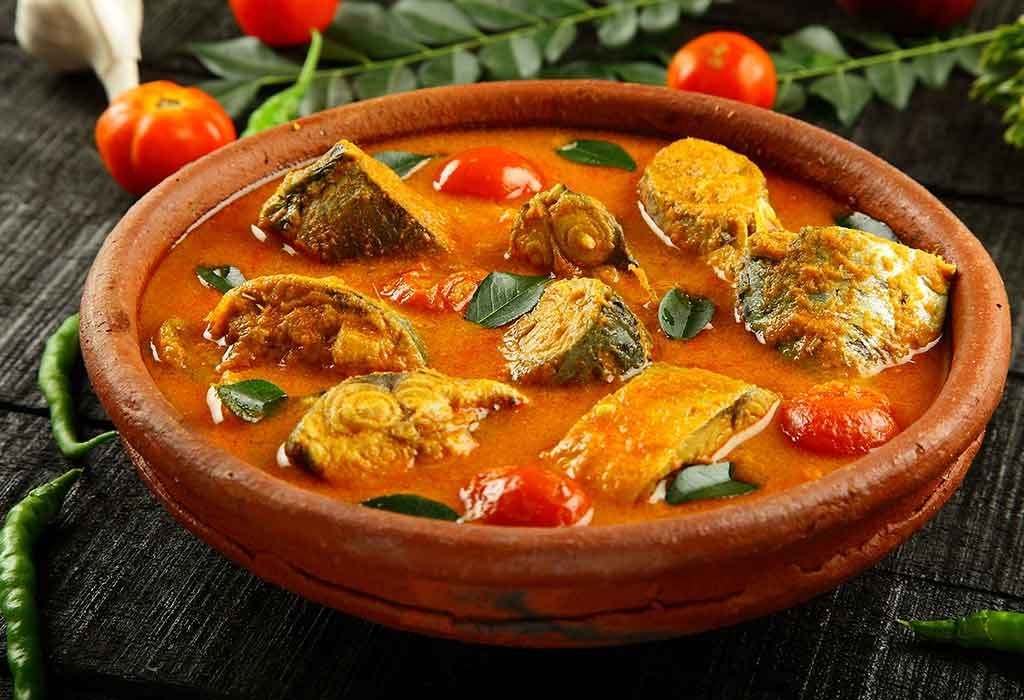 In this Article
A fish curry recipe is a favourite of all age groups. However, when feeding your baby or toddler, ensure he/she doesn't have any proven seafood allergies. Feed fish very carefully fed to your baby. Not just the bones, but mercury levels and allergens are causes for concern. Stick to fish like Cod, Sole, Pomfret, which are low in mercury levels and are relatively safe to feed your child. This mild fish curry recipe is designed especially for babies and toddlers.
| | | |
| --- | --- | --- |
| Serves | Preparation Time | Cooking Time |
| 2 People | 10-15 Minutes | 15 Minutes |
Ingredients
Washed, cleaned and cut fish (Cod, sole or pomfret)
1 onion finely chopped
1 tomato chopped
1 cup coconut milk
Salt to taste
1/2 tsp (teaspoon) turmeric powder
1 tsp oil
1 sprig curry leaves
1 tsp mustard seeds
Method
To clean Fish
Step 1
Remove the scales of the fish, gut it out properly.
Step 2
Cut the fish to desired sizes and wash 2 to 3 times till the water is clear.
Step 3
Scrub the fish with a little rock salt and turmeric and set aside for 15 minutes. Wash again thoroughly.
To prepare Curry
Step 1
In a pan, heat the oil and drop in the mustard seeds.
Step 2
Let the seeds crackle, then saute the onions and curry leaves in the same pan.
Step 3
Next, add the tomatoes and saute for another minute.
Step 4
Once the tomatoes turn mushy, pour the coconut milk.
Step 5
Let the coconut milk come to a boil on a medium flame.
Step 6
Drop the fish one by one into this gravy and close the pan with a lid. Let the fish cook well.
Step 7
Once the fish is done, remove it on a plate and debone it thoroughly.
Step 8
Mash the cooked fish with your fingers and mix with mashed rice.
Step 9
Mix the gravy with the mashed rice and fish mixture to feed your little one.
Nutritional Information
| | |
| --- | --- |
| Calories | 209 K cal |
| Proteins | 13.3 g |
| Fats | 14.4 g |
| Carbohydrates | 5.8 g |
| Cholesterol | 19.3 mg |
| Sodium | 337 mg |
| Potassium | 105 mg |
Tips:
Remember to wash and gut the fish properly as microbes in the fish could harm your baby.
For frying, add approximately 10 grams of fat per serving at 9 Kcal/gm of fat.
For older babies and adults, the fish need not be mashed. And you can spice it up a little more.
?>