Mess-Free Painting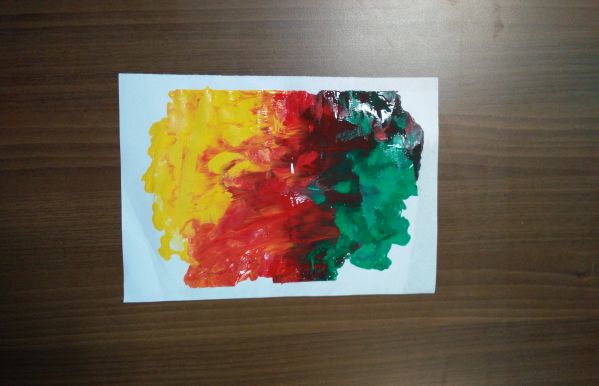 Toddlers love to explore colours and usually love creating a mess too! While it is good to encourage this stage, some days moms can really be bogged down and too tired to clean up. This DIY is a way to let your toddler explore colours while keeping it mess-free!
Children love colour and painting is perhaps one of the most fun activities related to colour. However it's usually difficult to let these budding Picassos learn without them creating a mess all over. This activity actually comes to a mum's rescue and is extremely fun for the kids too.
You Will Need:
1 card paper (should have some thickness)

A roll of cling film/ food wrap/ clear plastic sheet

Small paint bottles in 3 or more colours

Tape
Step-by-step Instructions:
Place the card paper on a flat surface. To keep it in place, stick the top and bottom edges with the help of some tape.
2. Add large dollops of paint on the paper as shown in the image.
3. Now comes the part you are going to love..To ensure no messiness in the activity, place a food wrap/cling wrap on top of the card paper securing the edges with some tape.
4. And here's the fun part! Ask your child to slowly push the colours around to create new colours and designs.
5. Once done remove the tape and admire your piece of art!
Messiness Score
3
Parental Involvement
Low
Level of Diffculty
Low
Skills Enhanced
Apart from being a lot of fun, this activity will also help your child understand and differentiate colours, impove their observational skills and enhance their hand-eye coordination.

Fun Tip: You can use this as background for a greeting card or a wall painting. Cut out shapes from black card paper and stick them against this background.
Tons of benefits with a whole lot of fun, doesn't seem like such a bad deal, right!